About me...
My interest in radio communications started at a young age: I was often found detuning the coils on the family's transistor radios - not a popular move!
During the 60's, my interest in radio was fuelled as domestic radio in Britain underwent a revolution with the advent of offshore pirate radio: Radio Caroline began transmitting, soon to be joined with the slick sounds of Radio London on 266m in 1964. These stations were conveniently situated (for me) off the Essex coast. On August 14th 1967 Radio London closed with the introduction of the Marine Broadcasting Offences Bill, but a defiant Radio Caroline continued. I joined the 'fight for free radio'!
In November 1975 Radio Caroline's ship 'Mi Amigo' broke its mooring and drifted in to British seas during gale force winds. This resulted in court appearances of several djs including Simon Barrett at Southend Magistrates Court on 11/12/75. It was my pleasure to support them on that day along with many free-radio campaigners.

That's me on the left (well half of me!) helping to support Simon on our shoulders as he poses for a newspaper photo
During the 70's I became a keen SWL sending reception reports and collecting broadcast QSL cards from stations around the world and on a few occasions submitting my logs to Practical Wireless magazine. Click here to see some of the radio stations I received.
In 1983 there followed a natural progression from SWL to amateur radio: obtaining my class B Radio Amateur's License -G6XPX then 2 years later passing the Morse test giving me my current call. The suffix (DPC) was chosen to reflect the names of my 3 older children: Donna Paul and Caroline!
Also during the 80's I passed my Radio, Electronics & Engineering - C&G 222. Worked on electronic equipment designed to aid thalidomide sufferers. Serviced and QC'd commercial telephone systems. In the early 2000's I worked for several years in my local emporium: Waters & Stanton.
My favourite bands are 40 & 20m SSB, 15m slow morse & 10m FM when conditions allow using just modest equipment! My wife Yvonne (see photo on right) obtained her foundation licence and we both enjoy sharing the hobby together.
Have been active on RTTY in the past using an old Colour Genie EG-2000 computer (32KB ram!!) Now my aim is to delve deeper into data comms putting my networked pc's to good use!
In 2007 I developed HamInfoBar a special browser toolbar for radio hams and SWLs. Although no longer available it was downloaded on over 50,000 computers in 150 countries worldwide!
Radio equipment owned over the years:
IC-7000
IC-E208
FT-847
FT-707
FC-707
FV-707DM
FC-102
FT-203R
VX-7R
VX-5R
VX-2E
DJ-G1
AR-2002
Pro-2035
MFJ-993B
Azden 10m
Bearcat 220FB
BC-9000XLT
FDK Multi-700EX
Satellite 2000*
Plus lots of equipment including receivers and meters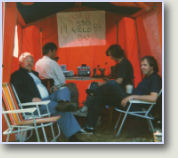 RSGB Field Day 1988
left to right:
Jim: G1URL Fred: G4ZGO
Tom: G0CXW & me






Yvonne - M6BUN
Click here to visit my
other half's site

Pirate Radio:


Radio London (Big L) broadcast from the MV Galaxy on 266m MW with a 50kW transmitter.
Its' antenna was 212ft - higher than Nelson's Column!

Big L Theme (mp3)