Home Links Contact Information
Copyright © 1995 - 2021 John Tait All rights reserved.
Crank-up Tilt-over Tower
If you are thinking of building your own tower....
BEWARE !!! ....THAT YOU SHOULD NOT ATTEMPT A PROJECT THAT CAN KILL OR MAIM YOU......OR AN INNOCENT BYSTANDER....IN A VARIETY OF MESSY AND PAINFUL WAYS... Unless you are (or have) a competent Engineer , Welder , etc..

Remember that when you are manhandling many pounds weight of solid steel into position...

ACCIDENTS CAN HAPPEN...!!

If you have ANY doubts about your own capabilities, make sure that you use common sense, and enlist the help of competent people, and make sure that there are no children or pets in the vicinty when you are erecting a tower....
(Pic of tabernacle with rotator)
This Tower was built for me by Jim EI8GS. Jim is proprietor of his own engineering business, and does a lot of specialist metal fabrication, pipework, etc. He is an extremely able Engineer, and a devout "Ham". His main "affliction" is contesting....but, I guess, no one is perfect.....!!
(Pic of towerfully cranked down..Quad at about 33ft high)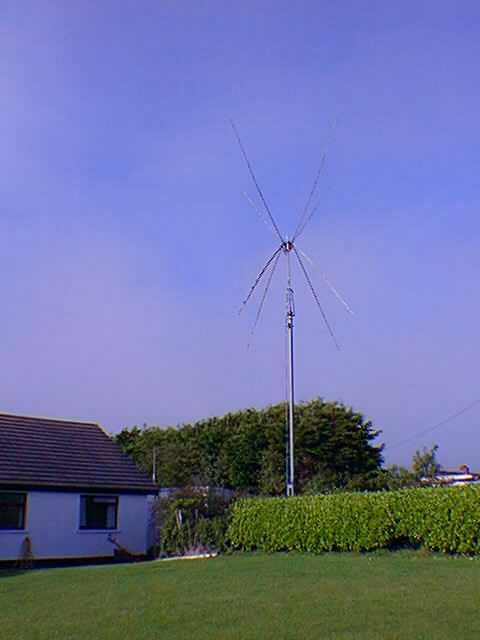 (Tilted over...side view)
Basically, The tower consists of two standard lengths of "box" steel...about 25ft long. One length is 4ins OD. the other 3ins OD. The narrower of the two, slides into the larger one. When fully extended, this gives a height of about 45ft to the base of the rotator cage. The rotator cage is about 3ft high to the thrust bearing. The stub mast extends about another 5ft above the thrust bearing, putting the Quad at about 53ft high, when fully extended. When the tower is fully retracted, the Quad sits about 35ft high

(Tilted over..end on)

Drawing....Choose your file to suit your application

EI7BA.PDF EI7BA.dwg EI7BA.dxf EI7BA.plt

( Thanks Jim EI8GS)

All of the finished parts, were "hot dip galvanised", before the tower was assembled on site. This is an important consideration for me, as the QTH is on a penninsula, with the sea about a mile away on three sides. In Wintertime, we have a lot of wind borne salt, which is very corrosive of unprotected metalwork. The design is rather clever , in that it uses only one winch to both "crank-up" and "tilt-over" the tower.
Here's a VERY crude drawing of how one winch can do both jobs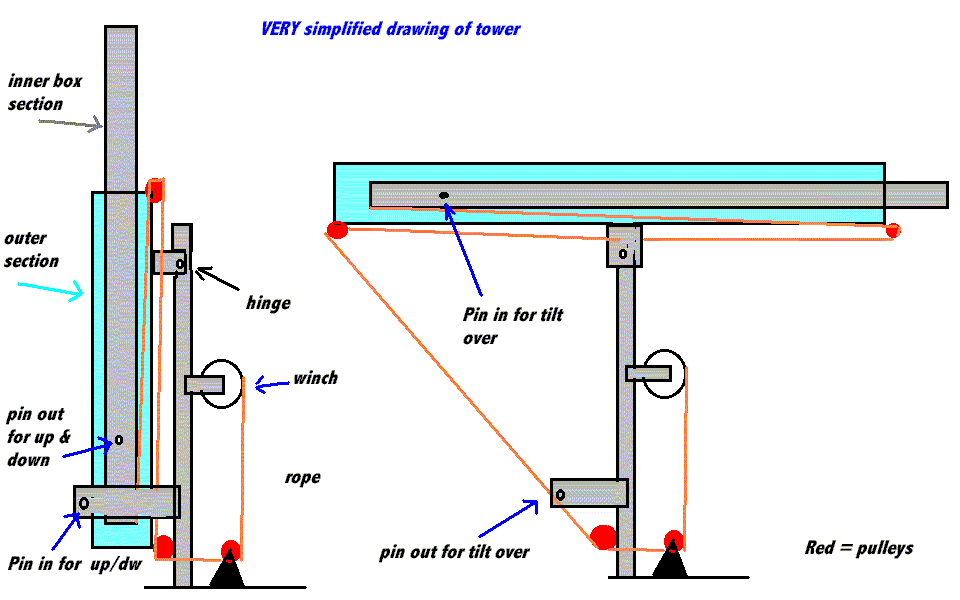 ( Views of pulleys and winch )

Janet 7Q7YL with the new tower under construction..Brian 7Q7BP taking the photo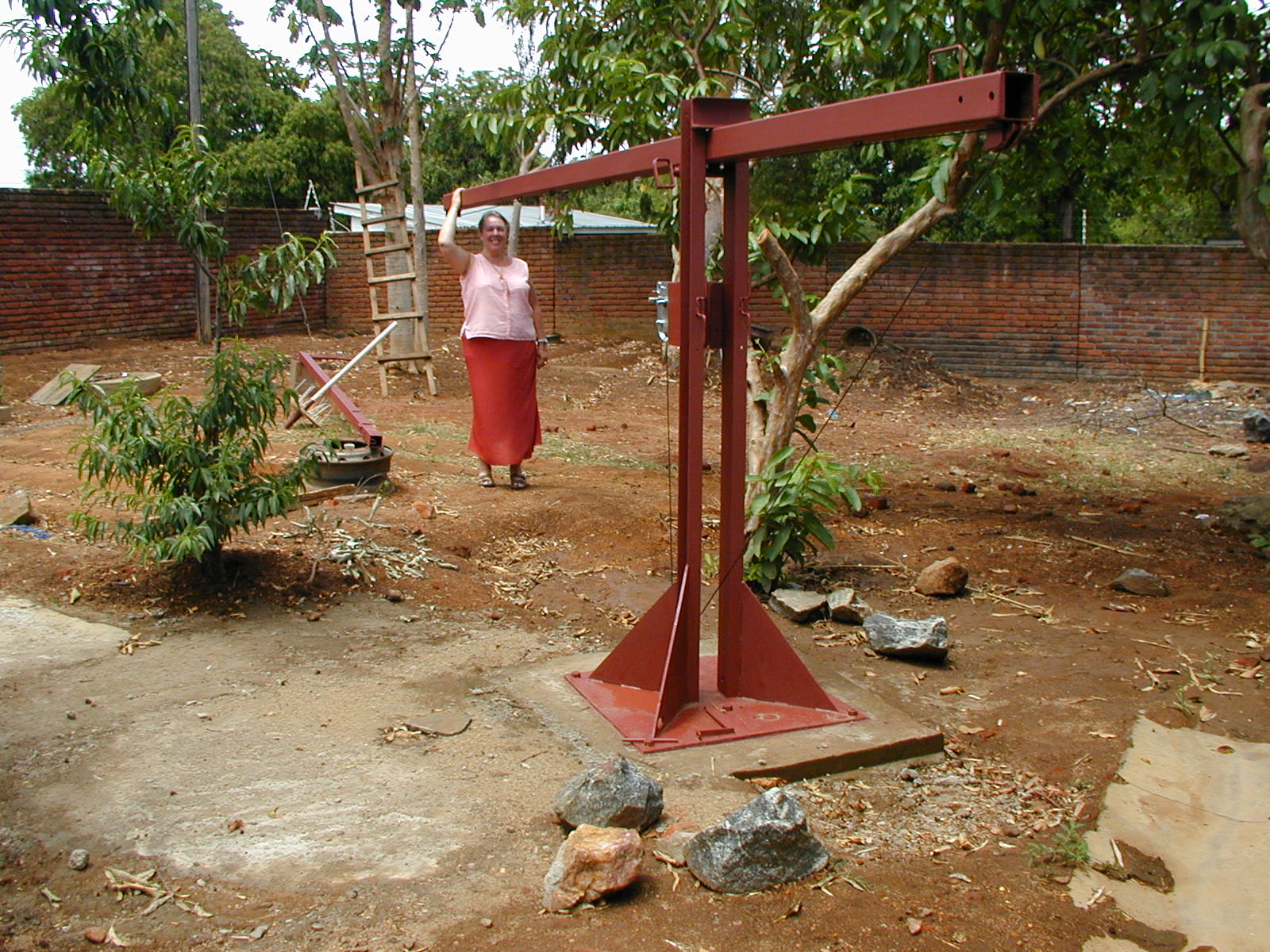 Home Links Contact Information
Copyright © 1995 - 2021 John Tait All rights reserved.
All pages and content there-in, are the intellectual property of the author, and protected by law.
All pages and content, are subject to change at any time, without notice.