Version 1: The 7-Element-28Ohm-Leightweight-Yagi for 2m
Gain 11,0 dBd, F/B 25 dBd

Boom 3,30 m

Stacking distance 2,80 m

3dB-angles: 39,4° hor, 44,4° ver
| | |
| --- | --- |
| | It is possible to build the well known 7-El.-28-Ohm-Yagi with an aluminium-boom 20x1,5mm. The coax socket ist grounded to the boom with a screw and an aluminium angle. |
| | | | | | | | |
| --- | --- | --- | --- | --- | --- | --- | --- |
| Elements | Ref | Rad (8mm) | Dir 1 | Dir 2 | Dir 3 | Dir 4 | Dir 5 |
| Position | 0mm | 320mm | 595mm | 1145mm | 1825mm | 2615mm | 3260mm |
| L (3,2mm) | 1016mm | 976mm | 964mm | 943mm | 925mm | 928mm | 913mm |
| L (4mm) | 1014mm | 976mm | 961mm | 938mm | 920mm | 923mm | 908mm |

Version 2: The 7-Element-25-Ohm-Leightweight-Yagi for stacking
Boom 3,40 m Broadband

Gain 11,05 dBd, F/B 26 dB

3-dB-Angles: hor 39,6° ver 44,6°

Stacking distance 2,80 m
The 2x7-Element in use at Contest-Station

DK0B, OV F47
With two Yagis of 25-Ohm- impedance an easy stacking is possible. We need two pieces of 5/4-

λ-coax-cable with 50

Ω.

The 25

Ω at XX are transformed to 100 Ω at XX. I use Aircell-5 with 2x2,04 m.

With both cables L1 and L2 parallel we get the 50 Ω for the cable to the TRX. The first 45 cm of the 204 cm long pieces are wound to a coax-choke for surpressing common mode currents. The two chokes are in the radiator-box, we do not need coax sockets and connectors.

The picture on the right side down shows the measuring of the stacking cable with 2x 50-Ω- resistors (0,5%) parallel for 25 Ω impedance.

The left picture shows the choke,here are 45 cm of the coax wound on a 25-mm-PVC-tube. The right picture shows the 2x50-Ohm resistors (1/2%) parallel. With both chokes and two resistors of 25 Ohm, length of 2x2,04 m Aircell-5 the SWR is 1,0. Between 144,0 and 144,5 MHz the impedance is 50 +/- j 0 Ohm.
On 143 MHz R= 49 - j 5 Ohm, on 146 MHz R= 51 + j 5 Ohm, the impedance with an analyzer is shown down: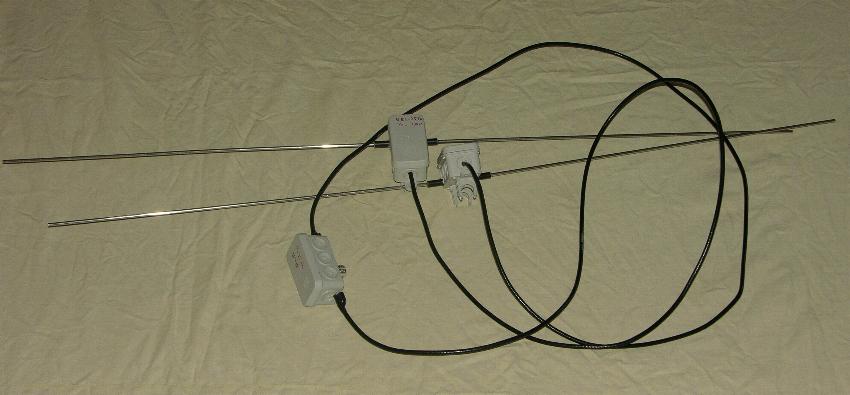 The two connected radiators with 2x 2,04 m Aircell stacked

Lengths and positions of the elements, radiator always 4mm
| | | | | | |
| --- | --- | --- | --- | --- | --- |
| Element | Position | 8 mm | 6 mm | 4 mm | 3,2 mm |
| Reflector | 0 mm | 1020 mm | 1022 mm | 1024 mm | 1027 mm |
| Radiator | 300 mm | 974 mm (8 mm) | 982 mm (6 mm) | 984 mm | 986 mm (4 mm) |
| Director 1 | 645 mm | 937 mm | 946 mm | 953 mm | 954 mm |
| Director 2 | 1245 mm | 914 mm | 924 mm | 930 mm | 937 mm |
| Director 3 | 1945 mm | 896 mm | 908 mm | 918 mm | 922 mm |
| Director 4 | 2750 mm | 894 mm | 904 mm | 916 mm | 920 mm |
| Director 5 | 3380 mm | 892 mm | 903 mm | 913 mm | 917 mm |