VA3EOD-RPT
145.425-

This is the "Emergency Operations Dryden" digital repeater.
Owned & operated by members of the Amateur Radio Society of Dryden.
New Location at VE3DRY Site.
Yaesu Fusion first Gen, DR-1X v1.10n purchased early 2015.
Sent away for hardware upgrade to Yaesu for v1.10q in the summer of 2017.
Running the DR-1X on low power, with a 10watt-10db coaxial attenuator, to reduce the output power down to about 500mw to feed the Micor 100watt Continuous Duty PA.
Sinclair Q-2220 4-cavity duplexer with 1 pass cavity on RX & TX.
Digital DN mode with an HRI-200, Wires-X, full Digital internet link.
Utilizing Room Sioux Narrows 21578 Chatroom for linking our area Digital repeater & nodes


VA3ADI's Logging Script Page for VA3SLT Repeater on 21578 Room

Soon we will be multi-coupling to VE3DRY 147.255+ existing 210-C4 repeater antenna.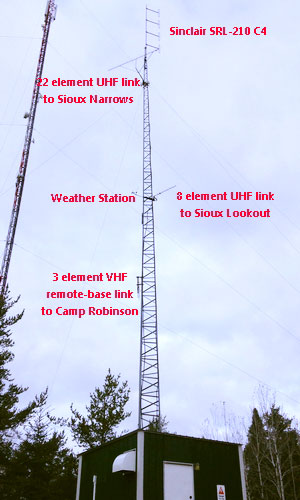 Sinclair SRL-224 antenna 85', with Andrews 1/2" heliax we are currently on.
Formerly at VE3TBO, Ted's QTH.
Ted's tower is a 64' Delhi DMDX free standing tower, Sinclair SRL-224 antenna with Andrews 1/2" heliax.
Micor 100watt Continuous Duty PA upgrade.
DR-1X on low power, with a 10watt-10db coaxial attenuator, to reduce the output power down to about 500mw
Notice the white wire loop on PA, grounding the control line so it will run linier, excited by input of DR-1X.
The Micor would run in excess of 140watts, but reduced to 100watts.
Our DR-1X was sent away for hardware upgrade to Yaesu for firmware v1.10q in the summer of 2017.
Old Experiment!
New Version Firmware Upgrade. Warning, but it works!
With HRI-200 connected directly into the older DR-1X repeater accessory port with firmware v1.10n or less, only gave an analog Wires-X connection.
Frequency shown on DR-1X was used for testing.
In this setup, converting the analog Wires-X signal back to digital on the repeater gave poor quality audio from those stations. It also did not allow the remote radios to control the Wires-X computer.
To rectify this situation & get full digital out of rear accessory port, Yaesu ran a free program to return the older DR-1X repeaters to them for upgrade. This would update the older version repeaters to newer version ones manufactured post Dec 2015.
They upgraded firmware & DSP, along with a minor hardware upgrade.
Shipping from Canada to California is a pain & expensive, so the club was reluctant to do so.
Watching a Youtube video from VA2PV, Pascal Villeneuve, on Success upgrading the older DR-1X repeater to newer version firmware 1.10j, we thought we didn't have much to loose. This gave him the ability to run HRI-200 in full digital on the rear port of the DR-1X and control the repeater in Wire-X remote mode. He also stated that he ran only in Digital mode on the repeater with success, not AMS.
I contacted Pascal and confirmed it was still running without problems.
We decided to try and upgrade to our older DR-1X with the new firmware 1.10Q, DSP v4.13 and see what happens.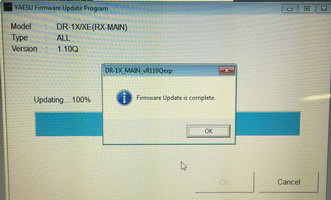 Firmware v1.10Q, success!
DSP v4.13, success!
DR-1X running in remote Wires-X mode!
Everything went to plan but one thing.
Local traffic on DR-1X repeater was going through repeater & also to Wires-X, but no audio out of Wires-X was getting through to DR-1X repeater. The repeater was being keyed by Wires-X, there was carrier, but no audio.
Tried firmware upgrade to the HRI-200, software upgrade of Wires-X, checked all soundcard settings in computer. nothing.
As last resort, I was looking at the Transceiver Setting in Wires-X software. The only thing I could see to try, was to check a box "Narrow deviation" under the RX frequency.
Viola' it worked!
Now we have a DR-1X, C4FM digital repeater, running full digital Wires-X linking.
Warning!
This Firmware upgrade does work to make the DR-1X rear port connection full digital, but the transmitter frequency, power & T-SQL frequency settings where locked to whatever was set on previous working firmware of v1.10n.
No change, even with a factory reset on DR-1X.

So it looks to me, that the "Touch-Screen" interface is not manipulating the Transmitter, other than Mode change from FM to DN. In the normal operating screen, but nothing in Setup.
Even the Wires-X software in "Remote HRI" does not change the transmitter settings.
I found it allowed me to downgrade back to v1.10n without problems.
Do at your own risk!