WELCOME!
Welcome to the Jackson County Amateur Radio Association's web site. It shall be our purpose to further the exchange of information and cooperation among members, by promoting radio knowledge and individual operating efficiency. JCARA conducts club programs and activities to advance the general interest and welfare of Amateur Radio within the county and surrounding areas of South Mississippi.
The JCARA Club meetings are held monthly on the last Tuesday of the month, except in December. The next Club Meeting will occur on October 28, 2014 at the St. Martin Community Center starting at 6:30 p.m. Please make arrangements to attend this meeting. This is your club so we welcome and encourage your participation.
If you wish to become a member of the JCARA please click here and fill out the application then get in touch with a Club Officer.

From The President's Desk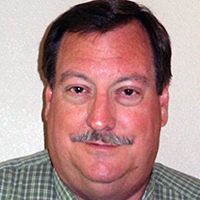 Don, KA5DON gave an excellent presentation on ARRL message handling during our monthly meeting.  I wanted to re-enforce some of Don's thoughts.  Amateur radio operators have from the very beginning handled message traffic and the ARRL came into being to organize handling of message traffic from coast to coast.   Even if message handling isn't our primary interest in amateur radio we should always be ready to lend a hand and accept a message.  In normal times, 99% of the time, besides copying the message the only action to be taken is to make a phone call.  In the preamble (or the beginning) of the message you will be given  a message number, the precedence would be routine, the "Hotel Xray" or handling instructions should be "General", station of origin, Check # for a text count, message place of origin, time filed and date.  If you receive a message with different precedence or handling instruction ask the sender of the message for an explanation.  I have done that many times and usually the sender will take the time to clarify the action.  If not take the message and contact me by phone or email and I will assist or contact one of our club members knowledgeable of message traffic (Don't get me in trouble with this, I did not ask Don, KA5DON; Nick, K5BQJ or Chris, K5MOZ for their permission to advertise their support, HI, HI).  If it can wait, forward it to me on Saturday night when I run the net.  Most messages during normal times are sent for training and are good practice for us.  These messages originate out of groups across the US addressed to newly licensed Amateur radio operators soliciting support as net controllers and message handlers.  This gets us practice in the traffic handling and introduces the new amateur to traffic handling.  If you have no idea what the preamble, precedence, or "Hotel Xray" is, I really ask that you spend a few minutes on the ARRL.org website, and do an internal search on ARRL Message handling.  The information provided on that site should provide you with a basic understanding of the body of a message and the handling requirements; and it will take you less time than visiting your Facebook account.
I copied two of the "official' ARRL's yellow Radiogram forms on a 11 by 8.5 sheet of paper.  I always keep them near my radio and I keep one in my net controller's log book.  They work fine for scribbling down messages off the air and then I recopy them on another blank copy of the ARRL Radiogram form while I can still read my scribbling.  I am not sure why I don't use the nice yellow official ARRL Radiograms, but I am saving them for a special occasion.  To be honest, when I first handled message traffic at the local level, the messages always had an address with the phone #.  I used to nicely write the message out on the yellow ARRL Radiogram and mail them to the addressee.  I would call as well, but I thought that it would be nice if they had a hard copy of the message, especially if it was a new ham.  Please understand that the mailings of Routine/General message is not a requirement,  just something that I did on my own and I have not done it in a long time.  When you call be prepared to give a little "spill" on what ARRL Message traffic is all about, so a little history would help.  But the paragraph on the bottom left of the Yellow ARRL Radiogram says it all.
This activity is fun so jump in.  Oh by the way, once when I was calling the net, I could not find any of my message blanks.  So I just took my net roster and turn it over and wrote down the message in free hand, no form.  Just wrote down what was passed on the air.  It was easy, so in my log there is a free form message on the back of the net roster.
Thanksgiving is coming up and so is Christmas, why not send a message to the relative who never became a ham, wishing them season greetings (Don't forget Birthdays).  It will be a hoot and I bet quite a surprise to your relative.   I handle the Saturday night net, pencil and ARRL Radiogram forms in hand, ready to copy.  We are an emergency net and message traffic takes priority over check-ins, even routine traffic.  Practicing message handling only makes us better hams ready to efficiently handle that emergency traffic when the time comes.   Standing by, for your traffic!
73, Charlie Hardt, N2PKW
JCARA Club President
n2pkw@arrl.net
"Last Man Standing" Special Event Set for September 28
A Hollywood-style Amateur Radio special event is set for later this month from the so-called "Seinfeld Stage" on the CBS Studio Center lot in Studio City, California. The K6H "Hollywood Hamnado" special event station will be on HF and D-STAR on September 28, from 1400 until 2200 UTC. Hosts for the event will be Amateur Radio crew members of the ABC television series "Last Man Standing." On the show, actor Tim Allen plays Mike Baxter, KA0XTT. The show's producer is John Amodeo, NN6JA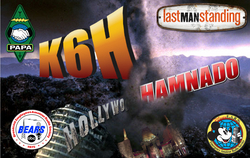 The Southern California-based PAPA Repeater System, in association with the Broadcast Employees Amateur Radio Society (BEARS) and Disney Emergency Amateur Radio Service (DEARS) are sponsoring the special event.
Operation will take place on 10, 20, and 40 meters on HF and D-STAR reflector 12A. Rob Antonacci, AA6RA, said K6H is planning to run three SSB stations, operating on or around 28.420, 14.250, and 7.260 MHz. The PAPA website, the W5KUB chat room, and the Mike Baxter KA0XTT Facebook page will provide up-to-the-minute updates.
K6H also will use the Disney Amateur Radio Interconnect to link the WB6AJE repeater in Los Angeles to Disney/ABC-sponsored repeaters in Manhattan-Bristol, Connecticut; Washington, DC, and Orlando, Florida. Various IRLP and EchoLink nodes will be available. Those contacting K6H will receive a limited-edition QSL card.
Tom Medlin, W5KUB, will be on Stage 9 to interview the participants and report on the special event activity. The PAPA website will stream video directly from the operating stations. So far, 26 members of the "Last Man Standing" crew have been inspired by the show's Amateur Radio component to get licensed. -- Thanks to Rob Antonacci, AA6RA
"Amateur Radio Parity Act of 2014" Co-Sponsors List Swells Before Congressional Recess
An intense effort during the few days in September that Congress was in session has resulted in 47 co-sponsors for the Amateur Radio Parity Act of 2014 (H.R. 4969). Another half-dozen or so US House Members have indicated that they will sign on when Congress returns, something they can do only while Congress is in session. Congress went into recess on September 19. ARRL President Kay Craigie,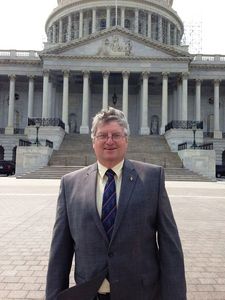 On Capitol Hill: Wind-tousled ARRL Hudson Division Director Mike Lisenco, N2YBB. [Courtesy of Kay Craigie, N3KN]
N3KN, ARRL Hudson Division Director Mike Lisenco, N2YBB, Central Division Director Dick Isely, W9GIG, and ARRL General Counsel Chris Imlay, W3KD, visited dozens of congressional offices this month. Elsewhere, other ARRL elected and appointed officials and members from across the US met with members of Congress and with their staffers, wrote letters, and made phone calls to urge co-sponsorship.
"This all-member effort is how we went from 17 co-sponsors on August 1 to 47 co-sponsors on September 18," President Craigie said this week. When Congress reconvenes in November, League representatives plan to follow up with US House members who did not have time to make their co-sponsorship official before Congress left town.
The Amateur Radio Parity Act of 2014, introduced in the US House of Representatives with bipartisan support in late June, calls on the FCC to apply the "reasonable accommodation" three-part test of the PRB-1 federal pre-emption policy to private land-use restrictions regarding antennas. The limited PRB-1 pre-emption currently applies only to state and municipal land-use ordinances. The FCC has indicated its reluctance to provide the same legal protections from private land-use agreements -- often called covenants, conditions, and restrictions or CC&Rs -- without direction from Congress.
ARRL President Kay Craigie, N3KN, with Rep Ed Perlmutter (CO-7), an H.R. 4969 co-sponsor. [Courtesy of Kay Craigie, N3KN]
President Craigie stressed this week that H.R. 4969 is still very much alive, and she urged League members to keep working to convince their representatives to co-sponsor the bill. "These efforts will not be in vain, whether or not the legislator eventually decides to sign onto the bill," she said. "Realistically, we won't get support for H.R. 4969 from every member of Congress who is contacted by amateurs," she said. At the same time, members of Congress who were contacted now know that Amateur Radio exists in their districts and that hams have interests that deserve notice.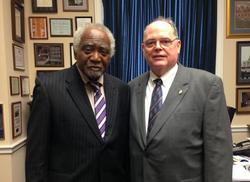 ARRL Central Division Director Dick Isely, W9GIG (right), with US Rep Danny Davis (IL-7), an H.R. 4969 co-sponsor.
"A lot of politics is based on relationships. Contacts made with members of Congress about H.R. 4969 contribute to establishing relationships that can be maintained and enhanced in the future," President Craigie said. "Does your Congressman know how Amateur Radio makes your district a safer place to live if disasters occur? Does your Congressman know how radio amateurs in your district introduce young people to hands-on wireless communication, laying the foundation for careers? What we certainly can do is to build relationships that will serve our interests -- and the public interest -- if not right now, then in the future."
President Craigie encouraged League members whose representatives have become co-sponsors to thank their lawmakers, on the phone or in writing. "It's good manners and a good relationship-building strategy," she pointed out. "Members can also seek out opportunities during the current congressional recess to make a case for the bill at their representatives' district offices and at events. In short: Keep on!"

Amateur Radio is "Communications Superpower," IARU Region 1 Delegates are Told
European Commissioner for International Cooperation, Humanitarian Aid and Crisis Response Kristalina Georgieva told delegates to the International Amateur Radio Union Region 1 (IARU Region 1) General Conference on September 22 that Amateur Radio is a reliable information tool that can save lives in disasters. In a statement read to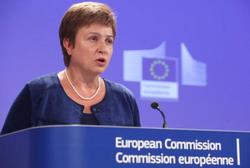 Kristalina Georgieva. [Courtesy of the European Commission]
the conference attendees on her behalf by the EC's Encho Gospidinov, Georgieva laid out a scenario in which all modern telecommunications and electrical power are knocked out, and no one can help the victims, because no one knows what has happened.
"Luckily, there is a last resort: The radio amateurs, the people who are the eyes and the ears of the world in time when all other information channels are silent," she said. "In short, you are the last technical miracle, which is an independent, reliable information channel, which can transmit an important piece of news from any place in the world, anytime, by anyone who knows how to operate this wonderful creature, called radio."
Georgieva said Amateur Radio's advantage is that it is independent of the conventional communications infrastructure. "A well-trained radioman with good equipment and ever-charged batteries can be a fantastic link between two villages, two countries or two continents," she said. "When organized in a Union, you are a communication superpower in times of total electronic darkness."
The 24th IARU Region 1 General Conference, being held in Albena, Bulgaria, officially concludes September 26. Delegates have elected Don Beattie, G3BJ, as the next IARU Region 1 President, succeeding Hans Blondeel Timmerman, PB2T. Elected as Vice President was Faisal Al-Ajmi, 9K2RR.
Pneumatic Line Launcher
At July's JCARA Club meeting, Richard, AF5AQ presented an excellent program. He demonstrated how to build and use a pneumatic line launcher. This is a neat tool that every Ham can use. If you want to get a line for a dipole, long wire or other antenna over a tree limb, this device will help you do it in short order. Follow the link below for complete illustrated instructions with a parts list.
Thanks Richard for intoducing us to a great DIY project.
Thinking About Adding Solar Power To Your Ham Shack?
By now you know that Richard, AF5AQ is very handy when it comes to creating innovative, useful tools and gadgets for use around the Ham Shack. You never know what he is going to come up with next. At a past Club Meeting he demonstrated how to build and use a Solar Energy system. It sparked a lot of interest (pun intended).
Richard has put together a "leave behind" for those who would like to try a similar project. Illustrated instructions are posted in the file section and are available at the link below. We think you'll get a charge out of it.
Want To Build A New Skyhook?
Max-Gain Systems is a great place to find fiberglass tubing and rods. Has the idea of building a hex beam interested you? They have parts for that project as well. Building a high power linear? Vacuum relays and capacitors are in abundance too. What about RF connectors that will hold up under extreme conditions. I almost forgot to mention that they have black dacron hex rope, guy rings and "dogbone" strain insulators, Check them out. They could be the source for all those parts you've been needing to get your favorite Ham Project underway.
Thanks to Nick, K5BQJ for the link.
Click here for more info.
Morse Code
So, when you have worked all the DX and have grown tired of Rag Chewing, here is something you might want to try. Remember the game Scarbble? If you do you will really enjoy checking this out. Reaarrange the phrase THE MORSE CODE and you will get HERE COME DOTS. We thought you would want to know. :-)
ARRL Audio News - September 12, 2014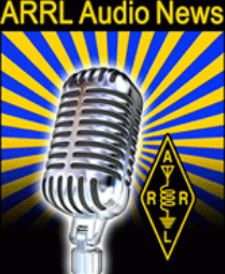 In this week's report:"Amateur Radio Parity Act of 2014" Co-Sponsor List Swells to 32; The Keynote Centennial Convention Speech of FEMA Administrator Craig Fugate, KK4INZ, is now Available on YouTube; FCC Enforcement Bureau Warns Two Hams for Failure to Identify Properly
Please allow several seconds for report to download ... it may take a long time depending on your internet connection speed.
Amateur Radio Newsline™ Is Now On The JCARA Web Site

Amateur Radio Newsline™ produces a weekly newscast of interest to radio amateurs worldwide.  The bulletins conform to all sections and codes as outlined under the United States FCC Part 97 Amateur Radio Service rules regarding the legal means of amateur radio operators issuing "QST's" or "Bulletins of Interest to All Amateurs." They differ only in format and follow a more traditional radio "spot news" format. Whenever possible, They attempt to bring you the voices of those in the news.
Please allow several seconds for report to download ... it may take a long time depending on your internet connection speed.
Click Here For The September 12, 2014 Report
FCC Okays Changes to Amateur Radio Exam Credit
In a wide-ranging Report and Order (R&O) released June 9 that takes various proceedings into consideration, the FCC has revised the Amateur Service Part 97 rules to grant credit for written examination elements 3 (General) and 4 (Amateur Extra) to holders of "expired licenses that required passage of those elements." The FCC will require former licensees - those falling outside the 2-year grace period - to pass Element 2 (Technician) in order to be relicensed, however. The Commission declined to give examination credit to the holder of an expired Certificate of Successful Completion of Examination (CSCE) or to extend its validity to the holder's lifetime.
"Our decision to grant credit for written examination Elements 3 and 4 for expired licenses that required passage [of those elements] will provide some relief for former General, Advanced, and Amateur Extra class licensees," the FCC said, "and is consistent with how we treat expired pre-1987 Technician class licensees who want to reenter the Amateur Service." Pre-1987 Techs can get Element 3 credit, since the Technician and General class written examinations in that era were identical. The Commission said current rules and procedures that apply to expired pre-1987 Technician licenses "are sufficient to verify that an inidual is a former licensee under our new rules."
The Commission said that requiring applicants holding expired licenses to pass Element 2 in order to relicense "will address commenters' concerns about lost proficiency and knowledge, because a former licensee will have to demonstrate that he or she has retained knowledge of technical and regulatory matters." The FCC said the Element 2 requirement also would deter any attempts by someone with the same name as a former licensee to obtain a ham ticket without examination.
In 1997 the FCC, in the face of opposition, dropped a proposal that would have generally allowed examination element credit for expired amateur operator licenses. In the past, the FCC has maintained that its procedures "provide ample notification and opportunity for license renewal" and that retesting did not impose an unreasonable burden. The issue arose again in 2011, with a request from the Anchorage Volunteer Examiner Coordinator.
The FCC pulled back from its own proposal to reduce from three to two the minimum number of volunteer examiners required to proctor an Amateur Radio examination session. The ARRL, the W5YI-VEC and "a clear majority of commenters" opposed the change, the FCC said. The FCC said it found commenters' arguments persuasive that that the use of three VEs "results in higher accuracy and lower fraud that would be the case with two VEs." In a related matter, though, the Commission embraced the use of remote testing methods.
"Allowing VEs and VECs the option of administering examinations at locations remote from the VEs is warranted," the FCC said. The National Conference of Volunteer Examiner Coordinators (NCVEC) in
2002 endorsed experimental use of videoconferencing technology to conduct Amateur Radio testing in remote areas of Alaska. The Anchorage VEC has long pushed for the change, citing the expense to provide Amateur Radio test sessions to Alaska residents living in remote areas.
The FCC declined to address "the mechanics" of remote testing, which, it said, "will vary from location to location and session to session." The Commission said specific rules spelling out how to administer exam sessions remotely "could limit the flexibility of VEs and VECs." The FCC stressed the obligation on the part of VECs and VEs "to administer examinations responsibly" applies "in full" to remote testing.
The FCC amended the rules to provide that VEs administering examinations remotely be required to grade such examinations "at the earliest practical opportunity," rather than "immediately," as the rule for conventional exam sessions requires.
The FCC said it also will make "certain minor, non-substantive amendments to the Amateur Service rules." It is amending Part 97 "to reflect that the Commission amended its rules to eliminate the requirement that certain Amateur Radio Service licensees pass a Morse code examination," the FCC said in the R&O. It also said it was correcting "certain typographical or other errors" in Part 97.
The new rules become effective 30 days after their publication in The Federal Register.
ARRL Announces Free Exam Review Website
The ARRL has launched a new online resource that allows users to take randomly generated practice exams using questions from the actual examination question pool. ARRL Exam Review for Ham Radio™ is free, and users do not need to be ARRL members. The only requirement is that users must first set up a site login (this is a different and separate login from your ARRL website user registration).
"The ARRL's online Exam Review is designed to help license examination candidates review their progress as they study," said ARRL Marketing Manager Bob Inderbitzen, NQ1R. "As you complete a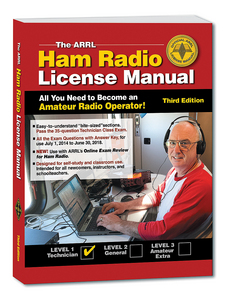 chapter or section of a license manual, you can turn to the online program to review all of the related questions taken directly from the examination question pool. After answering each question -- right or wrong -- the correct answer is shown, and a page reference to the license manual is displayed for further review."
Inderbitzen said that when you're close to completing your study, you can take as many practice exams as you like. "The practice exams can be taken on-screen or printed. You won't have any surprises on exam day!" he added.
Inderbitzen said users are encouraged to share feedback and suggestions for improvement with the development team, using the online feedback form linked from the Exam Review site. ARRL Exam Review was designed for ARRL by DHF Systems, the creator of ARRL's TravelPlus for Repeaters™ software.
Education Services Manager Debra Johnson, K1DMJ, pointed out some of ARRL Exam Review features that are intended to help Amateur Radio instructors and schoolteachers. "Instructors have a new online resource at their fingertips," she said. "They can print practice exams anytime and encourage students to review between classes. The site is also mobile-browser friendly, so it can be used on a laptop, tablet, or smartphone, at home or in the classroom."
While ARRL Exam Review is being introduced with the new, third edition of the popular Technician study guide, The ARRL Ham Radio License Manual, the site also supports practice examinations for General and Amateur Extra. An updated Technician class examination question pool becomes effective July 1, and Exam Review will automatically transition to the new question pool on that date
Alpha and TEN-TEC to Merge Under RF Concepts Banner
Two major American Amateur Radio manufacturers are joining forces. Alpha Amplifiers and TEN-TEC have announced that they will merge under the RF Concepts brand. The announcement came May 9 in Longmont, Colorado, where RF Concepts and Alpha are headquartered. TEN-TEC, the older of the two concerns, is located in Sevierville, Tennessee. The merger creates a multi-million-dollar company with a product line that extends from QRP transceivers to legal-limit amplifiers. RF Concepts/Alpha Amplifiers has been in business since the early 1970s and has produced more than 13,000 amps. TEN-TEC, founded in 1968 as a maker of transceivers for the QRP community, has expanded its line over the years to include a range of transceivers -- from basic to top-tier -- receivers, tuners, amplifiers, and accessories. While there is a small overlap in the companies' respective product lines, RF Concepts Chairman Michael Seedman, AA6DY, called the union "the perfect combination of Amateur Radio brands."
"For more than 40 years, Alpha Amplifiers and TEN-TEC have shared a reputation in the Amateur Radio market for offering exceptionally

well-engineered, American-made products backed by extraordinary customer service," said Seedman. "Alpha Amplifiers is known for 'key-down performance,' and TEN-TEC is known for pushing the boundaries of transceiver performance and capabilities." Such a merger "makes perfect sense," he added, pointing out that the merger will more than double the size of RF Concepts, allowing it "to invest more capital in innovative engineering and customer-driven product development."
Plans call for RF Concepts to share operations between its Colorado and Tennessee locations, and the company is looking for a new operations facility in the Sevierville area that would house manufacturing as well as some engineering resources as well as technical and customer support services. TEN-TEC had announced that it would not be holding its annual hamfest in Tennessee this year, due to plans to relocate its headquarters this fall. TEN-TEC announced "a massive moving sale" during September. The Colorado facility will house engineering resources, technical and customer support services, and much of the front-office operation.
Announcement of the merger came a week before Dayton Hamvention®, where both Alpha and TEN-TEC will continue to operate separate booths. Alpha will be demonstrating its not-yet-released DreamTuner 4040 Automatic Antenna Tuner, while TEN-TEC will unveil the Patriot, an open-source, Arduino-based SSB transceiver.
The two companies are privately held, and terms of the merger were not disclosed.
Hurricane Watch Net Seeks Net Control Operators
The Hurricane Watch Net (HWN) needs additional net control operators. Hurricane Season in the Atlantic begins June 1 and ends November 30; in the Eastern Pacific, it runs from May 15 until November 30. The Hurricane Watch Net activates on 14.325 MHz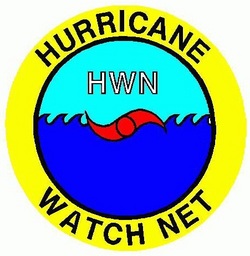 when an Atlantic Basin hurricane is within 300 miles of landfall, or at the request of the National Hurricane Center (NHC) in Miami. HWN Manager Bobby Graves, KB5HAV, said the net has been getting everything in place for its 50th straight season, and that includes recruiting well-qualified, experienced net control operators who can effectively communicate with the hurricane-prone areas of Eastern Canada, the US East Coast, the Gulf of Mexico, Central America, and the Caribbean.
"We are especially looking for bilingual operators, as we recognize that some Latin American operators hesitate to check in and send reports to us, if they aren't fluent in English," Graves said. "The Hurricane Watch Net relies on volunteer operators -- our members -- who serve as our net control stations. These volunteers are hams who have above-average stations and are willing to commit their time to operating in support of the HWN's mission during net activations."
Graves conceded that net sessions can be "long, and, at times, very stressful." He noted that while the HWN primarily operates on 14.325 MHz, it is also looking for volunteers who can handle net control duties on the low end of the 40 meter phone band. "When 20 meters fades away in the evening," he said, "we lose the ability to effectively communicate with our reporting stations or the National Hurricane Center."
Net control operators must be HWN members, but radio amateurs do not need to be HWN members to participate in the net as reporting stations. HWN participants provide observed or measured weather reports, or relay assistance as required by the net control station.
Radio amateurs interested in becoming HWN members or volunteering as net control stations should visit the net's Membership Information page. Read more
French Radio Amateur Still Active at 100 Years
Ivan Pastre, F3AT, of Saint Georges sur Baulche, France, turned 100 years old on April 7. A ham since 1931, when he was licensed as F3AU, he remains very active on the air after 83 years, still chasing new band countries for the DXCC Challenge. F3AT is at the top of the DXCC Honor Roll. He's a member of FOC, CDXC(F) and other organizations. Pastre has also operated as FQ3AT (1947), FQ3AT/FE (1947), FE8AB (1948), and FF8AG (1951). Joyeux anniversaire, Ivan! -- Thanks to Maurice Charpentier, F5NQL; QRZ.com




Radio History: New Website Offers Treasure Trove of Vintage Ham Radio Photos, QSL Cards
The grandson of Thomas "Tom" Russell Gentry, W5RG (SK), has developed a website (click here) that is certain to be of interest to vintage radio enthusiasts. Don Retzlaff, who is not a ham, said his grandfather was among the earliest Amateur Radio operators, getting his license in the early 1920s -- at one point identifying as NU5RG -- and remaining active until he died in 1979. The W5RG call sign has since been reissued.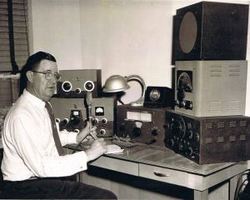 (At Left: Tom Gentry, W5RG (SK), at his station in an undated photo.)

He collected QSL cards from other amateur operators all through his life," Retzlaff said of his grandfather. "In recent years I became interested in those cards and my grandfather's hobby."
With the help of his father Donald Retzlaff, W5MIY, Retzlaff located all of the QSLs -- some 5700 in all -- as well as other memorabilia documenting his grandfather's ham radio activities and his time in the Army Air Corps shortly after World War I. He painstakingly scanned both sides of each card along with dozens of photos of now-vintage stations -- many with operators -- that his grandfather had collected and posted them all on a website dedicated to his grandfather and his life as an Amateur Radio operator.
Among other features, the site offers an opportunity to leave comments. "This has definitely been a labor of love," said Retzlaff, who retired this year as a Principal Lecturer in the Computer Science Department at the University of North Texas.
Broadcast Band DXing - How Many Have You Logged?
Here is a list of AM Broadcast Band clear channel stations by frequency in Canada, United States, Mexico and the Bahamas.
540 CBK Watrous, Saskatchewan
540 CBT Grand Falls, Newfoundland and Labrador
540 XEWA San Luis Potosí, San Luis Potosí
640 CBN St. John's, Newfoundland and Labrador
640 KFI Los Angeles, California
650 WSM Nashville, Tennessee
660 WFAN New York, New York
670 WSCR Chicago, Illinois
680 KNBR San Francisco, California
690 CKGM[a] Montreal, Quebec
690 XEWW Tijuana, Baja California
700 WLW Cincinnati, Ohio
710 KIRO Seattle, Washington
710 WOR New York, New York
720 WGN Chicago, Illinois
730 CKAC Montreal, Quebec
730 XEX Mexico City, D.F.
740 CFZM[b] Toronto, Ontario
750 WSB Atlanta, Georgia
760 WJR Detroit, Michigan
770 WABC New York, New York
780 WBBM Chicago, Illinois
800 XEROK Ciudad Juárez, Chihuahua
810 KGO San Francisco, California
810 WGY Schenectady, New York
820 WBAP Fort Worth, Texas
830 WCCO Minneapolis, Minnesota
840 WHAS Louisville, Kentucky
850 KOA Denver, Colorado
850 XETQ Ixhuatlancillo, Veracruz
860 CJBC Toronto, Ontario
870 WWL New Orleans, Louisiana
880 WCBS New York, New York
890 WLS Chicago, Illinois
900 XEW Mexico City, D.F.
940 silent[c] Montreal, Quebec
940 XEQ Mexico City, D.F.
990 CBW Winnipeg, Manitoba
990 CBY Corner Brook, Newfoundland and Labrador
1000 KOMO Seattle, Washington
1000 WMVP Chicago, Illinois
1000 XEOY Mexico City, D.F.
1010 CBR Calgary, Alberta
1010 CFRB Toronto, Ontario
1020 KDKA Pittsburgh, Pennsylvania
1030 WBZ Boston, Massachusetts
1040 WHO Des Moines, Iowa
1050 XEG Monterrey, Nuevo León
1060 KYW Philadelphia, Pennsylvania
1060 XEEP Mexico City, D.F.
1070 silent[d] Moncton, New Brunswick
1070 KNX Los Angeles, California
1080 WTIC Hartford, Connecticut
1080 KRLD Dallas, Texas
1090 KAAY Little Rock, Arkansas
1090 WBAL Baltimore, Maryland
1090 XEPRS Rancho del Mar, Rosarito, Baja California
1100 WTAM Cleveland, Ohio
1110 KFAB Omaha, Nebraska
1110 WBT Charlotte, North Carolina
1120 KMOX St. Louis, Missouri
1130 CKWX Vancouver, British Columbia
1130 KWKH Shreveport, Louisiana
1130 WBBR New York, New York
1140 WRVA Richmond, Virginia
1140 XEMR Monterrey, Nuevo León
1160 KSL Salt Lake City, Utah
1170 KFAQ Tulsa, Oklahoma
1170 WWVA Wheeling, West Virginia
1180 WHAM Rochester, New York
1190 KEX Portland, Oregon
1190 XEWK Guadalajara, Jalisco
1200 WOAI San Antonio, Texas
1210 WPHT Philadelphia, Pennsylvania
1220 XEB Mexico City, D.F.
1500 KSTP Saint Paul, Minnesota
1500 WFED Washington, D.C.
1510 WLAC Nashville, Tennessee
1520 KOKC Oklahoma City, Oklahoma
1520 WWKB Buffalo, New York
1530 KFBK Sacramento, California
1530 WCKY Cincinnati, Ohio
1540 KXEL Waterloo, Iowa
1540 ZNS-1 Nassau, Bahamas
1550 CBEF[e] Windsor, Ontario
1550 XERUV Xalapa, Veracruz
1560 KNZR[f] Bakersfield, California
1560 WQEW New York, New York
1570 XERF Ciudad Acuña, Coahuila
1580 CKDO[g] Oshawa, Ontario
Try listening after 8:00 p.m. You might be surprised at how many you can hear. Good DXing.
FT5ZM Operation Approved for DXCC Credit
The ARRL DXCC Desk has approved the 2014 operation of FT5ZM -- Amsterdam & St Paul Island -- for DX Century Club credit. If a DXCC credit request for this operation has been rejected in a prior application, contact ARRL Awards Branch Manager Bill Moore, NC1L, to be placed on the record update list. Note the submission date and/or application reference number. DXCC is Amateur Radio's premier award that hams can earn by confirming on-the-air contacts with 100 DXCC "entities," most of which are countries in the traditional sense. Learn more. -- ARRL Awards Branch Manager Bill Moore, NC1L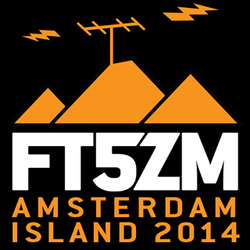 The FT5ZM DXpedition has shut down, although the trip home remains. That news may be welcome to non-DXers who have been contending with huge and sometimes chaotic split-operation pileups that occasionally occupied substantial segments of spectrum, but depressing for operators who were unsuccessful in snagging this rare one. The Amsterdam Island DXpedition team logged on the order of 165,000 contacts on SSB, CW and RTTY. AA4SC had the honor of completing the final FT5ZM contact -- on February 12 at 0220 UTC. Amsterdam Island is the seventh most-wanted DXCC entity, according to the ClubLog DXCC Most Wanted List.
"All the team members are now safely aboard the Braveheart as of 0520 UTC," FT5ZM Pilot Station Val Hotzfeld, NV9L, reported on February 13. "There is a strong storm right behind them. This should make for rough seas but favorable winds pushing them to Perth."
Earlier seas were too rough to load the boat, leaving the DXpedition team and gear stuck on shore.
All FT5ZM logs have been uploaded to ClubLog, and the Online QSL Request Service (OQRS) for FT5ZM now is online. The budget for the DXpedition was $450,000, which, to date, has not been met. More information on the Amsterdam Island DXpedition budget and on the DXpedition is available on the Amsterdam Island FT5DX website. The ARRL made a Colvin Award grant to help support the DXpedition. -- Thanks to The Daily DX, FT5ZM
DX: TT8ES, T6EU Operations Approved for DXCC Credit
The ARRL DXCC Desk has approved the 2014 operation of TT8ES -- Chad -- and the current operation (through May 3, 2014) of T6EU -- Afghanistan -- for DX Century Club credit. This operation was
previously approved for 2012 and 2013, and the license has been extended through February 28, 2014. If a request for DXCC credit for this operation has been rejected in a prior application, contact ARRL Awards Branch Manager Bill Moore, NC1L, to be placed on the list for an update to your record. Please note the submission date and/or reference number of your application in order to expedite the search for any rejected contacts.
DXCC is Amateur Radio's premier award that hams can earn by confirming on-the-air contacts with 100 DXCC "entities," most of which are countries in the traditional sense. You can begin with the basic DXCC award and work your way up to the DXCC Honor Roll. Learn more. -- ARRL Awards Branch Manager Bill Moore, NC1L
DX: North Korea Still Tops The DX Magazine's Most Wanted Survey>
The DX Magazine has published the results of its most-wanted DXCC entities, and, once again, North Korea (P5) is number 1. Here are the Top 10 overall worldwide results, as they appeared in The DX Magazine's January/February 2014 issue.
| | | |
| --- | --- | --- |
| 2013 | Prefix/Entity | 2012 |
| 1 | P5 North Korea | 1 |
| 2 | KP1 Navassa Island | 2 |
| 3 | 3Y/B Bouvet | 3 |
| 4 | FT5W Crozet | 6 |
| 5 | FT5Z Amsterdam | 4 |
| 6 | VK0/H Heard Island | 5 |
| 7 | BS7H Scarborough | 7 |
| 8 | ZS8M Marion Island | 9 |
| 9 | VP8/S South Sandwich | 8 |
| 10 | FT5T Tromelin Island | 10 |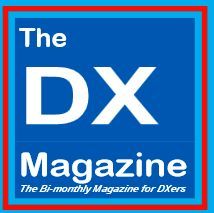 "It is interesting to note that the same 10 places are there for both 2012 and 2013," QRZ DX/The DX Magazine Editor Carl Smith, N4AA, said. "There are a few slight changes in ranking, but it is the same 10. That should change somewhat for 2014 with Tromelin and Amsterdam, both scheduled for major DXpeditions." The complete Top 100 Most Wanted list is available on the DX Publishing website. The continental rankings appear in the January/February issue of DX Magazine; band/mode breakdowns will be published in the March/April 2014 issue.
Tokyo Hy-Power Files for Bankruptcy
Tokyo Hy-Power, a manufacturer of Amateur Radio amplifiers, antenna tuners, and other equipment, is in bankruptcy, and its plant, in Saitama Prefecture near Tokyo, has been shuttered. Telephones at the company no longer are being answered, and its Japanese website has been taken down, although the company's US website remains working. Company CEO/President Nobuki Wakabayashi, JA1DJW, founded Tokyo Hy-Power Labs in 1975. He blamed "the recent depression in the industrial RF power products area [which] has led to the very difficult financial position."
Tokyo Hy-Power's early products were HF antenna couplers, although within a couple of years it began manufacturing amplifiers for the Amateur Radio market, including solid-state mobile amplifiers. Among its early products was the HL-4000 linear amplifier, which the company claimed was "the first real HF band high-power linear of its kind in Japan." It has been manufacturing RF products for the industrial market since 1984.
The company also once marketed the HT-750, a portable, low-power SSB/CW transceiver for 40, 15, and 6 meters in a hand-held transceiver form factor. At Dayton Hamvention® 2013, the company displayed a prototype of the XT-751, an advanced model it hoped to develop, covering 40 through 6 meters and with an internal antenna tuner. Among its latest products were solid-state HF amplifiers, as well as amplifiers for 6 and 2 meters.
In a December 26 news release, Ham Radio Outlet (HRO) reacted with "disappointment" and said it was "deeply saddened" to learn that Tokyo Hy-Power had gone into bankruptcy.
"This action in Japan appears to be similar to a Chapter 7 action here within the United States, as the process in this case appears to be the liquidation of organizational assets in order to attempt to fund some portion of its debt obligation(s)," the HRO release said. "This appears to indicate that a court has deemed the organization unable to be effectively reorganized under Japan's Civil Reconstruction Code."
HRO said it was working with AVSL, the current US service provider for Tokyo Hy-Power products "to discuss the opportunity of continued maintenance at the component level of the US-sold Tokyo Hy-Power line of amplifiers." HRO also said it's been in touch with the former US Tokyo Hy-Power representative Tom Rum, W5RUM, about providing telephone support — which will continue at least through January.
HRO said it has not been in direct contact with Tokyo Hy-Power regarding the bankruptcy and learned about it via the news media.
CQ To Realign Publications, Launch Digital Supplement
CQ Communications Inc has announced plans to realign its publications lineup and to launch a new online supplement to its flagship magazine, CQ Amateur Radio.
"The hobby radio market is changing," said CQ Communications President and Publisher Dick Ross, K2MGA, "and we are changing what we do and how we do it in order to continue providing leadership to all segments of the radio hobby."
Effective with the February 2014 issue of CQ, said Ross, content from the magazine's three sister publications — Popular Communications, CQ VHF and WorldRadio Online — will be incorporated into CQ's digital edition as a supplement to be called CQ Plus. The print editions of Popular Communications and CQ VHF will be phased out, and WorldRadio Online will no longer exist as a separate online publication. Current Popular Communications, CQ VHF and WorldRadio Online subscribers will be converted to CQ subscribers and receive CQ Plus at no additional charge. Details will be posted on each magazine's website.
CQ Communications says the change will offer hobby radio enthusiasts a single source for articles from shortwave listening and scanner monitoring to personal two-way services and Internet radio, as well as Amateur Radio. Richard Fisher, KI6SN, currently editor of both Popular Communications and WorldRadio Online, will be editor of CQ Plus.
"Our primary audience is ham radio operators, but very few hams began their radio involvement as amateurs," Ross said. "Most of us started out as shortwave listeners, broadcast band DXers, CBers or scanning enthusiasts. Many continue to be involved in many different aspects of the radio hobby in addition to Amateur Radio." Ross said consolidating four specialized publications into one will keep "multidimensional readers" informed on all aspects of the radio hobby, at the same time exposing non-hams "to all the excitement and opportunities that Amateur Radio has to offer."
The expanded material will be an integral part of the digital edition of CQ and will be included as part of a standard digital subscription. Each month's digital edition will continue beyond where the print edition ends, offering supplemental material on all aspects of hobby radio communication and selected columns carried over from the other magazines. The added digital content will make full use of the multimedia opportunities presented by digital publications.
A preview of the February issue's table of contents is available on the CQ website.
DX: ARRL DXCC Desk Approves ZD9KX Operations
The ARRL DXCC Desk has approved the 2012 and 2013 operation of ZD9KX -- Tristan Da Cunha & Gough Islands for DX Century Club credit. If a request for DXCC credit for this operation has been rejected in a prior application, contact ARRL Awards Branch Manager Bill Moore, NC1L, to be placed on the list for an update to your record. Please note the submission date and/or reference number of your application in order to expedite the search for any rejected contacts.
DXCC is Amateur Radio's premier award that hams can earn by confirming on-the-air contacts with 100 DXCC "entities," most of which are countries in the traditional sense. You can begin with the basic DXCC award and work your way up to the DXCC Honor Roll. Learn more. -- ARRL Awards Branch Manager Bill Moore, NC1L
2013 JCARA Annual Christmas Dinner And Awards Ceremony
Here is a report on the JCARA annual Christmas Dinner and Awards Ceremony held at McElroy's Restaurant in Ocean Springs, MS on Tuesday 10 December 2013. All had a great time singing Christmas Carols and visiting, as well as eating.
Dan Miller AE5JG and Richard Warner AF5AQ shared the "Ham Of The Year" award.
Marilyn Warner AF5DP, Charlie Carney AG5CC, Barb Miller KE5QHZ, Fred Platts N5GJ and Carl Killebrew WU5D all received Certificates of Achievement for their outstanding contributions to the JCARA, Inc. and the Amateur Radio Community.
Outgoing President Kurt Oberhofer K5KDO, Vice-President Richard Warner AF5AQ and Treasurer Dan Miller Sr. AE5JG all received plaques and Special Recognition Certificates for their dedicated service to Amateur Radio.
The JCARA, Inc. officers for 2014 are listed below with their photos on the OFFICERS web page:

President - Charles Hardt - N2PKW,
Vice-President - Marilyn Warner - AF5DP
Secretary - Valerie Ulmer - N9RQX,
Treasurer - Charles Carney - AG5CC
Past-President - Kurt Oberhofer - K5KDO.
The JCARA hopes everyone had a Merry Christmas and here's to a Happy, Healthy and Prosperous New Year.
73,

Dan Miller - AE5JG
Licensing: New Technician Class Question Pool Released
The NCVEC Question Pool Committee has released the new 2014-2018 Technician Class, Element 2, question pool to the public. This pool will take effect on July 1, 2014, and will remain valid until June 30, 2018. The current Technician question pool, released in 2010, is valid until June 30, 2014. -- Maria Somma, AB1FM, ARRL/VEC Manager
DX: T6TM Operation Approved for DXCC Credit
The ARRL DXCC Desk has approved the current operation of T6TM -- Afghanistan for DX Century Club credit. If a request for DXCC credit for this operation has been rejected in a prior application, contact ARRL Awards Branch Manager Bill Moore, NC1L, to be placed on the list for an update to your record. Please note the submission date and/or reference number of your application in order to expedite the search for any rejected contacts.
DXCC is Amateur Radio's premier award that hams can earn by confirming on-the-air contacts with 100 DXCC "entities," most of which are countries in the traditional sense. You can begin with the basic DXCC award and work your way up to the DXCC Honor Roll. Learn more. -- ARRL Awards Branch Manager Bill Moore, NC1L
Voice of Russia Update - Shortwave Broadcasts To Continue In 2014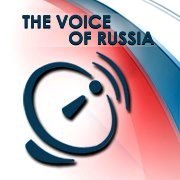 To paraphrase Mark Twain, reports of the demise of the Voice of Russia (VOR) may have been greatly exaggerated. Earlier this year the Voice of Russia -- the former Radio Moscow during the Soviet Era -- appeared poised to cease shortwave broadcasts as of January 1, 2014. In the wake of a December decree signed by Russian President Vladimir Putin that merged the Voice of Russia with several other state-run news agencies, SWL Tom Witherspoon, K4SWL, contacted VOR.
"We are glad to let you know that the Voice of Russia will stay on the air in 2014, however, considerable changes in our frequency schedule are expected," the broadcaster told Witherspoon and as he reports on his blog.
The posted VOR schedule, which runs through March, indicates 38 aggregate hours of shortwave broadcasts to all parts of the world, most beamed at the Middle East and Asia. Shortwave broadcasts to Europe, Latin America, Oceania, and Africa account for just 15 aggregate hours. VOR, which claims to be the first radio station to broadcast internationally, also broadcasts online, via satellite, on FM, and via three medium-wave transmitters. In 2003 VOR was among the first major international radio broadcasters to launch daily broadcasts to Europe in Digital Radio Mondiale (DRM).
The JCARA Hamfest Was A Huge Success.
The JCARA Hamfest, which was held on November 15-16, 2013, was a huge success for the third year in a row.
Winners of the major prizes were:
ICOM 718 HF Transceiver: Richard Warner - AF5AQ
YAESU FT-7900R/E Dual Band Mobile Transceiver: John King - K5PGW
YAESU FT-60R Dual Band (submersible) HT Transceiver: John Beicher - KF5OPB
The dedication, loyalty and hard work of all of the volunteers is, and has been, very much appreciated. As the outgoing Hamfest Chairman, I thank all of them for their efforts in making the last three years a tremendous success. To the volunteers I say, "It has been an honor to work with each and everyone of you."
73,
Dan Miller - AE5JG
Unusual DX Opening on 6 Meters
Six-meter operators look forward to the peak of a sunspot cycle for occasional F2-layer band openings that permit intercontinental DX on "the Magic Band." The current Cycle 24, however, has been too weak to feature any of these openings -- until November 9. The ARRL Letter reports that the 90-minute opening provided 6-meter ops across the U.S. the opportunity to work into the Caribbean and Central and South America. It's not the transatlantic or transpacific DX which occurred during the last sunspot peak in 2000-2001, but it's the best that the current cycle has offered so far.

Courtesy of CQ Newsroom
ARRL Files Symbol Rate Petition With The FCC
The ARRL has asked the FCC to delete the symbol rate limit in §97.307(f) of its Amateur Service rules, replacing it with a maximum bandwidth for data emissions of 2.8 kHz on amateur frequencies below 29.7 MHz. The ARRL Board of Directors adopted the policy underlying the petition initiative at its July 2013 meeting. The petition was filed November 15.
"The changes proposed would, in the aggregate, relieve the Amateur Service of outdated, 1980s-era restrictions that presently hamper or preclude Amateur Radio experimentation with modern high frequency (HF) and other data transmission protocols," the League's petition asserted. "The proposed rule changes would also permit greater flexibility in the choice of data emissions." Symbol rate represents the number of times per second that a change of state occurs, not to be confused with data (or bit) rate.
Current FCC rules limit digital data emissions below 28 MHz to 300 baud, and between 28.0 and 28.3 MHz to 1200 baud. "Transmission protocols are available and in active use in other radio services in which the symbol rate exceeds the present limitations set forth in §97.307(f) of the Commission's Rules, but the necessary bandwidths of those protocols are within the bandwidth of a typical HF single sideband channel (3 kHz)," the ARRL's petition pointed out.
The League said that while bandwidth limitations are reasonable, the symbol rate "speed limit" reflective of 1980s technology, prohibits radio amateurs today from utilizing state-of-the-art technology. Present symbol rate limits on HF "actually encourage spectrum inefficiency," the League argues, "in that they allow data transmissions of unlimited bandwidth as long as the symbol rate is sufficiently slow." The League said eliminating symbol rate limits on data emissions and substituting a "reasonable maximum authorized bandwidth" would permit hams to use all HF data-transmission protocols now legal in the Amateur Service as well as other currently available protocols that fall within the authorized bandwidth but are off limits to amateurs.
The League said it's been more than three decades - when the Commission okayed the use of ASCII on HF since the FCC has evaluated symbol rate restrictions on radio amateurs as a regulatory matter. "The symbol rate restrictions were created to suit digital modes that are no longer in favor," the ARRL noted in its petition. Modern digital emissions "are capable of much more accurate and reliable transmissions at greater speeds with much less bandwidth than in 1980."
As an example, the League pointed to PACTOR 3, which is permitted under current rules, and PACTOR 4, which is not. Despite PACTOR 4's greater throughput, both protocols can operate within the bandwidth of a typical SSB transmission.
"If the symbol rate is allowed to increase as technology develops and the Amateur Service utilizes new data emission types, the efficiency of amateur data communications will increase," the ARRL concluded.
ARRL General Counsel Chris Imlay, W3KD, has emphasized that there is no broader plan on the League's part to seek regulation by bandwidth.
The FCC has not yet assigned an RM number and put the League's petition on public notice for comments, and there is no way to file comments until that happens.
16 Boy Scouts Qualify For Their Radio Merit Badges
Sunday, November 3, 2013, JCARA conducted a 4 hour seminar that included the scout's participation during a special JCARA Emergency Net called for Training.  Sixteen scouts ages 11 to 15 years successfully completed all the required items in the Radio Merit Badge Workbook and qualified for the Radio Merit Badge.  There were 53 items that had to be discussed and required the Boy Scout involvement in the BS Radio Merit Handbook. This included a QSO on the air involving Phonetics and Q-Signals.  Eight JCARA Amateur Operators supported the net.  
I want to thank the eight Amateurs who supported the training net: 
AF5AQ  Richard
AF5DP   Marilyn
K5BQJ   Nick
N9RQX  Valerie
N9RRI    Chuck
AE5JG   Dan
KE5QHZ Barbara
K5KDO  Kurt 
AF5AQ Richard, thanks for the use of your great portable 2 meter ground plane, AF5AQ Richard and N9RRI Chuck, thanks for directions, when someone moved St Martin high school on me.  All in all a great day, one our club should be proud of!!
Charlie, N2PKW
Round Island Lighthouse Special Event Is History
On Thursday morning, October 17, 2013, the Jackson County Amateur Radio Association and 599DXA members began preparing the Round Island Lighthouse Park in Pascagoula, MS for their "K5R" Special Event. This event was held from 00:00 UTC October 18 through 23:59 UTC October 20, 2013. To check out photos and additional information click here.
A Lovely Experience From Two Perspectives

Chuck and I were privileged to take part in the Round Island Lighthouse Reactivation Event this past weekend.  I got some experience in working CW in a very interesting and challenging setting.  Interesting?  Yes!  Making contacts with other hams from many different states, including my first DX on CW, in Ontario, Canada.  Many signals were fairly clear, a few were very clear, and then there were some that were in the "mud."  What a challenge to dig them out, and what a thrill when I succeeded!  I wanted to get all the pertinent info that I could, including call sign, name, state, and RST numbers (readability, signal strength and tone).  The necessary information was imparted to them, concerning QSL information, and the fact that info at "www.qrz.com" was good.  Sometimes, I wanted to stick the radio in my ear, to hear the signals correctly. I imagine we've all been there, when hearing a faint station.  The challenging part was in two ways, and helped me in my concentration skills.

1.  While during a QSO, sometimes another station would come in.  In HF, sometimes a station may not hear a QSO in progress, due to distance, propagation or band conditions (which can change quickly).  I learned to block them out and concentrate on my QSO.  It got easier with time.

2.  We live in the woods.  Out of all of our windows, trees are seen and our house is two miles away from our mailbox, and our road is very primitive.  We occasionally hear a neighbor driving his truck to work or back, but that's all.  All other sounds around us are various birds, including many varieties of songbirds and red tailed hawks.  We have deer, rabbits, an armadillo, a very cute and vociferous squirrel and his family, frogs, and lots of katydids, cicadas, and many kinds of grass bugs.  It sounds like a jungle at night, and we just love it!  In the winter, however, only a few hardy birds and the wind in the trees can be heard.  At the Special Event site we had to block out the sirens, traffic and city noise that we are not at all used to, and that was the other challenge.  It was all worth it, and anyone who couldn't take part for health or other reasons; we hope you are able to do something like this in the future!  We plan on it!  While I was making contacts, Chuck logged them in for me, and I couldn't have done it without him!  He encouraged me, and got me coffee when I wanted it, to keep the brain going.  We're a team, and a good one.  There!  That's my perspective on the event.
Valerie - N9RQX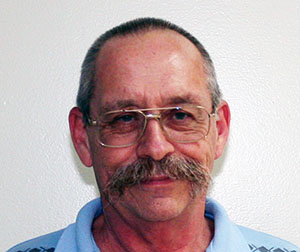 And now, my turn.  Way back in the spring, I promised to put in an article and I kept putting it off, until now.  This Event that Val described above; is our first one.  This is not going to be our last, Lord willing.  I may not have gotten on the air but I did the logging for Val and had a lot of fun doing it!  As she called out the call signs, I logged them and helped her to remember them when she returned their contacts back to them.  Both of us were very busy before the Event and afterward, helping to put up and then take down the shelters.  During the Event, Val was able to hold her Friday night Net right at her CW Station, making it easier for her to continue, "Pounding the Brass" right after the Net!  Now, as I look back, I suppose I could've gotten someone to take over, doing Val's logging, so I could have made contacts myself but we have worked as a team for over 27 years, it would be hard to change now.  Don't you worry, I've made HF contacts at home and I've had fun doing it.  We spent approximately 12 hours "on the job" and instead of driving home to George County we spent the nights at a Motel in Moss Point – very convenient to the Event Site and well worth it.  Taking a shower is so refreshing after 12 hours!  As a Club family, we worked together very well, even letting Val get involved in putting the shelter pipes together.  We need, as a Club, to do something like this every quarter.  It can only strengthen our Club.  There!  That's my perspective!.

Chuck - N9RRI

TQSL 2.0 Software Released For Logbook Of The World

A new version of the TQSL software for use with Logbook of The World (LoTW) is available, and it has major changes. This latest update, TQSL 2.0, has been revamped to combine TQSL-Cert and TQSL into a single program, adds additional documentation for certificate operations, and includes a new, task-oriented user interface. Where previous versions had two icons on your desktop -- TQSL and TQSL Cert -- the new version has just one. You'll now be able to log onto your user account from TQSL. In addition, icons within the TQSL user window are larger and easier to identify.

With v 2.0, you get auto-uploading of TQ8 log files and TQ5 certificate requests. In addition, there's automatic dupe checking to prevent previously uploaded QSOs from being uploaded again, saving LoTW server resources. TQSL 2.0 will check for updates in the software and configuration files and notify the user.

Once the user approves the update request, TQSL does the rest.

Inidual station locations -- if you have more than one registered -- are managed in a folder tree format. TQSL 2.0 also incorporates cross-checking to prevent users from entering invalid zones, states or provinces. TQSL 2.0 will back up your call sign certificates, station locations and uploaded QSO log, so it's easy to move from one computer to another or recover from a hard disk failure.

It's easy to upgrade. Install TQSL 2.0, and the installer will automatically uninstall older versions of TQSL while preserving your configuration information. Several things will be obvious the first time you run the new TQSL program. The user interface is completely different, with buttons to carry out major operations. It also provides tabs to access operations for Station Locations and Call Sign Certificates. The Station Location tab displays your station locations and associated call signs.

If you're new to LoTW, instructions on the ARRL website explain how to participate. More than 60,000 radio amateurs use LoTW to confirm their contacts and to apply for awards, such as DXCC. Nearly 78 million contact confirmations have resulted to date.

DX: Operation Approved for DXCC Credit

The ARRL DXCC Desk has approved the 2012 and 2013 operations of T6MH -- Afghanistan for DX Century Club credit. If a request for DXCC credit for this operation has been rejected in a prior application, contact ARRL Awards Branch Manager Bill Moore, NC1L, to be placed on the list for an update to your record. Please note the submission date and/or reference number of your application in order to expedite the search for any rejected contacts.

DXCC is Amateur Radio's premier award that hams can earn by confirming on-the-air contacts with 100 DXCC "entities," most of which are countries in the traditional sense. You can begin with the basic DXCC award and work your way up to the DXCC Honor Roll. Learn more. -- ARRL Awards Branch Manager Bill Moore, NC1L

<>

DX: Advice to Avoid DXpedition Confusion


>

The Daily DX Editor Bernie McClenny, W3UR, offers some basic recommendations to avoid problems when trying to work the "many juicy DXpeditions" that are active (see The Daily DX Calendar) this month.

"DXers do not depend on the cluster spots to tell you who is on what frequency," McClenny says. He notes that it's fine to use DX spots as a reference point, but to make sure you know for certain which station you are hearing/calling, so that you log the correct call sign. Don't assume.

Also, DXpeditions all work split and typically listen a few kilohertz up. Pay attention to your VFOs, and don't transmit on top of the DX station. "If someone does transmit (calls) on top of a DXpedition, you are better off not getting involved and making things worse," McClenny advises. "Don't be a DX pileup policeman!"

He also has some advice for DXpedition operators. "DXpeditioners, before firing up on a frequency make sure your transmit frequency is clear. Listen around to make sure some other DXpedition is not too close to your transmit or receiving frequencies." And, he adds, "Please send your call sign often!"

McClenny says that ultimately the DXpedition operator is responsible for the pileup. "Remember it takes two to make a QSO, and we DXers at home and those on DXpeditions have certain responsibilities to keep the confusion at a minimum, especially with all the DXpeditions that will be QRV [on the air] during this month."

Regulatory: FCC Sets Higher Vanity Call Sign Fee Than First Proposed

A new FCC regulatory fee of $16.10 to apply for an Amateur Radio vanity call sign will become effective sometime in mid-September, when the new fee schedule appears in the Federal Register. (ARRL will report the exact date as soon as it becomes available.) Earlier this year, the FCC had proposed upping the vanity call sign fee from its current $15 to $15.20. The vanity call sign fee has fluctuated over the 17 years of the current program -- from high of $50 when the program debuted in 1996 to a low of $11.70 in 2007.

In a Report and Order in MD Docket 13-140, released August 12, the FCC ordered a broad schedule of new fees for all services and waived the usual 30-day waiting period following Federal Register publication,

because there would not be time for new fees to become effective before the start of the new federal fiscal year on October 1, 2013. The FCC says it expects $230,230 in revenue to cover the costs of administering the vanity call sign program. It anticipates 14,300 vanity call sign applications.

Applicants must pay the regulatory fee not only when applying for a new vanity call sign, but also when renewing a vanity call sign (those holding "heritage" vanity call signs issued prior to 1993 are exempt).

The ARRL VEC will process license renewals for vanity call sign holders for a modest fee. The service is available to ARRL members and nonmembers, although League members pay less.

Vanity HQ Site Pulls The Plug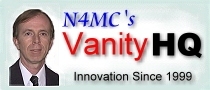 After serving the US Amateur Radio community for 14 years Mike Carroll, N4MC, has shut down his Vanity HQ website.
"Vanity HQ is closed," now greets visitors to the site. "It's been a good 14 years. Thank you everyone for participating, sending bug reports and comments, and I especially thank all the Elmer volunteers who have helped me over the years. It is time for me to move on. Regards to all."
The site has had its ups and downs over its lifetime. Carroll made a similar announcement in 2004, citing "a shift in my priorities," but the site eventually remained open. Over the years Vanity HQ often was the first stop for radio amateurs seeking a vanity call sign. Among other information, it provided a list of recently issued vanity call signs as well as available call signs and active vanity call sign applications.
In 2008, the ARRL Board okayed a partnership with the Vanity HQ site to have QST Silent Key listings included in the Vanity HQ history project in an electronically searchable format.
After Carroll announced he was shutting down in 2004, Eldon Lewis, K7LS, inaugurated his RadioQTH website, which offers essentially the same information Vanity HQ did.
Reflections - Field Day 2013
Dipole antennas strung all through the trees
Yagis on crank-ups that sway in the breeze
Verticals reaching right up to the sky
SPF50 or you're gonna fry!
When the rain comes
When the bands close
When mosquitoes bite
I simply remember the contest is on
And I can stay up all night!
Ice-cold libations are Red Bull or soda
Taking a break at the station for GOTA
Barbecued brisket or burgers and dogs
Eat, drink, and nap but fill out all your logs.
J-poles with twin-lead and good propagation
Baluns and bug-spray and DXing stations
FM and SSB, RTTY
PSK31, give it a try!
Emergency power and portable towers
Keying for hours and could use a shower
Why do hams do this and go so berserk?
Cause when all else fails, ham radio works!
When the storms come
When the phones die
When it's all berserk
We simply remember that when all else fails
The Amateur Radio...works!

73, Ward NØAX
Computer Savvy - The Difference Between http:// and https://
Most of you may know this, but for those of you who don't, it's good to be aware.
Once in a while, there is something that comes down the pike that is of real importance. What is the difference between http and https? Don't know how many of you are aware of this difference, but it is worth sending to any who do not.
The main difference between http:// and https:// is that it is all about keeping you secure. HTTP stands for Hyper Text Transfer Protocol. The S (big surprise) stands for "Secure." If you visit a website or web page, and look at the address in the web browser, it will likely begin with the following: http://. This means that the website is talking to your browser using the regular "unsecured" HTML language. In other words, it is possible for someone to "eavesdrop" on your computer's conversation with the website.
If you fill out a form on the website, someone might see the information you send. This is why you should never ever enter your credit card number in an http website! But if the web address begins with https://, that basically means your computer is talking to the website in a secure code that no one can evesdrop on.
If a website ever asks you to enter your credit card information, you should automatically look to see if the web address begins with https://. If it doesn't, you should NEVER enter sensitive information...such as a credit card number, SS #, etc.
Thanks to Joe, K5OS for passsing this info along.
Notes From An Old Ham
Hurricane season is upon us. We as Amateurs have contributed many times over by providing communications before and after a big storm approaches our coastline. Nick Conner, K5BQJ has been through many of these over the years. He has taken the time to jot down a few notes based on his past experiences. Read and enjoy his article by clicking here. "Notes From An Old Ham."
Check Out Ham Corner
There is a new file available in the Ham Corner section of our Web Site. The file is Coax Loss Calculator. It is a cool way for you to compare various brands of cable for loss at popular operating frequencies. You can enter your transmitter output power and see the loss at any given frequency. You can customize the tool to show the actual output power at the antenna connector. It is a great way to choose the right coax for your operating preferences whether it be HF, VHF or UHF.
Thanks to Nick, K5BQJ for furnishing the link.
Patrick Fagan - WA5DVV
My Power Plan (Or How To Not Burn Down The Shack)
When I became a ham a couple of years ago I started looking at how I was going to distribute power to all my gear. LOL at that time all my gear was a Yaesu FT-100d with a 30 amp power supply. I looked at power distribution strips from MFJ, West Mountain, and several other companies. I noticed that they all had one thing in common, high price tags. Well this did not set too well with me because I am a frugal person (read that as cheap). So I started researching how other hams were dealing with the issue and I discovered the world of Anderson Powerpoles. I thought to myself that these things were a home brewers dream. There were plans all over the internet on building devices and adapters with them. I also noticed that most people involved with ARES and RACES were using these. In fact there is a RACES standard configuration.
I did a search on Ebay and found tons of people selling the powerpoles so I invested in a few. Well let me tell you something, when you start building and making adapters with these things it gets addictive real fast. You walk around the shack and think, "what else can I put these on?"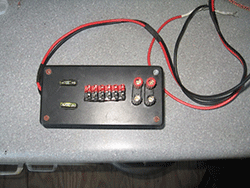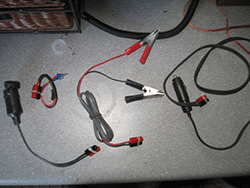 Since I first started using them my gear list has grown to include not only the Yaesu but now also a Tentec Omni 6+, a Icom v8000, and an automatic antenna tuner. Plus I have set up a solar array (90 watts of the Harbor Freight panels) and use powerpoles to distribute that power to my in shack LED lighting, 12v fan, and radio gear. I have power distribution boxes, 12v wall outlets, and adapters for everything under the sun. Every piece of equipment I have can now be powered by any power source in my shack because they all use the same powerpole configuration. If I need to operate from emergency power all I have to do is clip an adapter onto a battery and plug my gear into that. If you like to tinker and build stuff then Anderson powerpoles are for you, they are like legos and erector sets for adults. Try your hand at making something with them, you will enjoy the feeling of I made this.
I am including some links I found that show how to install them and many examples of things you can make for the shack.
http://www.wb3w.net/powerpoleinst.htm
http://www.qsl.net/wd4bis/connect.htm
http://wd6cmu.antennalaunchers.com/pp.htm
http://www.repeater-builder.com/astron/ss30-powerpoles.html
http://www.nj2x.com/2012/12/project-anderson-powerpole-polarity.html
http://home.comcast.net/~buck0/hampage.htm
http://www.wentztech.com/radio/Projects/Projects_files/Power%20Poles.html
http://radio.mcdougallshome.net/bench/w7mri-powerpole-hub/
http://www.nj2x.com/2011/11/project-car-power-adapter-to-anderson.html http://hamradionation.com/browse_vidfeeders.php?tag=Anderson+Powerpole
Richard Warner - AF5AQ
Computer Security - Be Prepared
We all know somebody that has been hacked at some time or another. Hacked or hacker is kind of an incorrect term. A hacker is somebody who is fluent in programming and programming languages. They hack a program to make it better or to make it do something they want it to. Sometimes they hack a program just so they can use it for free. Most hackers are not malicious, misguided maybe, but normally not malicious. Hackers are a curious lot, they hack into programs just to see if they can do it.

What really happens to us as home computer users is that we get cracked. A cracker much like a safe cracker or burglar breaks into your system with the intent to steal your data or to wreak havoc on your system. Why do crackers do what they do? Financial gain of course! They steal your info and sell it, mainly to identity thieves but also to companies that specialize in making and selling lists to the dreaded tele-marketers and spam advertisers. Unlike hackers, crackers are malicious. They create havoc in your computer, most of the time just to cover their tracks but other times just because they can.

It is sad to say but the only real way to keep your computer safe is to not ever hook it up to the internet or even to other computers via a network.

That being said I know that you are not going to stay off the internet. As hams we use the internet to research projects, look up callsigns, monitor DX clusters, and lots of other things. So knowing that we are going to be on the internet we have to now think about how to use it safely. It is like anything else you do nowadays, you have to be prepared.

Preparedness for your home computer is knowing what you dealing with and having the right tools. It also involves following a few do's and don'ts. Like anything else in life it involves unlearning bad habits and learning new good habits.

Here is a list of tools that I as a computer tech use to clean computers. And the best part about these tools are that they are free to download from doenloads.com which is sponsored by cnet.com.

1: Glary Utilities
2: Malwarebytes
3: AVG antivirus
4: Spyware Terminator

Richard Warner - AF5AQ

Computer Definitions Every HAM Should Know

Computer virus:

A computer program that is designed to replicate itself by copying itself into the other programs stored in a computer. It may be benign or have a negative effect, such as causing a program to operate incorrectly or corrupting a computer's memory.

Trojan or Trojan horse:

1: a program that appears desirable but actually contains something harmful; the contents of a Trojan can be a virus or a worm.
2: A bug inserted into a program or system designed to be activated after a certain time or a certain number of operations

Worm:

A malicious program that replicates itself until it fills all of the storage space on a drive or network.

Malware:

1: Malicious computer software that interferes with normal computer functions or sends personal data about the user to unauthorized parties over the Internet.
2: Software that is written and distributed for malicious purposes, such as impairing or destroying computer systems. Computer viruses are malware.

Spyware:

1: Software that secretly gathers information about a person or organization.
2: Any malicious software that is designed to take partial or full control of a computer's operation without the knowledge of its user.

Adware:

1. Software that displays advertisements and is integrated into another program offered at no charge or at low cost.
2: A type of spyware that gathers information about an Internet user's browsing habits and displays targeted or contextual advertisements.

Tracking cookie or just cookie:

A cookie, in computer terms, is a small data file that stores information on your computer. When this information is used to record the movements your computer makes throughout one or more websites, it is called a tracking cookie, because it tracks your pathways from one page to another. The tracking cookie file takes up very little space on your computer because it uses only text, no images or other data-heavy sources.

Read more: Definition of Tracking Cookies | eHow.com http://www.ehow.com/info_8087985_definition-tracking-cookies.html#ixzz2RO7lzzQS

Computer Security Software:

Computer security software covers a wide variety of potential risks, including hacker intrusions, destruction of data, harmful viruses, Trojan horses and other malicious attacks. Computer security software is available either within the computer's operating system or add-ons freely downloaded or purchased. Computer security software offers peace of mind amid a growing array of risks that increase exponentially as more PCs become accessible through the Internet

Read more: Definition of Computer Security Software | eHow.com

http://www.ehow.com/about_5087808_definition-computer-security-software.html#ixzz2ROBzDuVK

Firewall:

<>

A system designed to prevent unauthorized access to or from a private network. Firewalls can be implemented in both hardware and software, or a combination of both. Firewalls are frequently used to prevent unauthorized Internet users from accessing private networks connected to the Internet, especially intranets. All messages entering or leaving the intranet pass through the firewall, which examines each message and blocks those that do not meet the specified security criteria.

>

A good site on computer security:

http://www.us-cert.gov/sites/default/files/publications/TenWaystoImproveNewComputerSecurity.pdf

A small list of security software that is available for download from Cnet.com. Best of all they are free.

1: Glary Utilities
2: Malwarebytes
3: AVG Antivirus
4:Spyware Terminator

Some do's and don'ts for home computer security:

Do's:

• Create strong passwords that are at least eight characters long, and including at least a numerical value and a symbol, such as #, to foil password-cracking software. Avoid common words, and never disclose a password online.

• Change your password every ninety days.

• Perform regular backups of important data.

• Delete any message that refers to groups or organizations that you are not a part of.

• Download and install software only from online sources you trust.

• Never click on a link from an untrusted source.

• Close windows containing pop-up ads or unexpected warnings by clicking on the "X" button in the upper most right hand corner of that window, not by clicking within the window.

• Use antivirus software, and update it on a regular basis to recognize the latest threats.

• Regularly update your operating system, Web browser, and other major software, using the manufacturers' update features, preferably using the auto update functionality.

• Set Windows or Mac updates to auto-download.

Don'ts:

• Never write down your password. Especially on a Post-It note stuck to your computer!

• Never give out your password to anyone, whether you know them or not.

• Never select the "Remember My Password" option. Many applications do not store them securely.

• Never purchase anything promoted in a spam message. Even if the offer isn't a scam, you are only helping to finance and encourage spam.

• Please refrain from opening an e-mail attachment, even from someone you know well, unless you were expecting it.

• Avoid creating common passwords such as your name, social security, UNI, etcetera.

• Do not leave your laptop unattended, even for a few minutes.

• Never reply to e-mail(s) requesting financial or personal information.

• Avoid opening e-mail(s) or e-mail attachments from an unknown sender.

• Please refrain from clicking on the close button within pop-up ads.

• Under no circumstances should you install or use pirated copies of software.

• Do not install P2P file sharing programs which can illegally download copyrighted material.

• Never set your e-mail program to "auto-open" attachments.

Richard Warner - AF5AQ

Heathkit Is Back! Maybe Or Maybe Not

In 2011 it was announced that Heathkit was returning to the kit-building business. Unfotunately this never got off the ground. Several months later they went into bankruptcy before the first kit was brought to market. As part of the bankruptcy proceedings the Heathkit name, logo and rights to previous equipment designs were put up for auction. There was a winning bidder although it is not clear who this is.
There is an extensive survey online which suggests the new owner(s) may be very serious this time. If this comes to fruition it may mean they could become a serious player in the amateur radio market again. They are soliciting input from former Heathkit builders and potenial new customers. If you would like to participate you can find the survey here.
Patrick Fagan - WA5DVV
JCARA Survey Results
Congratulations to our club members for the terrific response to our 2013 interest survey! Any surveying organization would be envious of our 60%-plus response rate. What more can we say about our members' level of interest in their club?
I won't recap the survey here; Dan Miller, AE5JG and I did that at the May 29 meeting. Suffice it to say that members provided a wealth of information upon which our leadership team can base its plans for the future.
I was especially encouraged by the expressions of support for activities to help new hams. Ours is a self-sustaining hobby; there's no one out there recruiting for us. The more we do to attract and nurture new hams, both inidually and as a club, the more secure the hobby will be in the future.
I also enjoyed the discussion, triggered by a survey question, of a potential special event sometime this fall. It was great to hear members' enthusiasm for the activity.
Among all of the useful information and ideas the survey elicited, a couple of negative comments also appeared in the report. Negative comments are an inevitable consequence of anonymity. The most important thing is to keep them in perspective. The two negative remarks in the report represented a very small proportion of the responses received. We won't gain much ground by either ignoring them or getting angry about them. I hope we can determine what situations might have motivated them, figure out whether the situations are more than isolated incidents, and, if so, address the causes. And then move on.
There's a lot of very useful information to be mined from your survey responses, and I'm sure our leaders are already considering how they can put that information to work. From my own experience, I know that leadership in voluntary organizations can be challenging; it ain't a job for sissies. They need our support as they plan ways to serve our members' interests.
Charlie Carney - AG5CC