WELCOME!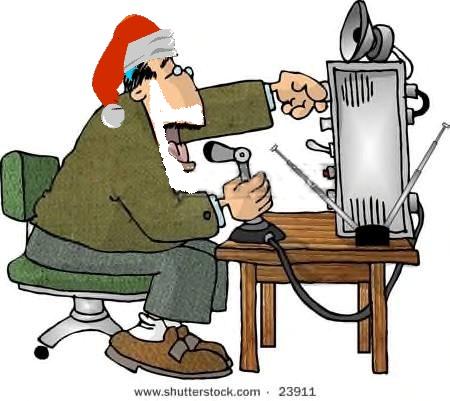 Ho, Ho, Ho -- Welcome to the Jackson County Amateur Radio Association's web site. It shall be our purpose to further the exchange of information and cooperation among members, by promoting radio knowledge and individual operating efficiency. JCARA conducts club programs and activities to advance the general interest and welfare of Amateur Radio within the county and surrounding areas of South Mississippi.
Club Meeting
The JCARA Club meetings are held monthly on the last Tuesday of the month. The next Club Meeting will occur on January 28, 2014 at the St. Martin Community Center starting at 6:30 p.m. There will be no meeting in December because of the hoilday season. Instead, we hope to see all of you at our annual Christmas dinner on December 10.
If you wish to become a member of the JCARA please click here and fill out the application then get in touch with a Club Officer.

The JCARA Hamfest Was A Huge Success.
The JCARA Hamfest, which was held on November 15-16, 2013, was a huge success for the third year in a row.
Winners of the major prizes were:
ICOM 718 HF Transceiver: Richard Warner - AF5AQ
YAESU FT-7900R/E Dual Band Mobile Transceiver: John King - K5PGW
YAESU FT-60R Dual Band (submersible) HT Transceiver: John Beicher - KF5OPB
The dedication, loyalty and hard work of all of the volunteers is, and has been, very much appreciated. As the outgoing Hamfest Chairman, I thank all of them for their efforts in making the last three years a tremendous success. To the volunteers I say, "It has been an honor to work with each and everyone of you."
73,
Dan Miller - AE5JG
Unusual DX Opening on 6 Meters
Six-meter operators look forward to the peak of a sunspot cycle for occasional F2-layer band openings that permit intercontinental DX on "the Magic Band." The current Cycle 24, however, has been too weak to feature any of these openings -- until November 9. The ARRL Letter reports that the 90-minute opening provided 6-meter ops across the U.S. the opportunity to work into the Caribbean and Central and South America. It's not the transatlantic or transpacific DX which occurred during the last sunspot peak in 2000-2001, but it's the best that the current cycle has offered so far.

Courtesy of CQ Newsroom
ARRL Files Symbol Rate Petition With The FCC
The ARRL has asked the FCC to delete the symbol rate limit in §97.307(f) of its Amateur Service rules, replacing it with a maximum bandwidth for data emissions of 2.8 kHz on amateur frequencies below 29.7 MHz. The ARRL Board of Directors adopted the policy underlying the petition initiative at its July 2013 meeting. The petition was filed November 15.
"The changes proposed would, in the aggregate, relieve the Amateur Service of outdated, 1980s-era restrictions that presently hamper or preclude Amateur Radio experimentation with modern high frequency (HF) and other data transmission protocols," the League's petition asserted. "The proposed rule changes would also permit greater flexibility in the choice of data emissions." Symbol rate represents the number of times per second that a change of state occurs, not to be confused with data (or bit) rate.
Current FCC rules limit digital data emissions below 28 MHz to 300 baud, and between 28.0 and 28.3 MHz to 1200 baud. "Transmission protocols are available and in active use in other radio services in which the symbol rate exceeds the present limitations set forth in §97.307(f) of the Commission's Rules, but the necessary bandwidths of those protocols are within the bandwidth of a typical HF single sideband channel (3 kHz)," the ARRL's petition pointed out.
The League said that while bandwidth limitations are reasonable, the symbol rate "speed limit" reflective of 1980s technology, prohibits radio amateurs today from utilizing state-of-the-art technology. Present symbol rate limits on HF "actually encourage spectrum inefficiency," the League argues, "in that they allow data transmissions of unlimited bandwidth as long as the symbol rate is sufficiently slow." The League said eliminating symbol rate limits on data emissions and substituting a "reasonable maximum authorized bandwidth" would permit hams to use all HF data-transmission protocols now legal in the Amateur Service as well as other currently available protocols that fall within the authorized bandwidth but are off limits to amateurs.
The League said it's been more than three decades - when the Commission okayed the use of ASCII on HF since the FCC has evaluated symbol rate restrictions on radio amateurs as a regulatory matter. "The symbol rate restrictions were created to suit digital modes that are no longer in favor," the ARRL noted in its petition. Modern digital emissions "are capable of much more accurate and reliable transmissions at greater speeds with much less bandwidth than in 1980."
As an example, the League pointed to PACTOR 3, which is permitted under current rules, and PACTOR 4, which is not. Despite PACTOR 4's greater throughput, both protocols can operate within the bandwidth of a typical SSB transmission.
"If the symbol rate is allowed to increase as technology develops and the Amateur Service utilizes new data emission types, the efficiency of amateur data communications will increase," the ARRL concluded.
ARRL General Counsel Chris Imlay, W3KD, has emphasized that there is no broader plan on the League's part to seek regulation by bandwidth.
The FCC has not yet assigned an RM number and put the League's petition on public notice for comments, and there is no way to file comments until that happens.
16 Boy Scouts Qualify For Their Radio Merit Badges
Sunday, November 3, 2013, JCARA conducted a 4 hour seminar that included the scout's participation during a special JCARA Emergency Net called for Training.  Sixteen scouts ages 11 to 15 years successfully completed all the required items in the Radio Merit Badge Workbook and qualified for the Radio Merit Badge.  There were 53 items that had to be discussed and required the Boy Scout involvement in the BS Radio Merit Handbook. This included a QSO on the air involving Phonetics and Q-Signals.  Eight JCARA Amateur Operators supported the net.  
I want to thank the eight Amateurs who supported the training net: 
AF5AQ  Richard
AF5DP   Marilyn
K5BQJ   Nick
N9RQX  Valerie
N9RRI    Chuck
AE5JG   Dan
KE5QHZ Barbara
K5KDO  Kurt 
AF5AQ Richard, thanks for the use of your great portable 2 meter ground plane, AF5AQ Richard and N9RRI Chuck, thanks for directions, when someone moved St Martin high school on me.  All in all a great day, one our club should be proud of!!
Charlie, N2PKW
Round Island Lighthouse Special Event Is History
On Thursday morning, October 17, 2013, the Jackson County Amateur Radio Association and 599DXA members began preparing the Round Island Lighthouse Park in Pascagoula, MS for their "K5R" Special Event. This event was held from 00:00 UTC October 18 through 23:59 UTC October 20, 2013. To check out photos and additional information click here.
A Lovely Experience From Two Perspectives

Chuck and I were privileged to take part in the Round Island Lighthouse Reactivation Event this past weekend.  I got some experience in working CW in a very interesting and challenging setting.  Interesting?  Yes!  Making contacts with other hams from many different states, including my first DX on CW, in Ontario, Canada.  Many signals were fairly clear, a few were very clear, and then there were some that were in the "mud."  What a challenge to dig them out, and what a thrill when I succeeded!  I wanted to get all the pertinent info that I could, including call sign, name, state, and RST numbers (readability, signal strength and tone).  The necessary information was imparted to them, concerning QSL information, and the fact that info at "www.qrz.com" was good.  Sometimes, I wanted to stick the radio in my ear, to hear the signals correctly. I imagine we've all been there, when hearing a faint station.  The challenging part was in two ways, and helped me in my concentration skills.

1.  While during a QSO, sometimes another station would come in.  In HF, sometimes a station may not hear a QSO in progress, due to distance, propagation or band conditions (which can change quickly).  I learned to block them out and concentrate on my QSO.  It got easier with time.

2.  We live in the woods.  Out of all of our windows, trees are seen and our house is two miles away from our mailbox, and our road is very primitive.  We occasionally hear a neighbor driving his truck to work or back, but that's all.  All other sounds around us are various birds, including many varieties of songbirds and red tailed hawks.  We have deer, rabbits, an armadillo, a very cute and vociferous squirrel and his family, frogs, and lots of katydids, cicadas, and many kinds of grass bugs.  It sounds like a jungle at night, and we just love it!  In the winter, however, only a few hardy birds and the wind in the trees can be heard.  At the Special Event site we had to block out the sirens, traffic and city noise that we are not at all used to, and that was the other challenge.  It was all worth it, and anyone who couldn't take part for health or other reasons; we hope you are able to do something like this in the future!  We plan on it!  While I was making contacts, Chuck logged them in for me, and I couldn't have done it without him!  He encouraged me, and got me coffee when I wanted it, to keep the brain going.  We're a team, and a good one.  There!  That's my perspective on the event.
Valerie - N9RQX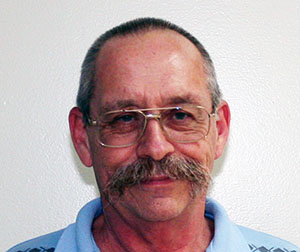 And now, my turn.  Way back in the spring, I promised to put in an article and I kept putting it off, until now.  This Event that Val described above; is our first one.  This is not going to be our last, Lord willing.  I may not have gotten on the air but I did the logging for Val and had a lot of fun doing it!  As she called out the call signs, I logged them and helped her to remember them when she returned their contacts back to them.  Both of us were very busy before the Event and afterward, helping to put up and then take down the shelters.  During the Event, Val was able to hold her Friday night Net right at her CW Station, making it easier for her to continue, "Pounding the Brass" right after the Net!  Now, as I look back, I suppose I could've gotten someone to take over, doing Val's logging, so I could have made contacts myself but we have worked as a team for over 27 years, it would be hard to change now.  Don't you worry, I've made HF contacts at home and I've had fun doing it.  We spent approximately 12 hours "on the job" and instead of driving home to George County we spent the nights at a Motel in Moss Point – very convenient to the Event Site and well worth it.  Taking a shower is so refreshing after 12 hours!  As a Club family, we worked together very well, even letting Val get involved in putting the shelter pipes together.  We need, as a Club, to do something like this every quarter.  It can only strengthen our Club.  There!  That's my perspective!.
Chuck - N9RRI
TV Show Featuring Fictional Ham Sparks Crop of Real Hams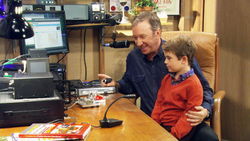 Tim Allen (L) as Mike Baxter, KAØXTT, sits in his ham shack
with Flynn Morrison, who plays his grandson on the sitcom.
Fans of the ABC Television show "Last Man Standing" may be aware that its main character, "Mike Baxter" -- played by Tim Allen -- is supposed to be a radio amateur, KAØXTT. While it may come as no surprise that the sitcom's producer is a ham -- John Amodeo, NN6JA -- several radio amateurs also are on the production crew, and their number just increased, with help from the Greater Los Angeles Amateur Radio Group (GLAARG) VEC. The show's "Thanksgiving" episode, which airs Friday, November 22 (8 PM ET), will feature a scene with "Baxter" in his basement ham shack. Amodeo said that for the first time in the series, Baxter will briefly talk on the radio. In response, viewers will hear a pileup created by using the voices of hundreds of real hams, sent in to the production company.
In the scene, the Mike Baxter character appears with his grandson "Boyd," played by Flynn Morrison. The episode was shot in mid-October. According to Amodeo, Mike heads to his basement ham shack to escape a houseful of guests waiting for Thanksgiving dinner to be served. This episode of the show is only the second to include ham radio as a story element and the first in which Tim Allen's character is shown operating his ham station.
At an exam session on November 9, the "Last Man Standing" crew added eight new Technician class hams to its crew as well as its first General upgrade. GLAARG volunteer examiners Norm Goodkin, K6YXH; Naomi Goodkin, WB6OHW, and Rob Antonacci, AA6RA, administered the test session. Including the additional new hams, the show's behind-the-scenes crew complement now boasts 14 Technician, one General, and two Amateur Extra class operators.
In "Last Man Standing," Allen's character Mike, a pickup-driving sporting goods marketing manager, must spend more time in his female-dominated household after his wife gets a promotion at work. The couple's three daughters are not prepared for the shift to his stricter parenting style.
TQSL 2.0 Software Released For Logbook Of The World
A new version of the TQSL software for use with Logbook of The World (LoTW) is available, and it has major changes. This latest update, TQSL 2.0, has been revamped to combine TQSL-Cert and TQSL into a single program, adds additional documentation for certificate operations, and includes a new, task-oriented user interface. Where previous versions had two icons on your desktop -- TQSL and TQSL Cert -- the new version has just one. You'll now be able to log onto your user account from TQSL. In addition, icons within the TQSL user window are larger and easier to identify.
With v 2.0, you get auto-uploading of TQ8 log files and TQ5 certificate requests. In addition, there's automatic dupe checking to prevent previously uploaded QSOs from being uploaded again, saving LoTW server resources. TQSL 2.0 will check for updates in the software and configuration files and notify the user.
Once the user approves the update request, TQSL does the rest.
Individual station locations -- if you have more than one registered -- are managed in a folder tree format. TQSL 2.0 also incorporates cross-checking to prevent users from entering invalid zones, states or provinces. TQSL 2.0 will back up your call sign certificates, station locations and uploaded QSO log, so it's easy to move from one computer to another or recover from a hard disk failure.
It's easy to upgrade. Install TQSL 2.0, and the installer will automatically uninstall older versions of TQSL while preserving your configuration information. Several things will be obvious the first time you run the new TQSL program. The user interface is completely different, with buttons to carry out major operations. It also provides tabs to access operations for Station Locations and Call Sign Certificates. The Station Location tab displays your station locations and associated call signs.
If you're new to LoTW, instructions on the ARRL website explain how to participate. More than 60,000 radio amateurs use LoTW to confirm their contacts and to apply for awards, such as DXCC. Nearly 78 million contact confirmations have resulted to date.
DX: Operation Approved for DXCC Credit
The ARRL DXCC Desk has approved the 2012 and 2013 operations of T6MH -- Afghanistan for DX Century Club credit. If a request for DXCC credit for this operation has been rejected in a prior application, contact ARRL Awards Branch Manager Bill Moore, NC1L, to be placed on the list for an update to your record. Please note the submission date and/or reference number of your application in order to expedite the search for any rejected contacts.
DXCC is Amateur Radio's premier award that hams can earn by confirming on-the-air contacts with 100 DXCC "entities," most of which are countries in the traditional sense. You can begin with the basic DXCC award and work your way up to the DXCC Honor Roll. Learn more. -- ARRL Awards Branch Manager Bill Moore, NC1L
DX: Advice to Avoid DXpedition Confusion

The Daily DX Editor Bernie McClenny, W3UR, offers some basic recommendations to avoid problems when trying to work the "many juicy DXpeditions" that are active (see The Daily DX Calendar) this month.
"DXers do not depend on the cluster spots to tell you who is on what frequency," McClenny says. He notes that it's fine to use DX spots as a reference point, but to make sure you know for certain which station you are hearing/calling, so that you log the correct call sign. Don't assume.
Also, DXpeditions all work split and typically listen a few kilohertz up. Pay attention to your VFOs, and don't transmit on top of the DX station. "If someone does transmit (calls) on top of a DXpedition, you are better off not getting involved and making things worse," McClenny advises. "Don't be a DX pileup policeman!"
He also has some advice for DXpedition operators. "DXpeditioners, before firing up on a frequency make sure your transmit frequency is clear. Listen around to make sure some other DXpedition is not too close to your transmit or receiving frequencies." And, he adds, "Please send your call sign often!"
McClenny says that ultimately the DXpedition operator is responsible for the pileup. "Remember it takes two to make a QSO, and we DXers at home and those on DXpeditions have certain responsibilities to keep the confusion at a minimum, especially with all the DXpeditions that will be QRV [on the air] during this month."
Regulatory: FCC Sets Higher Vanity Call Sign Fee Than First Proposed
A new FCC regulatory fee of $16.10 to apply for an Amateur Radio vanity call sign will become effective sometime in mid-September, when the new fee schedule appears in the Federal Register. (ARRL will report the exact date as soon as it becomes available.) Earlier this year, the FCC had proposed upping the vanity call sign fee from its current $15 to $15.20. The vanity call sign fee has fluctuated over the 17 years of the current program -- from high of $50 when the program debuted in 1996 to a low of $11.70 in 2007.
In a Report and Order in MD Docket 13-140, released August 12, the FCC ordered a broad schedule of new fees for all services and waived the usual 30-day waiting period following Federal Register publication,
because there would not be time for new fees to become effective before the start of the new federal fiscal year on October 1, 2013. The FCC says it expects $230,230 in revenue to cover the costs of administering the vanity call sign program. It anticipates 14,300 vanity call sign applications.
Applicants must pay the regulatory fee not only when applying for a new vanity call sign, but also when renewing a vanity call sign (those holding "heritage" vanity call signs issued prior to 1993 are exempt).
The ARRL VEC will process license renewals for vanity call sign holders for a modest fee. The service is available to ARRL members and nonmembers, although League members pay less.
Vanity HQ Site Pulls The Plug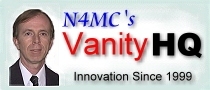 After serving the US Amateur Radio community for 14 years Mike Carroll, N4MC, has shut down his Vanity HQ website.
"Vanity HQ is closed," now greets visitors to the site. "It's been a good 14 years. Thank you everyone for participating, sending bug reports and comments, and I especially thank all the Elmer volunteers who have helped me over the years. It is time for me to move on. Regards to all."
The site has had its ups and downs over its lifetime. Carroll made a similar announcement in 2004, citing "a shift in my priorities," but the site eventually remained open. Over the years Vanity HQ often was the first stop for radio amateurs seeking a vanity call sign. Among other information, it provided a list of recently issued vanity call signs as well as available call signs and active vanity call sign applications.
In 2008, the ARRL Board okayed a partnership with the Vanity HQ site to have QST Silent Key listings included in the Vanity HQ history project in an electronically searchable format.
After Carroll announced he was shutting down in 2004, Eldon Lewis, K7LS, inaugurated his RadioQTH website, which offers essentially the same information Vanity HQ did.
Reflections - Field Day 2013
Dipole antennas strung all through the trees
Yagis on crank-ups that sway in the breeze
Verticals reaching right up to the sky
SPF50 or you're gonna fry!
When the rain comes
When the bands close
When mosquitoes bite
I simply remember the contest is on
And I can stay up all night!
Ice-cold libations are Red Bull or soda
Taking a break at the station for GOTA
Barbecued brisket or burgers and dogs
Eat, drink, and nap but fill out all your logs.
J-poles with twin-lead and good propagation
Baluns and bug-spray and DXing stations
FM and SSB, RTTY
PSK31, give it a try!
Emergency power and portable towers
Keying for hours and could use a shower
Why do hams do this and go so berserk?
Cause when all else fails, ham radio works!
When the storms come
When the phones die
When it's all berserk
We simply remember that when all else fails
The Amateur Radio...works!

73, Ward NØAX
Computer Savvy - The Difference Between http:// and https://
Most of you may know this, but for those of you who don't, it's good to be aware.
Once in a while, there is something that comes down the pike that is of real importance. What is the difference between http and https? Don't know how many of you are aware of this difference, but it is worth sending to any who do not.
The main difference between http:// and https:// is that it is all about keeping you secure. HTTP stands for Hyper Text Transfer Protocol. The S (big surprise) stands for "Secure." If you visit a website or web page, and look at the address in the web browser, it will likely begin with the following: http://. This means that the website is talking to your browser using the regular "unsecured" HTML language. In other words, it is possible for someone to "eavesdrop" on your computer's conversation with the website.
If you fill out a form on the website, someone might see the information you send. This is why you should never ever enter your credit card number in an http website! But if the web address begins with https://, that basically means your computer is talking to the website in a secure code that no one can evesdrop on.
If a website ever asks you to enter your credit card information, you should automatically look to see if the web address begins with https://. If it doesn't, you should NEVER enter sensitive information...such as a credit card number, SS #, etc.
Thanks to Joe, K5OS for passsing this info along.
Notes From An Old Ham
Hurricane season is upon us. We as Amateurs have contributed many times over by providing communications before and after a big storm approaches our coastline. Nick Conner, K5BQJ has been through many of these over the years. He has taken the time to jot down a few notes based on his past experiences. Read and enjoy his article by clicking here. "Notes From An Old Ham."
Check Out Ham Corner
There is a new file available in the Ham Corner section of our Web Site. The file is Coax Loss Calculator. It is a cool way for you to compare various brands of cable for loss at popular operating frequencies. You can enter your transmitter output power and see the loss at any given frequency. You can customize the tool to show the actual output power at the antenna connector. It is a great way to choose the right coax for your operating preferences whether it be HF, VHF or UHF.
Thanks to Nick, K5BQJ for furnishing the link.
Patrick Fagan - WA5DVV
My Power Plan (Or How To Not Burn Down The Shack)
When I became a ham a couple of years ago I started looking at how I was going to distribute power to all my gear. LOL at that time all my gear was a Yaesu FT-100d with a 30 amp power supply. I looked at power distribution strips from MFJ, West Mountain, and several other companies. I noticed that they all had one thing in common, high price tags. Well this did not set too well with me because I am a frugal person (read that as cheap). So I started researching how other hams were dealing with the issue and I discovered the world of Anderson Powerpoles. I thought to myself that these things were a home brewers dream. There were plans all over the internet on building devices and adapters with them. I also noticed that most people involved with ARES and RACES were using these. In fact there is a RACES standard configuration.
I did a search on Ebay and found tons of people selling the powerpoles so I invested in a few. Well let me tell you something, when you start building and making adapters with these things it gets addictive real fast. You walk around the shack and think, "what else can I put these on?"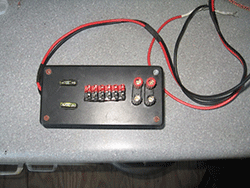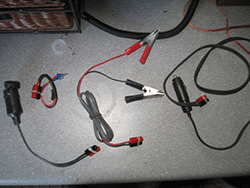 Since I first started using them my gear list has grown to include not only the Yaesu but now also a Tentec Omni 6+, a Icom v8000, and an automatic antenna tuner. Plus I have set up a solar array (90 watts of the Harbor Freight panels) and use powerpoles to distribute that power to my in shack LED lighting, 12v fan, and radio gear. I have power distribution boxes, 12v wall outlets, and adapters for everything under the sun. Every piece of equipment I have can now be powered by any power source in my shack because they all use the same powerpole configuration. If I need to operate from emergency power all I have to do is clip an adapter onto a battery and plug my gear into that. If you like to tinker and build stuff then Anderson powerpoles are for you, they are like legos and erector sets for adults. Try your hand at making something with them, you will enjoy the feeling of I made this.
I am including some links I found that show how to install them and many examples of things you can make for the shack.
http://www.wb3w.net/powerpoleinst.htm
http://www.qsl.net/wd4bis/connect.htm
http://wd6cmu.antennalaunchers.com/pp.htm
http://www.repeater-builder.com/astron/ss30-powerpoles.html
http://www.nj2x.com/2012/12/project-anderson-powerpole-polarity.html
http://home.comcast.net/~buck0/hampage.htm
http://www.wentztech.com/radio/Projects/Projects_files/Power%20Poles.html
http://radio.mcdougallshome.net/bench/w7mri-powerpole-hub/
http://www.nj2x.com/2011/11/project-car-power-adapter-to-anderson.html http://hamradionation.com/browse_vidfeeders.php?tag=Anderson+Powerpole
Richard Warner - AF5AQ
Computer Security - Be Prepared
We all know somebody that has been hacked at some time or another. Hacked or hacker is kind of an incorrect term. A hacker is somebody who is fluent in programming and programming languages. They hack a program to make it better or to make it do something they want it to. Sometimes they hack a program just so they can use it for free. Most hackers are not malicious, misguided maybe, but normally not malicious. Hackers are a curious lot, they hack into programs just to see if they can do it.
What really happens to us as home computer users is that we get cracked. A cracker much like a safe cracker or burglar breaks into your system with the intent to steal your data or to wreak havoc on your system. Why do crackers do what they do? Financial gain of course! They steal your info and sell it, mainly to identity thieves but also to companies that specialize in making and selling lists to the dreaded tele-marketers and spam advertisers. Unlike hackers, crackers are malicious. They create havoc in your computer, most of the time just to cover their tracks but other times just because they can.
It is sad to say but the only real way to keep your computer safe is to not ever hook it up to the internet or even to other computers via a network.

That being said I know that you are not going to stay off the internet. As hams we use the internet to research projects, look up callsigns, monitor DX clusters, and lots of other things. So knowing that we are going to be on the internet we have to now think about how to use it safely. It is like anything else you do nowadays, you have to be prepared.
Preparedness for your home computer is knowing what you dealing with and having the right tools. It also involves following a few do's and don'ts. Like anything else in life it involves unlearning bad habits and learning new good habits.
Here is a list of tools that I as a computer tech use to clean computers. And the best part about these tools are that they are free to download from doenloads.com which is sponsored by cnet.com.
1: Glary Utilities
2: Malwarebytes
3: AVG antivirus
4: Spyware Terminator
Richard Warner - AF5AQ
Computer Definitions Every HAM Should Know
Computer virus:

A computer program that is designed to replicate itself by copying itself into the other programs stored in a computer. It may be benign or have a negative effect, such as causing a program to operate incorrectly or corrupting a computer's memory.
Trojan or Trojan horse:

1: a program that appears desirable but actually contains something harmful; the contents of a Trojan can be a virus or a worm.
2: A bug inserted into a program or system designed to be activated after a certain time or a certain number of operations
Worm:

A malicious program that replicates itself until it fills all of the storage space on a drive or network.
Malware:

1: Malicious computer software that interferes with normal computer functions or sends personal data about the user to unauthorized parties over the Internet.
2: Software that is written and distributed for malicious purposes, such as impairing or destroying computer systems. Computer viruses are malware.
Spyware:

1: Software that secretly gathers information about a person or organization.
2: Any malicious software that is designed to take partial or full control of a computer's operation without the knowledge of its user.
Adware:

1. Software that displays advertisements and is integrated into another program offered at no charge or at low cost.
2: A type of spyware that gathers information about an Internet user's browsing habits and displays targeted or contextual advertisements.
Tracking cookie or just cookie:

A cookie, in computer terms, is a small data file that stores information on your computer. When this information is used to record the movements your computer makes throughout one or more websites, it is called a tracking cookie, because it tracks your pathways from one page to another. The tracking cookie file takes up very little space on your computer because it uses only text, no images or other data-heavy sources.

Read more: Definition of Tracking Cookies | eHow.com http://www.ehow.com/info_8087985_definition-tracking-cookies.html#ixzz2RO7lzzQS
Computer Security Software:

Computer security software covers a wide variety of potential risks, including hacker intrusions, destruction of data, harmful viruses, Trojan horses and other malicious attacks. Computer security software is available either within the computer's operating system or add-ons freely downloaded or purchased. Computer security software offers peace of mind amid a growing array of risks that increase exponentially as more PCs become accessible through the Internet

Read more: Definition of Computer Security Software | eHow.com
http://www.ehow.com/about_5087808_definition-computer-security-software.html#ixzz2ROBzDuVK

Firewall:
A system designed to prevent unauthorized access to or from a private network. Firewalls can be implemented in both hardware and software, or a combination of both. Firewalls are frequently used to prevent unauthorized Internet users from accessing private networks connected to the Internet, especially intranets. All messages entering or leaving the intranet pass through the firewall, which examines each message and blocks those that do not meet the specified security criteria.
A good site on computer security:

http://www.us-cert.gov/sites/default/files/publications/TenWaystoImproveNewComputerSecurity.pdf
A small list of security software that is available for download from Cnet.com. Best of all they are free.
1: Glary Utilities
2: Malwarebytes
3: AVG Antivirus
4:Spyware Terminator
Some do's and don'ts for home computer security:
Do's:
• Create strong passwords that are at least eight characters long, and including at least a numerical value and a symbol, such as #, to foil password-cracking software. Avoid common words, and never disclose a password online.
• Change your password every ninety days.
• Perform regular backups of important data.
• Delete any message that refers to groups or organizations that you are not a part of.
• Download and install software only from online sources you trust.
• Never click on a link from an untrusted source.
• Close windows containing pop-up ads or unexpected warnings by clicking on the "X" button in the upper most right hand corner of that window, not by clicking within the window.
• Use antivirus software, and update it on a regular basis to recognize the latest threats.
• Regularly update your operating system, Web browser, and other major software, using the manufacturers' update features, preferably using the auto update functionality.
• Set Windows or Mac updates to auto-download.
Don'ts:
• Never write down your password. Especially on a Post-It note stuck to your computer!
• Never give out your password to anyone, whether you know them or not.
• Never select the "Remember My Password" option. Many applications do not store them securely.
• Never purchase anything promoted in a spam message. Even if the offer isn't a scam, you are only helping to finance and encourage spam.
• Please refrain from opening an e-mail attachment, even from someone you know well, unless you were expecting it.
• Avoid creating common passwords such as your name, social security, UNI, etcetera.
• Do not leave your laptop unattended, even for a few minutes.
• Never reply to e-mail(s) requesting financial or personal information.
• Avoid opening e-mail(s) or e-mail attachments from an unknown sender.
• Please refrain from clicking on the close button within pop-up ads.
• Under no circumstances should you install or use pirated copies of software.
• Do not install P2P file sharing programs which can illegally download copyrighted material.
• Never set your e-mail program to "auto-open" attachments.
Richard Warner - AF5AQ
Heathkit Is Back! Maybe Or Maybe Not

In 2011 it was announced that Heathkit was returning to the kit-building business. Unfotunately this never got off the ground. Several months later they went into bankruptcy before the first kit was brought to market. As part of the bankruptcy proceedings the Heathkit name, logo and rights to previous equipment designs were put up for auction. There was a winning bidder although it is not clear who this is.
There is an extensive survey online which suggests the new owner(s) may be very serious this time. If this comes to fruition it may mean they could become a serious player in the amateur radio market again. They are soliciting input from former Heathkit builders and potenial new customers. If you would like to participate you can find the survey here.
Patrick Fagan - WA5DVV
JCARA Survey Results
Congratulations to our club members for the terrific response to our 2013 interest survey! Any surveying organization would be envious of our 60%-plus response rate. What more can we say about our members' level of interest in their club?
I won't recap the survey here; Dan Miller, AE5JG and I did that at the May 29 meeting. Suffice it to say that members provided a wealth of information upon which our leadership team can base its plans for the future.
I was especially encouraged by the expressions of support for activities to help new hams. Ours is a self-sustaining hobby; there's no one out there recruiting for us. The more we do to attract and nurture new hams, both individually and as a club, the more secure the hobby will be in the future.
I also enjoyed the discussion, triggered by a survey question, of a potential special event sometime this fall. It was great to hear members' enthusiasm for the activity.
Among all of the useful information and ideas the survey elicited, a couple of negative comments also appeared in the report. Negative comments are an inevitable consequence of anonymity. The most important thing is to keep them in perspective. The two negative remarks in the report represented a very small proportion of the responses received. We won't gain much ground by either ignoring them or getting angry about them. I hope we can determine what situations might have motivated them, figure out whether the situations are more than isolated incidents, and, if so, address the causes. And then move on.
There's a lot of very useful information to be mined from your survey responses, and I'm sure our leaders are already considering how they can put that information to work. From my own experience, I know that leadership in voluntary organizations can be challenging; it ain't a job for sissies. They need our support as they plan ways to serve our members' interests.
Charlie Carney - AG5CC