Welcome to my Virtual Ham Shack!

It would appear I am off the road for good. The bad news is I have been medically retired; the good news is I have more time for ham radio. The pics below give you an idea of life on the road, but I am now operating from home. My antenna is now an 80m Inverted Vee at about 45' apex, feeding my homebrew tuner. I am currently enjoying my latest acquisition, my Kenwood TS-450Sat. My Swan 100MX will be my back-up rig, and my Patcomm PC-500 will be my field portable rig. I was first licensed in March of 1980 at the Charlotte Hamfest as a Technician; I upgraded to General in October 2000.
This was my first 18 wheel mobile setup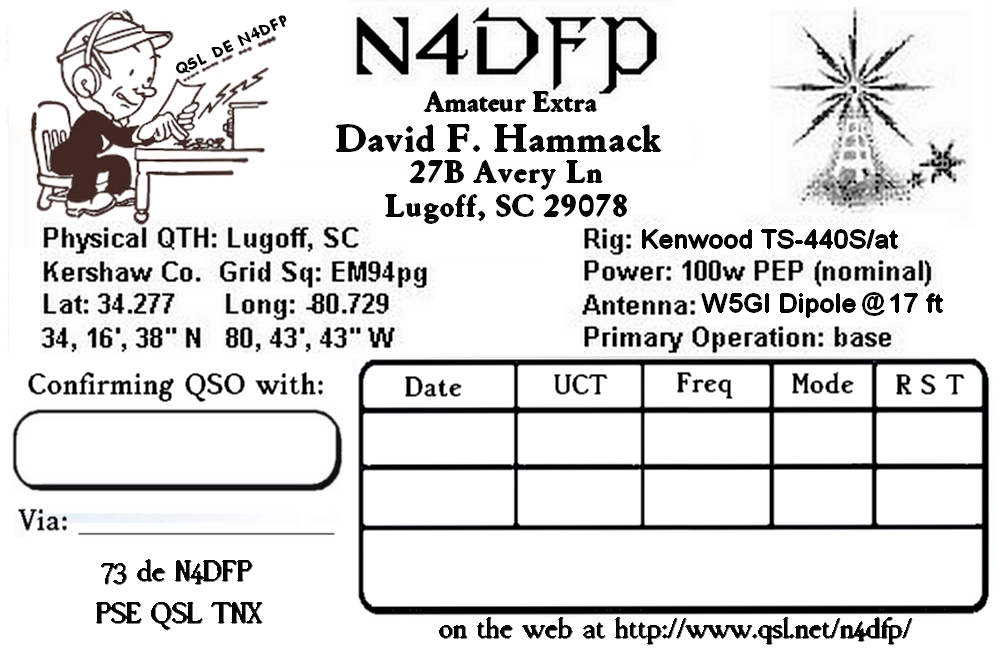 My QSL Card

I also plan to include a section that will grow as I restore my old "Boat Anchors". I have a
Drake TR-4 tranceiver
, a
Collins 51S1(28V)
reciever, and my all time favorite (my first rig) -- my
Heath DX-60B transmitter
with a Globe V-10 VFO (I used the 51S1 as the receiver in this setup). If I have time and resources, I would also like to restore my
BC-348
and some of my other old military pieces. Now that I am retired, perhaps I can make some headway on these resurrections.

ANTENNA DESIGN TO SATISFY A PESKY HOME OWNERS ASSOCIATION!
I was surfing the web and came across this antenna design. If it works as claimed, it will outperform a dipole AND will be completely unnoticeable! Properly constructed and painted, this antenna would be indestinguisable fom a sewer roof vent! If you have CCR's and/or Deed Restrictions you MUST check this out! Get ready for homebrew home improvement!
OK, I know this is a controversial design and I am familiar with the TANSTAAFL Principle. However, it should be cheap and fun to build W0KPH's little test version. Maybe this is one of those things I'll play around with now that I am retired

Before I move on to the rest of my links...
I would like to introduce you to one of the finest hamradio aids available today. No It isn't another Logging program; there are plenty of great ones out there, but what I have found sadly lacking was a really comprehensive Ham Atlas of the world. I have found one and it is FREE. The web site of Takumi Nomura , JF9EXF is devoted to just such a project. I urge you to check it out. It is complete with fully navigable maps for DXCC, CQ zones, ITU zones, ITU regions, Grid Squares, and even even beam heading maps. Takumi has put a TREMENDOUS amount of work into this; when I downloaded it to PDF it was over 560 pages (almost 14Mb), so drop by his guest book and drop him a note of thanks.
Copyright 2003 David Hammack, A.R.S. N4DFP