Congratulations! Mike Kearney is the Linn County Sherif's Office
Volunteer of the Year ARES 2016
note: Mike and his wife Barbara KB7ARB moved to Florida last year and arrived just in time for Hurricane Irma. They were assigned to a local High School in Sarasota and Mike and Barb were able to help pass traffic to other shelters. I guess there was not enough 'action' in Linn County for them!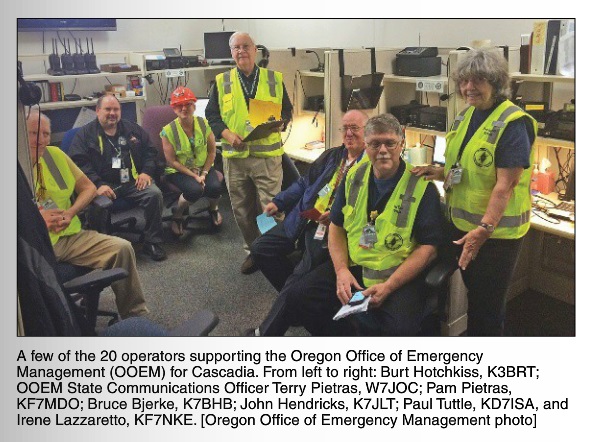 From the September 2016 issue of QST Magazine's article on the Cascadia Rising SET.
First on the left is Burt Hotchkiss K3BRT Sweet Home, Oregon.
ARES is a national organization operating under the auspices of the American Radio Relay League. It's purpose is to provide communications in the event of emergency. In addition, to hone their skills, many Amateurs provide radio communications during public events, such as races, walks and fund raisers. LCARES Inc. also works in cooperation and in support of ARES organizations in Linn County .
Regular member meetings are held on the forth Thursday of each month at 7:00 PM in the briefing room of the Linn County Sheriff's Office.
To join LCARES or for more information, contact Vaughn, W0ULF,
ARRL Emergency Coordinator for Linn county at W0ULF@HOTMAIL.COM
The Linn County Amateur Radio Emergency Services Group consists of:
LCARES Officers
LCARES President Roger Emery W7ACW
LARES President Merlin Egan WA7MAE
Vice Pres. Tony Masvidal W7PCU
LARES VP August Johnson KG7BZ
Secretary / Treasurer Denise Emery N7OSU
Operations AEC

Vaughn Phillips W0ULF

K7LCH Trustee Merlin Egan
Training Officer Roger Emery W7ACW
ARRL EC

Vaughn Phillips W0ULF

VEC Harlan Neal

N7HN
Albany Hospital AEC Roger Emery W7ACW
Lebanon Hospital AEC Roger Bury KC7OM

Linn Benton Community College AEC

Duane Jensen KG7AHP

Digital Communications AEC

/Official Emergency Station

Vaughn Phillips W0ULF

along with over 60 other amateur radio operators in Linn County

that have seen the need to organize and prepare to provide emergency communications

and donate their valuable time to that end.
Webmaster: Roger Bury KC7OM

Last updated: January 13, 2018 21:49:10 -0800
2gymg%