Event Calendar
LCARES MEETING Fourth Thursday 7:00 pm at the Linn County Sheriffs Office in Albany
LBCC MEETING First Monday 6:00 pm at LBCC in the Printing Room contact Duane Jensen KG7AHP
LARES MEETING Second Thursday 7:00 pm In Conference Room "D" at Lebanon Community Hospital
note: In September the meeting will be in the Cafeteria
August 4th. 2018 Breakfast at the American Legion Post 10 in Albany. 9:00 AM, cost is $8.00
Pizza Party Saturday July 14th. 2018 - 6 pm at Pizza Hut in Lebanon.
LARES Meeting 13 May 2016
August KG7BZ using his Spectrum Analyzer and Deviation Meter showing Merlin WA7MAE how to properly adjust his radio equipment for optimum capability for digital communications.
Amateur Radio Exam 3rd Saturday at Lebanon Community Hospital - Room 6 - 9:00 am
You must pre-register 7 - 10 days before taking an exam. NO WALK-INS.
Contact: DENISE EMERY
(541) 497-9068
Email: [email protected]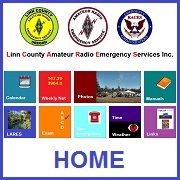 Last updated: July 12, 2018 22:06:58 -0700