GET YOUR LICENSE
For less than $100.
There is no Morse code requirement.
ARRL Book 32.95
Pass Your Technician Class Book 15.15
No Nonsense Study Guide - free
Test 15.00
Radio 31.59
Total $94.69
Including the Baofeng UV5RE seen below.
Step one: Get these three books.
If you only buy one book - buy this one.

Read this book through like a novel. DO NOT take the practice exams as this will just have you reading three wrong answers over and over.

Read this book through again and then read the next book.

This book is much shorter and has all the questions and answers in a narrative format so as you read it you are learning the correct answers only.

Read this book at least twice and then read the next book.

Again don't take any tests just yet.

NOTE: this book is optional

This book is available online in a PDF format and is similar to the book above. It is also available from Amazon for $14.97 if you want it in book format.

Read this book twice.

Once you have done this you can go to the Ham Whisperer and QRZ links below and try taking some practice exams.
Step two: Take practice exams until you can pass the exam.
Step three: Before you take your exam log into the FCC website and setup an account. You can use the website to check on your license to see when it becomes active and also to renew your license every 10 years.

Step four: Go to our exam page and sign up for an exam.
Step five: Join the ARRL. This is the organization that lobbies for Ham Radio. Once you are a member you will receive the monthly magazine QST which is full of everything from technical articles to contests and reviews of products. Also included is a digital library of all the back issues of QST.
This is optional. this radio is an inexpensive way to learn about Ham Radio. You can use it to check into local repeaters in Linn County and talk to other Hams in the area.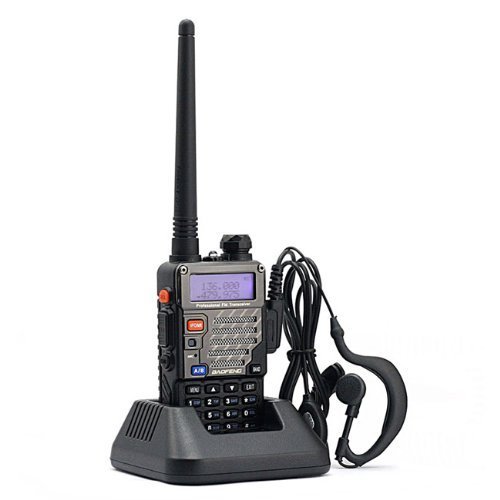 BaoFeng BF-UV-5RE Radio Two Way Radio
Programming cable for the Baofeng radio runs about $12. This will also program other radios from Kenwood, Yaesu and Icom.
Or use this guide to manually program the Baofeng UV-5R Radio.
[Click above for a printable Programming Guide]