40 meter 100 watt Transmitter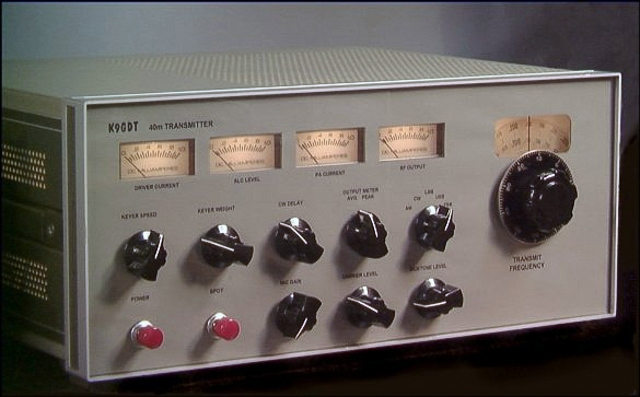 ---
The 40m receiver was complete and it wasn't long before the old girl was beginning to look forlorn. It was obvious she needed a mate. Hmmm....perhaps something tall, dark, and handsome? Nope. She would have to settle for something short, wide, and solid state.

This transmitter can operate on the 40m band without time limit at an output power level of 100W carrier on CW and RTTY, 100W PEP on SSB, and 25W carrier on AM (100W PEP with 100% modulation). The final amplifier stage runs a pair of Motorola MRF150 high-voltage RF power TMOS-FETs in push-pull configuration, biased for class AB linear operation. Although the PA stage is capable of substantially more power, limiting the output to this level is an act of kindess to a pair of very expensive transistors and provides a "standard" output level for driving legal-limit amplifiers.

Some highlights:
Modes of operation: CW, AM, USB, LSB, FSK
Dedicated connector on back panel for a packet TNC (terminal node controller).
An electronic keyer, based on the ubiquitous Curtiss 8044AB iambic CW keyer chip.
Front panel controls for these CW functions:

Keyer speed
Keyer weight
Semi-QSK delay time
Sidetone level

Metering, left to right:

Driver current, 250mA full scale
ALC level
PA current, 10A full scale
RF output meter which can be operated in peak or average mode

Low-level generated AM signal bypasses the narrow SSB filters for full fidelity.
Front panel controls for mic gain and carrier level.
Rear panel connections for RX muting and amplifier control.
Internal DC power supplies permit 120VAC line operation.
---
You can download the schematics (200K) for this transmitter, viewable with Acrobat Reader. The ten pages of schematics were produced using VISIO Technical.
February 28, 1998
---
Back to Ham Radio Page

Return to George's Place