MODEM 300, 1K2 AND 2K4 BAUD
with TCM3105
HARDWARE - SOFTWARE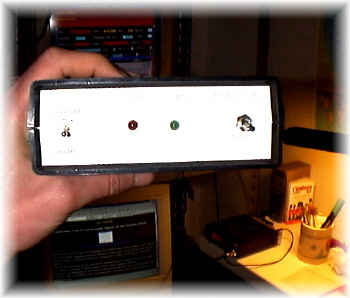 This isn't a my project: it's the common "Baycom" modem with TCM3105;


Click here to see the electric diagram
I built two of them because I found TCM3105 at very low price so....!
I built in also an hamcomm interface with a switch (modem HF-VHF or SSTV,RTTY CW ecc.).
One modem has a jack for an external power supply, the other uses PC's voltage (useful for "portable" operation) (See Picture 1).
In one modem I replaced the 300/1200 baud switch with a HF/VHF port (to connect both HF and VHF RTX) (See Picture 2).
TCM3105 can work at 2400 Baud with a small modification: you only need to replace the 4.433619 MHz XTAL with a 6.5536 MHz one (See Picture 3); (you can use a switch to do that).
No more words about construction: you'll find many info on the net!
TUNING

Tuning is very easy: adjust R11 for accettable audio OUTPUT; then R6 for correct reception of packet signales: for this you need a multi-turn trimmer (you can use two utilities to do that, MDMTEST1 e MDMTEST2) (you must read about 2,3 V on R6).
Let's see now what software to use with modem.
73 de iz7ath, Talino