EPROM ERASER
SCHEMATIC
That's all needed:
an UV-c neon light (type G8T, UV-C ray)(8 watt,30 cm lenght);

choke coil (reattore) for the neon;

starter for the neon;

mammut and cable various (and a switch, if needed);

a box;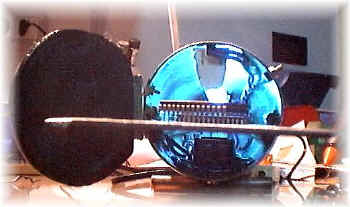 I don't like very much working with wood so I used an other (easy?) solution:
I've used a inox pipe (diam 80 mm) - 35 cm lenght as box;
Inside, in the upper side take place the UV light, in the lower side the starter and the choke coil (reattore);
in the middle there's a sliding plain on wich take place the eprom to be erase;
the box is closed by 2 plug (one mounted on hinges);
through a hole the 220V cable enter in the box; externally there's a switch.
That's all: photos are much clear than words.

73 de iz7ath, Talino