2013
OM-2500 Amp was maintained vy quick (1 week!!!) with an excellent service by the hamfriends of OM-Power. TNX Tibi!!!
2012
november-highlight: CQWW 80m single band OP
2012
Our hamradiofriends from Czech Republic visited DM7C in february and installed ufb hamradiocontroler 3.0 in our club rooms.
Mirek, ok1hpd is the developer of the hamradiocontroler 3.0 and it works great. After 2 weeks I have more than 40 DXCC in PSK and several other modes like SSTV, PSK125 or RTTY... .
Pavel, I know him vy long time (he was often qrv as ok1aw/mm) is mister PSK in OK and he give me important answers of my questions according to PSK. My first qso was with him in psk31-mode.
Thanks again to Pavel and Mirek for their great help and support. Cuagn on fieldday in june!
2011:
2011 december: my 160m ant was broken due to stormy weather
2011 november: CQWW CW workes over 1800 QSOs in 30 zones and 116 DXCC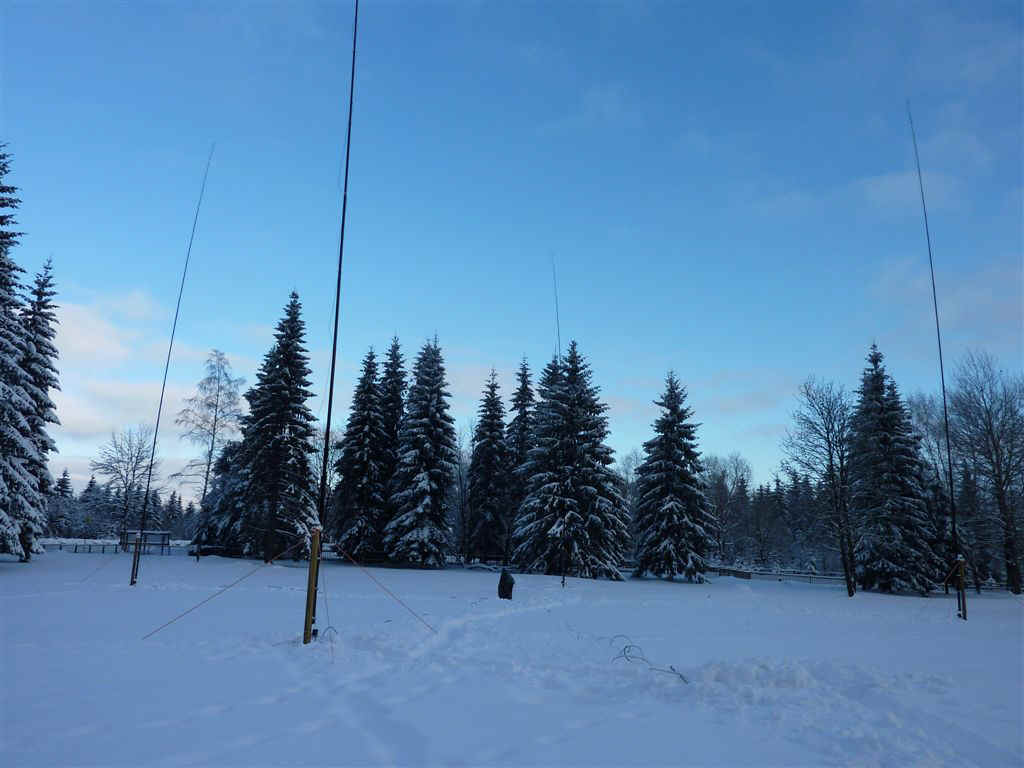 2011 february: TNX T88ZM / KH0/G3ZEM fer ufb ears and hamspirit to qsl vy quick via LOTW!! Great!
2011 january:
DL8CX and I worked in the CQWW 160 CW only 17h with 800 QSOs
and 68 DXCC. with our contest call DM7C.
2010 october:
-Our (dm7c) new 4 square array is ready and worked fine in the cqww cw part with more than 2050 qsos. Many thanks to Spiderbeam for the great and quick help with the brocken 18m tower.
-Tnx Ben Götzel for climbing up to the 80m antenna in 50 ft height in a birchtree and changed the insulator!
-New 160m INV L is erected with 3 elevated radials. This is made from a 18m spiderbeam tower and the end of the wire was archered over a pine tree in 90 ft height.
2010 june: again tnx to Dirk, dl6cx for helping to repair the LP7, triple leg and other antennas.
2009 august: many thanks to Dirk DL6CX for his great help and organisation to built up my new 80m triple leg in about 33m height
2010 april: much snow this year but antennas still working fine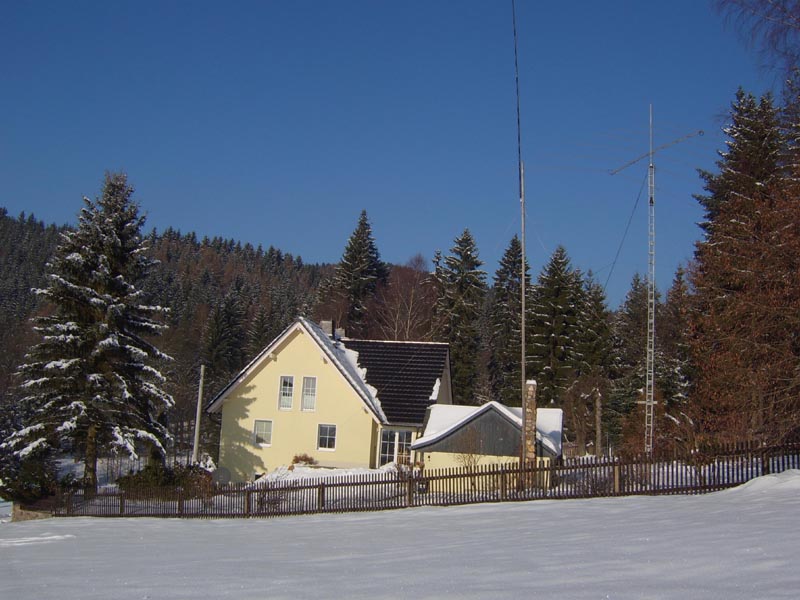 K5D the highlight for my log: new DXCC and 6 Bandpoints so far
2008
- Many thanks to my good friends DL6CX and DL9CX for their help to maintained the LP7 after 9 years
- Eyeball-QSO with 3B8CF Jacky in July 2008
- OK1AW and his friend visited me to install the HAMRADIO CONTROLLER 2.0

- EA8/DL7CX was active in february from El Porche/GC
2007
my 24mounth old ham offspring Nele will be active next time!
I hope .... hihi!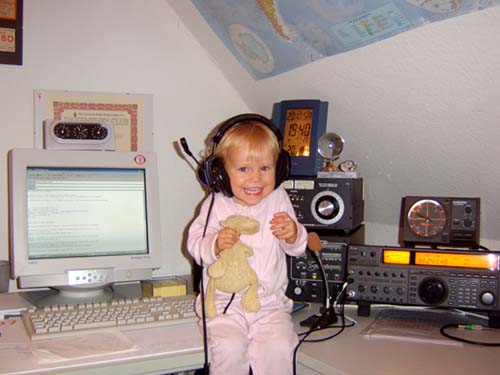 october 2007:
my new 40m triple leg works great!
january/february 2007:
highlights were ufb DXpetitons and some single operations from good ham friends like:
HK0GU - V31FG - V31YN
VU7RG - YW0DX - VK9DNX
2006 antenna maintennance:
a new 160m vertical was built up in november - GP for 80m must reconstructed in the spring!
2005 dec: snowstorm destroyed my 160m antenna
a snowwizard with abt. 150km/h broke a tree with my 160m fiberglas on the top. So I can only built up a new one in spring if I can find an other high tree.
40m triple leg has to be check out.
2005 nov: balloonstory CQWW CW 2005
CQWW finished with 995 qsos and 84 DXCC/18 WAZ
2005: Balloonstory in the CQWW CW 2005
After a great result in the CQWW 2004 SO 160m HP I decided to make it again. (1000 qsos 19 WAZ / 80 DXCC)
First let me thank Dirk, DL6CX for his great help during the antenna building and his good ideas to manage the "Murphies".
A heliumballoon (diameter 1.7 m) played a good match during the CQWW CW and tnx to all stations which called me! In the end I had more than 1000 QSO's in the log.
Some friends and I made this antenna on a field in front of my house.
The balloon was constructed on a wooden/fiberglas-mast like a triple leg antenna. The loaded point was 12m above the ground. One part of the vertical section was fixed on 8m fiberglas to save weight and the other 32m were connected to the balloon. Three 40m radials led to 3m height.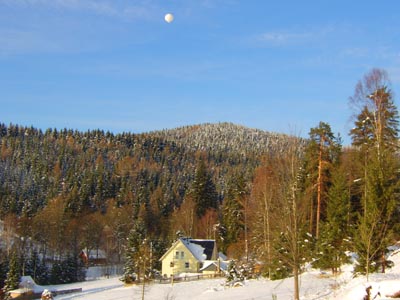 and in the year 2004
2005 august: a tornado/thunderstorm destroyed my complete antennasystem
01st august 2005: destroyed vertical antennas because a 150km/h tornado in my region !!! but now with help from my friend DL6CX we built up 3 new verticals and reconstruct the LP7 from Titanex
tnx to DL6CX for his great help
2005 februar: EA8/DL7CX hamholiday at Bills, EA8AZC
Der Spiderbeam läuft zur vollsten Zufriedenheit. Wir verbrachten eine wie immer viel zu kurze Ferienwoche in El Porche! Vielen Dank an unsere Gastgeber, die uns wieder excellent betreut haben. Ein Urlaub bei Bill und Brigitte ist nach 3 Jahren "El Porche" wärmstens zu empfehlen.
EA8/DL7CX 2004
Brigitte und EA8AZC, Bill haben uns auch dieses Jahr aufs herzlichste aufgenommen. Der Aufbau eines Spiderbeams ( nach df4sa ) bildete den funkerischen Höhepunkt....sie soll noch lange Jahre ihre Dienste verrichten....Bill ist nun mit mindestens 2-Stufen stärker zu hören. Na dann bis nächsten Jahr !!!
EA8/DL7CX 2003
Mein EA8-Trip vom 17.-23.02.2003 war mehr als erfolgreich, was vor allem an der warmherzigen Aufnahme bei Bill, EA8AZC und dessen YL Brigitte lag...Sein QTH "El Porche" ist herrlich gelegen und bietet in ruhiger Lage Entspannung pur...wenn man nicht gerade ein 160m Freak ist...hihi...eine 160m "INV L"..mit Hilfe eines Fiberglasmastes und einer Palme errichtet...spielte bei Low Power ganz brauchbar...ODX: VY2ZM und UA2FB ... beide mit ufb RX...was man von einigen "big guns" nicht sagen kann...! ( 10KW und no RX..sri for qrp...). Auf diesem Wege nochmals vielen Dank an Brigitte und Bill aus El Palmital.