12-Ele.-28-Ohm-DK7ZB-Yagi (8,00m Boom)
one of the most built Yagis in DK7ZB-design, very good data (see VE7BQH-List)
updated with new version DK7ZB-12 opt (10-July-2007)
Link to a site with a lot of details about this Yagi: DL2JAS

The new EME-group of

Simon, ZL4PLM

More informations on his webpage
The EME-Group of

Mario, EB5HRZ

4x12.-El.-144 MHz

4x8-El.-144 MHz

4x23-El.-432 MHz

A very good solution ist the mounting of 4x8-El.-Yagi vertical in front of the stacking harness. So Mario needs no glassfibre for the boom and has an x-pol antenna!


4x12-Ele.-28-Ohm-Yagi at DK0TU

(Technical University of Berlin)

Tnx photo to Arno, DL7WC

| | |
| --- | --- |
| | The 12-El.-Yagi built by Adam, 9A4QV |

4x12-El.-Yagi

by

Ludek,

OK2UZL

Yagi built by

Robert, SP8RHP (KO10FF)

He reports SWR 1.1 from 144,0-144,8MHz

EME on 144 and 432MHz:

4x12-Ele.-28-Ohm-Yagi

by Karsten, DL2LAH

4x16-El.-28-Ohm-Yagis for 432MHz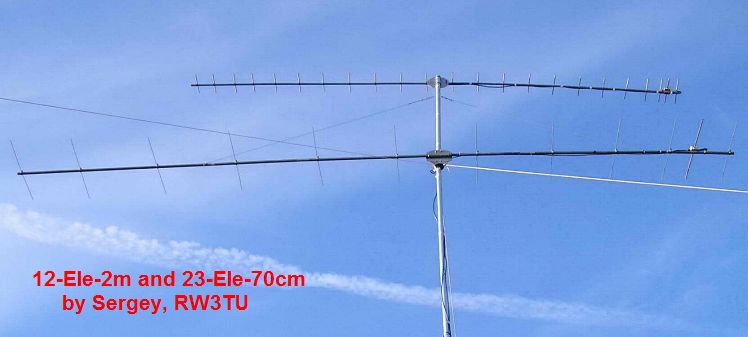 | | |
| --- | --- |
| New design updated 10-July-2007 with YO 7 and EZNEC+5 for more bandwidth and slightly more gain. It is highly recommended to use 8mm- or 10mm-elements for best gain, bandwidth and pattern! The radiator has 12mm for all types. | |

Lengths and positions of the elements
The given length of the radiator element is from tip to tip, including 10mm spacing for the insulated part.
| | | | | | | | | | | | | |
| --- | --- | --- | --- | --- | --- | --- | --- | --- | --- | --- | --- | --- |
| | Ref | Rad | D 1 | D 2 | D 3 | D 4 | D 5 | D 6 | D 7 | D 8 | D 9 | D 10 |
| Pos | 0 mm | 405 mm | 680 mm | 1270 mm | 1965 mm | 2790 mm | 3675 mm | 4555 mm | 5470 mm | 6365 mm | 7255 mm | 7960 mm |
| 10 mm | 1006 mm | 965 mm | 943 mm | 911 mm | 893 mm | 879 mm | 870 mm | 863 mm | 858 mm | 857 mm | 869 mm | 867 mm |
| 3/8" | 1008 mm | 968 mm | 946 mm | 914 mm | 895 mm | 882 mm | 871 mm | 864 mm | 860 mm | 859 mm | 870 mm | 868 mm |
| 8 mm | 1010 mm | 969 mm | 950 mm | 920 mm | 901 mm | 887 mm | 878 mm | 871 mm | 866 mm | 865 mm | 876 mm | 871 mm |
| 6 mm | 1012 mm | 973 mm | 958 mm | 930 mm | 911 mm | 897 mm | 888 mm | 881 mm | 876 mm | 875 mm | 886 mm | 881 mm |
For building a lightweight construction I have calculated with thin elements (-0,12 dB):
| | | | | | | | | | | | | |
| --- | --- | --- | --- | --- | --- | --- | --- | --- | --- | --- | --- | --- |
| | Ref | Rad (4 mm) | D 1 | D 2 | D 3 | D 4 | D 5 | D 6 | D 7 | D 8 | D 9 | D 10 |
| Pos | 0 mm | 405 mm | 680 mm | 1270 mm | 1965 mm | 2790 mm | 3675 mm | 4555 mm | 5470 mm | 6365 mm | 7255 mm | 7960 mm |
| 4 mm | 1016 mm | 991 mm | 962 mm | 937 mm | 919 mm | 906 mm | 898 mm | 892 mm | 887 mm | 886 mm | 896 mm | 892 mm |
| 3,2 mm | 1018 mm | 990 mm | 965 mm | 941 mm | 924 mm | 912 mm | 903 mm | 897 mm | 893 mm | 892 mm | 902 mm | 897 mm |
| 3 mm | 1018 mm | 990 mm | 966 mm | 942 mm | 925 mm | 913 mm | 905 mm | 899 mm | 894 mm | 893 mm | 903 mm | 899 mm |
Old design: Element-lengths ( Rad 12mm) in mm
| | | | | | | | | | | | | |
| --- | --- | --- | --- | --- | --- | --- | --- | --- | --- | --- | --- | --- |
| | Ref | Rad | D 1 | D 2 | D 3 | D 4 | D 5 | D 6 | D 7 | D 8 | D 9 | D 10 |
| 10mm | 1010 | 972 | 942 | 915 | 897 | 882 | 872 | 866 | 860 | 860 | 871 | 865 |
| 8mm | 1013 | 972 | 948 | 922 | 904 | 890 | 880 | 874 | 868 | 868 | 879 | 873 |
| 6mm | 1016 | 972 | 954 | 929 | 912 | 898 | 889 | 884 | 878 | 878 | 888 | 882 |
| 4mm | 1019 | 972 | 962 | 938 | 922 | 909 | 900 | 895 | 889 | 889 | 899 | 894 |
Old design: Element-positions in mm
| | | | | | | | | | | | |
| --- | --- | --- | --- | --- | --- | --- | --- | --- | --- | --- | --- |
| Ref | Rad | D 1 | D 2 | D 3 | D 4 | D 5 | D 6 | D 7 | D 8 | D 9 | D 10 |
| 0mm | 405 | 680 | 1275 | 1970 | 2800 | 3685 | 4570 | 5485 | 6385 | 7275 | 7980 |

Element-current-profile

4 Yagis stacked in H-configuration, Gain 20dBd, G/T=-1,49
vertical stacking 4,00 m, horizontal stacking 4,21 m
3dB hor = 13°, 3dB ver = 12,6°