Welcome to the AA5VU Web Page
This page was
by Richard Kriss on May 9, 2013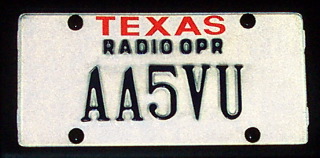 Click Here to see the new font used on the Texas Radio Operator plate on the car.

Misc. Notes and Comments:
If you are using Apple's Safari, this web page will work better if you go to Preferences, click on Tabs and select Never so each link will open to a new page rather than Tab browsing.
Welcome to my attempt at a web page. All html errors are mine as this is a roll-your-own page prepared with a Macintosh text editor. To quote Andy Rooney (SK), "Computers make it easier to do a lot of things, but most of the things they make easier don't need to be done."
Cool picture of the Austin, TX BATS exiting the Congress Street bridge to pig out on Mosquitoes. City-Data blurb on Austin, TX.
Austin, TX with a SNOW dusting without rain on 4-Feb-2011. On 10-Oct-2011 we finally got rain - the first since Sep 2010. The Austin, Texas summer of 2011 was recorded as the hottest ever summer in US history with 96 days over 100 Deg-F. It rained in early June and mid Sep but not a drop in Oct, Nov or Dec 2012. In early Jan 2013 we had a long overdue rain with another in April 2013. Winter was cancelled for 2013 due to lack of participation.
Check out the semi-famous Welcome to Texas road sign as we entered the state on I-10 from LA.
Picture of the five Hams in our family.

Ham Radio Related:
A brief narrative of my ham radio background and interests are outlined on the AA5VU blurb on the QRZ.COM.
Like many other amateur operators I enjoy working DX. This is a link to a table showing the
AA5VU DXCC Countries
(or entities) confirmed and worked as of May 9, 2013. Yes, I upload all QSO's to LoTW.
This is a copy of my tip for a
DX Quick Check published on page -73- of the November 2012 issue of QST. I find the listing useful and it is used daily.
My rig is the Kenwood Model TS-590S HF + six meter transceiver with the SO-3 TCXO &nbsp It replaced the Kenwood TS-570S(G) that served me well for years. For reference the G3NRW TS-590S Resources Page is the one-stop source of information on the TS-590S.
One of my favorite ham radio modes is RTTY and I use a
27-inch Apple iMac Macintosh computer. The iMac is setup to run OS X 10.8.4 (Mountain Lion) and/or Windows XP Pro SP3; however, I prefer to stay with native OS X applications. In addition to the iMac, we have a 13-inch MacBook Pro laptop and an Apple iPad2.
This is a
drawing of the Digital Audio Interface used at AA5VU.
This is the AA5VU Shack and QSL Card showing the usual brag stuff.
On 4-Feb-09, I completed the ARRL Triple Play Award #122 that started on 1-Jan-09 to WAS (Work All States) on CW, Phone and Digital with all QSO's confirmed using the ARRL's LoTW (Logbook of The World).
On 30-Jul-2011, I received a First Place, Single Operator, Mixed mode, High Power, STX Section, Zone 7 award certificate from the ARRL for the 2010 IARU HF World Championship. contest. Most of the QSO's were CW with a few Phone. No RTTY QSO's!
In 2008 I was pleased to receive two First Place - South Texas contest award certificates. One was for the 2008 ARRL RTTY Roundup contest and the other was for the 2008 ARRL 160 Meter contest. A wallpaper addition came from > USAA in April 2012.
I am a member of the CTDXCC Central Texas DX & Contest Club and the American Radio Relay League ARRL.
For RTTY, BPSK and other digital modes I use fldigi (Fast Light DIGItal modem application) that runs on Linux, OS X, Windows XP and Vista. The application was developed and is maintained by Dave W1HKJ . Checkout this Mac OS X Screenshot showing fldigi just after a PSK31 QSO. This is an annotated screen shot showing an fldigi frequency check of the Kenwood TS-590S calibration to WWV.
I log all QSO's in fldigi then export monthly to LoTW and to Aether by Andrew AC7CF for the station.
My on-the-air numbers are: 30 Meter Digital Group #395, Ten-Ten #27820, Hellschreiber (or Feld Hell) #291 and PSK31 070 Club #612.
This is picture of the Antennas used at AA5VU.
This is the Yaesu FT-8800R dual band mobile rig that replaced the Kenwood TM-733A in Jan 2006. Check out the FT-8800R lap desk installation. When I have a passenger, the FT-8800R rides the hump. The lap desk came from Target and the red elastic straps are a great mic holder. This is the generic Dual-band mag mount antenna in the hatch area. Not the best but it works.
Lee, WW2DX, maintains cool web page called Mac Ham Radio devoted entirely to amateur radio operators using Macintosh computers. Check Lee's site for the latest OSX ham software.
For DX support I telnet to one of the AB5K AR Technology AR-Cluster systems in the South Texas area or the N8NOE-1 Cluster in Waterford, MI. To find an AR-Cluster node in your area click on this DX Cluster Telnet Directory . If you are a Mac OSX user, I recommend EA2RY's
RYTelnet Version 1.7.1 that is currently hosted on N8NOE's DX Cluster Page.
Steve Palm, N9YTY, released the Macintosh OSX application called EchoMac for access to the Echolink system. Try me sometime on the K5AXW-R - 136958 Austin, TX node. The output is on the K5AXW 442.15 repeater located at the University of Texas.
In 2005 I volunteered for the American Red Cross training program and became an Operator/Driver of an Emergency Communications Response Vehicle (ECRV). This is me standing next to one of the ECRVs and this is a picture of the American Red Cross in Emergency Communications Response Vehicle (ECRV) Number 4707 deployed to support a tornado DR at Eagle Pass, Texas.
On February 21.2013, the American Read Cross announced the decision to phase out the ECRVs.
Additional ECRV pictures: The Super Class A view of the ECRV roof; and other views showing the cockpit radios and back seat goodies . Yes, there are more rigs than antennas and the need for the large coax patch panel in the upper rear.
Take a break and check out the Scariest Path in the World called El Chorro in south of Spain. The host is fearless! Long video clip or checkout Climbing a1,786 Foot Tall Tower video clop.
Fun Stuff: Check out the fastest INDUSTRIOUS CLOCK by Yugo Nakamura who had too much time on his hands. Watch seconds to years scroll to the left on the CRAZY CLOCK and yes there are even BAR CODE and PEOPLE clocks.

Administrative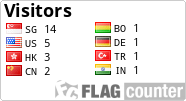 Countries that have visited since 23-Feb-2010.
Lookup Country names by flag.

AA5VU to send me an Email message.