The GEC Courier was the first portable radio issued to NZ police for routine beat duty. After initial testing in Wellington during 1967, the courier was finally released for front-line use in May 1972.
Although sufficiently small for beat use, the Courier suffered from poor performance due to its low power, (250 milliwatts) and the lack of a repeater system. Beat officers often found they were out of radio range even though they could actually see the person they were trying to contact.
The radio was equipped with three simplex channels in the 138 MHz range.
In addition to use by beat officers, Search and rescue teams were issued with Couriers operating on frequencies of 119.1 MHz for air to ground communications, and 119.0 MHz for communication with Face Rescue teams in mountainous areas.
The Courier was replaced between 1979 and 1981 by the UHF Tactec radios.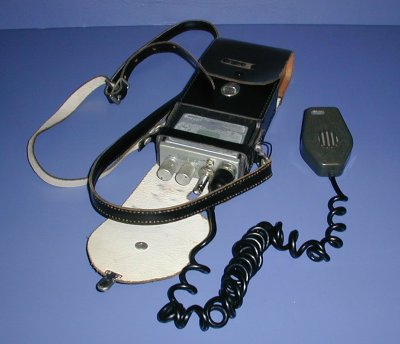 GEC Courier VHF-AM Portable Radio.
Thanks to the NZ Police Museum, Porirua for the photographs