MFJ-945E ANTENNA TUNER
---
I Z33T home page I Z33T web pages in english I
---
The MFJ-945E Mobile Tuner is a compact tuner designed for mobile operation in cars, trucks, boats etc. Covering 1.6 to 60 MHz, it will match virtually any transmitter to almost any mobile whip antenna. It will also match almost any antenna for home station operation such as dipoles, inverted-vees, verticals, beams, random wires, and others fed by coax lines or single wire.
The MFJ-945E employs a cross-needle meter so forward power, reflected power, and SWR may be read simultaneously. The meter lamp can be powered by a 12Vdc, 300mA.The meter lamp ON/OFF switch will activate the meter lamp. Use a 2.1mm coaxial plug with the center conductor of the plug connected to the positive and the sleeve connected to ground.
The MFJ-945E utilizes a cross-needle meter to read FORWARD power, REFLECTED power and SWR simultaneously in either HI (300 Watts) or LO (30 Watts) power ranges. You can set the power range switch to HI or LO. and then read the FORWARD power on the Forward Scale. REFLECTED power is shown at the same time on the Reflected Scale. SWR is read by observing where the two needles cross. No SWR sensitivity adjustment needed to read SWR. The HI range is 300 Watts FORWARD and 60 Watts REFLECTED. The LO range is 30 Watts FORWARD and 6 Watts REFLECTED. The MFJ-945E is factory calibrated on the LO scale at 10Watts FORWARD and 2Watts REFLECTED, and on the HI scale at 100Watts FORWARD and 20Watts REFLECTED.
Basically, Antenna tuner is RF "Т"-Filter formed with one coil (inductor) and two variable capacitors. (the other elements in the schematics are for SWR-meter only).
Here is MFJ-945 schematic diagram: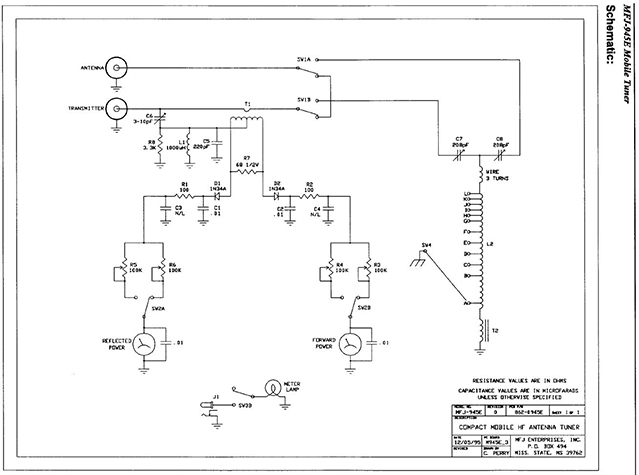 (click on the picture above to view it in high resolution)
Here are several photos from the inside of MFJ-945E :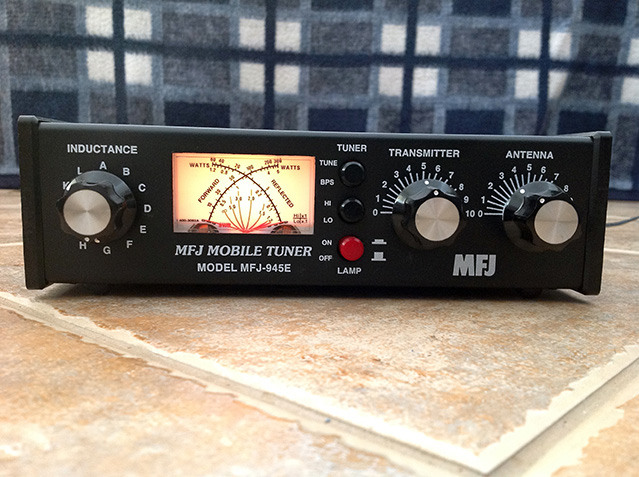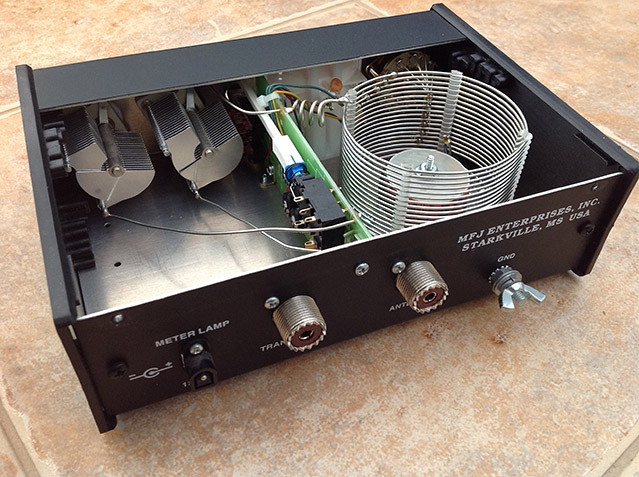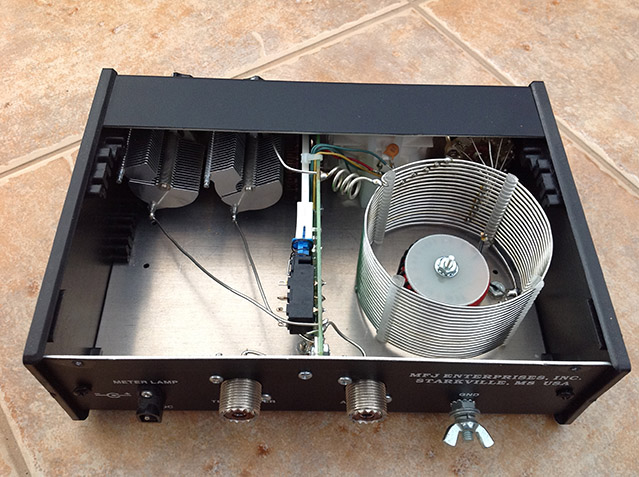 ---
I Z33T home page I Z33T web pages in english I