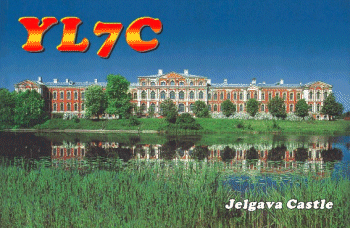 Flag Republic of Latvia
QSL Picture Information
For the traveller seeking information in guidebook on historic and architectonic monuments of European renown, the name of Jelgava (Mitau) will suggest the
biggest baroque palace in the Baltic, designed by the outstanding Italian architect Francesco Bartholomeo Rastrelli. This impressive palace on the north - east of
city Jelgava, once the residence of the Dukes of Courland - Semgallen (Kurzeme - Zemgale), is among the few remaining buildings left from the Courland - Semgallen
Duchy's historic capital after the destruction of the city during the World War II.
During the second quarter of the 14th century the Livonia Order built the original castle, 30m by 35m in area with four Wings and turreted corners. After the dissolution
of the Livonia Order during the course of the Livonia War (1558 -1583) its last master Gotthard Kettler became the first ruler of the newly- established Curland - Segallen
Duchy. This tiny state became a vassal of Poland. In the 16th and 17th centuries the old castle of the Order was remodelled and several new wings were added and
fortified with ramparts and bastions.
However, after duke Ferdinand died without issue in 1737 and the family of Kettlers ceased to exist, the Duke Ernst Johann Biron decided to level the castle in
November, 1737. The remnants of the old castle were cleared away well into mid - April of the following years in order to make space for the foundations of the new
palace laid on June 14, 1738. Architect F.B. Rastrelli not only designed but also directly managed the construction works.
The Duke and his family moved into the newly completed palace in December 8, 1772, but after twenty days, Duke Ernst Johann Biron at the age of 82 years died.
On December 22, 1788, a fire broke out in the Jelgava Palace. Nearly half of the palace was destroyed and left unrestored till the end of the Duchy's existence.
After Russia annexed the Courland - Semgallen Duchy in 1795, the Jelgava palace housed government establishments and became the personal residence of the
Governor of Courland - up to the foundation of the independent Latvian Republic in 1918.
The Northern wing was burned down repeatedly in 1805 and 1816, but the whole palace was burned down by Bermont - Avalov army in November 1919. After the
lengthy restoration work the edifice became the premises of the Latvian Chamber of Agriculture in 1937. In 1939 the Academy of Agriculture also moved into the
palace. In order to accommodate the laboratories for the use of Academy, the once three - part 150 m by 120 m building - block was closed by a new block.
During the hostilities the palace was burned down once again in July, 1944. In 1963 when the restoration work was completed, the Latvian Agricultural Academy
(since 1991 the Latvia University of Agriculture) again was located in the Jelgava palace. Up to this time palace continues to house the Latvian University of
Agriculture.
The palace museum established in 1968 offers exhibitions telling about the history of the palace and the events associated with it, as well as visitors can attend the
crypt of Duke of Courland Ernst Johann Biron family.
Copyright © Karlis Sleckaitis (YL2MD)