Return to the Clandestine Radio Intel QSL Gallery

La Voz del CID


La Voz del CID is an interesting clandestine that began mysteriously in 1981. Its programs were (and still are) the propaganda piece for the anti-Castro group Cuba Independiente y Democratica, a group that would increase its profile in the Eightees. Within its first year of broadcasting, the station was apparently located by the Federal Communications Commission (FCC), the US government, in Florida and was closed down for transmitting without a license. According to Gerry Dexter, it was "found to be using two Heathkit transmitters rated at 490 watts, operating from a horse ranch in Miramar... (It) was discovered to also be using a mobile transmitter housed in a van. The FCC termed it a 'very professional operation'" (Dexter, p.53). Following the bust, the FCC officials cabled Washington to say "This outfit has some big money behind it, they even buy time from stations in Venzuela and other countries (Dominican Republic), besides the two Florida transmitters" (Soley 188).

La Voz del CID returned to the air in 1983 with a flurry of well-produced programs named after important figuresd in Cuban history that were rebroadcast on both Radio Rumbos in Venezuela and Radio Clarin in the Dominican Republic, not to mention its own transmitting facilities that were located somewhere in Central America. According to Dexter, the group claimed that its annual production and broadcasting costs exceeded US$750,000 - which came from "American foundations, businessmen in Latin America and individual contributions" (Dexter, p.55).

The station was a regular on the shortwave bands for over ten years on numerous frequencies and suffered from occasional jamming from Cuban government transmitters. During the war in Nicaragua, La Voz del CID cooperated with CIA-backed Radio Quince de Septiembre in variuous activities (Soley, 188). Much debate was spent arguing over where people believed it to be emitting from: Guatemala or Costa Rica. But those arguments were proven to be both wrong.

Things began to change for La Voz del CID in 1994, when in June WRMI owner Jeff White reported on Radio Nehterlands' "Media Network" program that it had gone off the air in May. "Nobody will admit it, of course, but there are a lot of rumors here in Miami that La Voz del CID has long been funded by the U.S. Central Intelligence Agency and that their funds were cut off several months ago... They've been appealing for money publicly here in Miami among the Cuban-American community to keep the station on the air" (Zeller, p.20). CID had just begun to purchase airtime over WRMI to supplement its own transmissions, but then vanished from the air. After a few weeks, it returned to its usual 9941.65, 6305, 7340 and 11940 kHz frequencies.

In August 1997, La Voz del CID suddenly went silent again after months of rumors that the group was suffering from financial problems. It reappeared once again in December 1997 and currently buys time off of commercial US broadcaster WRMI to transmit its message of freedom to the Cuban people. When the latest WRMI relays of CID programs commenced, Jeff White revealed that his sources pointed to El Salvador as CID's "gray" clandestine location.

This station went from being a US-based clandestine / pirate, to a covert "gray" clandestine, to finally an overt "white" clandestine. We will probably never witness another station like this.

Recent activity of La Voz del CID can be found here.

Dexter, Gerry. Clandestine Confidential. Universal Electronics. Columbus, OH: 1984.
Soley, Lawrence C. and John S. Nichols. Clandestine Radio Broadcasting. Praeger. New York: 1987.
Zeller, George. "Clandestine Profile." The ACE, August 1994.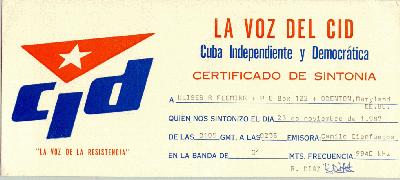 QSL courtesy of Ulis Fleming.