Return to the Clandestine Radio Intel QSL Gallery


Voice of Abkhazia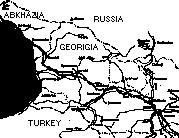 Abkhazia is a small strip of land in northwestern Georgia that hugs the Black Sea. Since most of the population is Christian, Abkhazians felt a sense of national fervor and decided in 1989 to declare their independence from both the Soviet state of Georgia (which is predominantly Muslim) and the USSR (which was atheist.) The collapse of the Soviet Union in 1990 opened the gates, so to speak, for all of the Soviet republics to become independent and Gerogia established its own government and constitution a year later. Abkhazians refused to integrate with Georgia since in 1921 Abkhazia had been proclaimed as a separate Soviet republic. It was, according to some accounts, the pressure of influential Georgian Bolsheviks which prompted Lenin to combine the territory into the republic of Georgia.

The Voice of Abkhazia began broadcasting on April 4, 1992, a few short months before a year-long and bloody civil war was fought over Abkhazian sovereignty from Georgia. It began as a covert "gray" clandestine, but on August 18, 1992, Abkhazian rebels removed the Georgian flag on top of the parliament building in Sukhumi and the station became the official outlet for the new government. Fighting continued with periods of cease-fire, however, by October 1993 Abkhazian considered their territory to be "liberated" and sovereign.

In April 4, 1994, months of negotiations resulted in a cease-fire entitled the "Memorandum of Understanding" and granted Abkhazia a sense of autonomy. Accordingly, the de facto nation was permitted to have its own constitution, legislation and could appropriate state symbols, such as an anthem, flag, as well as maintaining internal sovereignty. Foreign affairs and taxation, however, were to be conducted by a joint Abkhazian - Georgian governmental organ.

September 1994 marked the beginning of trouble for Abkhazia when Russia imposed a transport, and later, a sea blockade on the republic. CIS peacekeeping forces remained on the Georgian border past their mandate and tensions began to heighten in the Caucasus. Georgia demanded the immediate repatriation of the estimated 100,000 Abkhazian refugees who had fled in 1992 and 1993, however, the Abkhazian parliament made no move to begin the process.

The political and military standoff continues in 1998 with no clear resolution in sight. The Voice of Abkhazia can be argued as a domestic broadcaster, but in light of Abkhazia's de facto status and its lack of UN recognition it remains as an overt "white" clandestine radio station.

With its tiny 5kw transmitter it has been received in the United States and throughout Europe, bringing more attention to the crisis that is strangling the former tourist resort.

Recent activity can be found here.

Background information for this article has been summarized from Dr. Viacheslav A. Chirikba's 1997 article "Review of Events for the Year 1996" and the translated Proposals of Georgia on the Status of Abkhazia, Georgia.

QSL courtesy of Jerry Berg.