The BFO circuit is a simple Hartley oscillator using a 455 kHz IF can. Output is delivered to a MOSFET amplifier. On the MOSFET amplifier, the bias to G2 can be varied by the "Gain Adjust" pot, which sets the gain of the amplifier.
The reason for the amplifier is experiments with this part of the circuit, noise output was considerably less with the amplifier after the BFO. Also, it eliminates pulling of the oscillator or interaction with the product detector.
The gain of the oscillator/amplifier allows a lot of variation in setting the drive for the product detector.

BFO Amplifier Adjustments
The "Gain Adjust" pot should be adjusted till the LED on the amplifier barely lights. The 50A01 455kHz transformer, at the output of the amplifier, is then peaked for maximum response out of the speaker. Go back to the "Gain Adjust" pot and adjust for comfortable volume with minimum noise out of the speaker.
A 35pf variable capacitor is supplied with the kit for BFO tuning. With the Salmon Pink boards (first run) several holes are available for mounting spacers, to which the 35pf cap is soldered.
On the Rev2 boards, the BFO capacitor is much smaller and is soldered on the board with hookup wire.
Since changing the bands changes the BFO note slightly, the capacitor will be used frequently and is a valuable aid in tuning SSB signals.
Because of the excess of gain, the LED at the amplifier can be changed to a Super Bright LED (I always put a blue one here), with no other circuit modifications, and still have plenty of gain for the product detector. A Super Bright will not blind you here, as it will be run at a very low current.

BFO Tuning for USB and LSB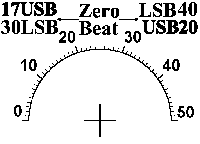 The image above shows the settings for USB/LSB for the bands. Note that for the image to be correct, the BFO capacitor is turned clockwise from a closed position. Zero Beat is set at 25, the middle of the scale.
Because of the band imaging technique used in the receiver, the sidebands switch on each side of the imaging used with each crystal filter. For example, 40 meters is subtracted from the 3.547 MHz crystal filter and 20 meters is added to the 3.547 MHz crystal filter, switching the sidebands as they relate to the BFO frequency. Likewise for the 30/17 meter combination with the 4.000 MHz crystal filter.