New CWLab04X Beta Download Page : It Sends and Receives CW and CCW!
Figure below is that of the WN2A/AK2F Beacon being received.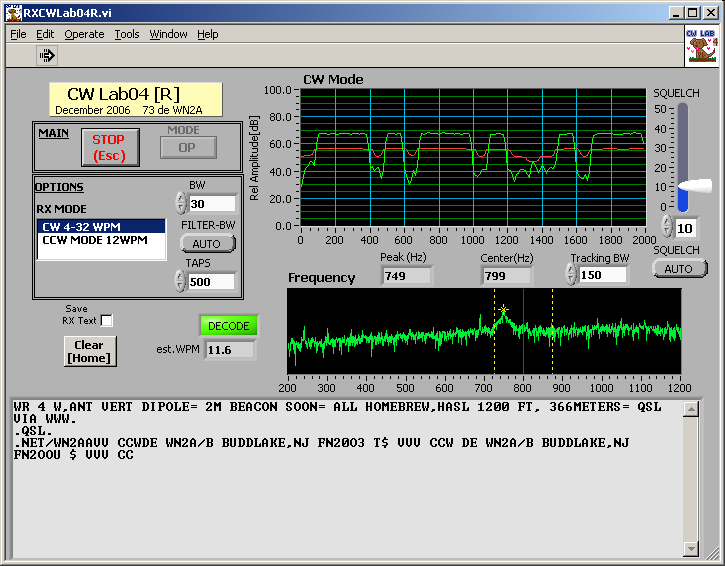 A new program for Receiving and Sending CW and CCW . This program is a major improvement over the original. Uses Labview DSP/soundcard capabilities.

You now have two installation CWLab04X choices :

1) Windows Install Files (2) that make for easy install (Windows only)
or

2) Zipped Files (2) for Windows or Linux (with Wine)!

First: Download file CWLab04.pdf AND CWLab04_Hardware.pdf
Read both using Adobe Acrobat Reader (or any pdf reader) and print it out.

Second: Choose Install Method:

Windows (Installer)

Windows or Linux with Wine (Zip)

Download: SETUP.EXE
Download: DATA.001

You can download these to any folder
(ex: C:\CWLab04X )


Download: LV602RT.zip
Download: CWLab04X.zip
Create a directory to download to such as:



Windows: C:\CWLab04X
Linux: /root/.wine/drive_c/CWLab04X


Double-Click on SETUP.EXE. Follow install instructions.

Unzip both files. Use 7-Zip, GZip, etc

Installer first installs CWLab04X,
then installs LV Runtime 602

Install LV Runtime602 by clicking on lvrteinstall.exe
Follow instructions during install.

Click on CWLab04X.exe to run program
Once LV Runtime602 is installed then you may need to reboot in Windows. Click on CWLab04X.exe to run program



Note: CWLab04X running on Linux with Wine
may require a Pentium 4, 2.8GHz clock or better

Some Notes

1) When you unzip your files into C:\CWLab04X, Check under "Properties" and make sure they are not"Read-Only". Usually they will be OK after you unzip them.
2) On DEMO Mode , the sound and the decoding text may be out of sync. ( Fix on next revision?).
3) The soundcard interface circuit is in CWLab04_Hardware.pdf . A direct connection to your receiver audio output to the soundcard input is all that is necessary. The soundcard output is optionally converted to a "hard-key"line or can be ported to microphone input.

4) Bug-Reports-gratefully accepted. Suggestions as well. More for CW and CCW to follow!
While there are no programs (that I have seen) that can outdo the seasoned CW operator, this is meant to be an adjunct to your CW operating, not to replace it. Just get on the air and enjoy CW QSO's with it! The CCW mode is very effective. With a noisy signal, (one that is an effort to copy over a period of time), the CCW mode punches through.
Author assumes no responsibility for the use or misuse of this program.

Revised April 2009