Homebrewed CW 10 Meter Beacon AK2F/WN2A/B


Frequency: 28.2082 MHz

Mode: CW (Morse)

Power: ~4 watts

Transmitter Type: MOSFET IRF510 (similar to MOuSeFET Article)

Frequency Control : XTAL Oven-Controlled

Antenna: A-99 Vertical. Good RF Pattern.

Original Controller: PROM with Program by AK2F
Current Controller: Microchip PIC16F84.

12 WPM

Elevation: 1060ft A.S.L.. QTH FN20ou

Keying circuit improved to eliminate key clicks---October 2002



This beacon has been in service since April 1997. Useful for propagation conditions, checking out your receiver sensitivity ,and to verify if your beam is doing its job. All reports gratefully accepted!!
The beacon is 100% Homebrew.
If you don't hear the beacon (and you normally do), I might be QRV on 10 Meters!

Reports: via e-mail

October 2002:
A Look Inside:
Beacon Installed: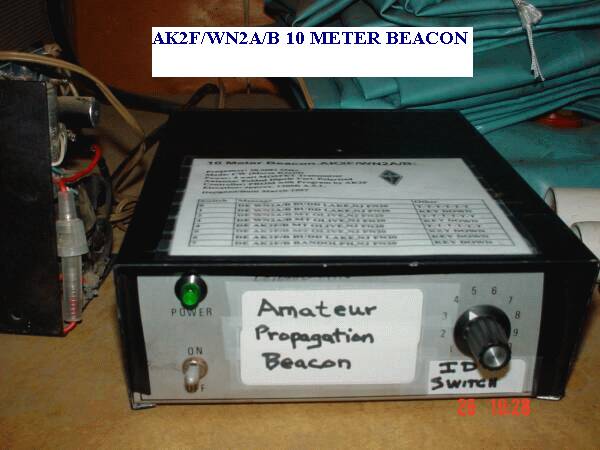 More Photos to be posted as available.