---
Mexico's Family Radio Service (FRS) equivalent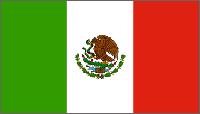 Updated 20 November 2006
---
For many who travel to Mexico in groups, there is a desire to have a simple way to communicate with the group. Cellular phones, or satellite phones, are way too much for this sort of communications, and amateur radio - however enjoyable it is - may not be an option due to its cost and the fact all who get amateur permits in Mexico must be licensed by their home countries. Mexico has an option very similar to the Family Radio Service in the USA and Canada that could fit this need - with some possible pitfalls.
---
Background information
In the mid-1990s, as the USA's FCC created the Family Radio Service (FRS) as a license-free, low-power UHF FM two-way radio service. The FRS has 14 channels, 7 at 462 MHz and 7 at 467 MHz, using narrow FM at no more than 500 milliwatts, and the radios must have nonremovable antennas on them. This tries to ensure the radios will have limited ranges, compelling those who need radios for long-range communications to look at other alternatives. In early 2000, the Canadian radio regulator, Industry Canada, made this service available in Canada using rules similar to the FCC's rules in the USA. (PDF file, opens in a new browser window) What many people do not know is that Mexico also has a service very similar to FRS, with the long Spanish name bandas de frecuencias del espectro radioelectrico de uso libre - or "bands of frequencies of the radio spectrum for free use".

The Mexican free-use channels also include many others at VHF and UHF, some allowing up to 5 watts output, and some with limitations forbidding their use within 150km of an international border - to avoid interfering with licensed radio services of Mexico's neighbors. The following will only address the most-recent allocation of free-use channels that are very similar to the Family Radio Service channels in the USA and Canada.
---
Mexico's "Family Radio Service"
In August 1998, the Mexican authorities published a decree in its Diario Oficial de la Federacion (Official Daily of the Federation) - similar to the Federal Register in the USA and government Gazettes in Canada and the UK - announcing this new service. It was done in part to legalize this service, since FRS radios were entering Mexico from the USA and being used without regard for Mexican radio regulations. I have a local copy (PDF) of the new rules that were published in the Diario.

I have prepared a brief summary of these regulations in English here. I am no lawyer, and as with almost anything else in Mexico these regulations can be changed, repealed, or simply ignored at any time. Anyone using this information does so at their own risk. My summary will pick up at the "ARTICULO PRIMERO" (Article 1) in the documents I have links for above.
Article 1. The present agreement has established bands of frequencies in the radio spectrum (channels) at UHF for free use, conforming with article 10 section I of the Federal Telecommunications Law. As a consequence, these channels referred to in this Agreement will be used by the general public without a need for a concession, permit, or registration, only with equipment that has been certified under the terms of Article 3 section V of the Federal Telecommunications Law.
Article 2. To this end, these free-use channels available nationally, at UHF, will be the following (listing the center of each channel below, in MHz):

462.5625
462.5875
462.6125
462.6375
462.6625
462.6875
462.7125
467.5625
467.5875
467.6125
467.6375
467.6625
467.6875
467.7125

Article 3. The equipment that uses the channels indicated in Article 2 of this Agreement will be subject to the following conditions of operation:

The equipment will only operate with a maximum of .5 watt (500 milliwatts) of effective radiated power (ERP), with a maximum coverage of 2 km.
Referring to channel bandwidth, from the effective date of this Agreement until 31 December 2004, the equipment will operate with a maximum bandwidth of 12.5 kHz. Later, and if necessary, the new bandwidth will be announced.
Only handheld-portable equipment will be used, excluding base stations and repeaters of any type. The emission type for a 12.5 kHz channel will be 11K0F3E (voice). The maximum deviation for this bandwidth will be 2.5 kHz (+/-).
There is no consideration for installation of antennas, since this will only be used with the antennas on the handheld-portable equipment.
It will be required to have certification issued by the Ministry of Communications and Transport (SCT).
Links to any public telephone or private telecommunications network using these channels is prohibited.
---
FRS "pitfalls" in Mexico
The regulations listed above basically mirror the FRS regulations found in the USA and Canada, except that radios using these channels in Mexico must have Mexican certification. As far as I have seen, FRS radios sold in the USA and Canada typically have US (FCC) and Canadian ID numbers on them, but nothing for Mexico. Without the Mexican certification, FRS-type radios brought from other countries could be deemed illegal by Mexican authorities, and subject the user/owner of those radios to legal troubles. You have been warned.

Another problem that travelers from the US may run into (and, in the future, those from Canada as well) - there are very few FRS-only radios on sale in stores. Most of these radios now include 8 channels of the General Mobile Radio Service (GMRS), a radio service requiring FCC licenses. In Canada, a form of GMRS has been recently authorized by Industry Canada (Canadian radio regulator). The 8 GMRS channels are on frequencies not authorized for unlicensed use in Mexico at this time, and those radios will not carry any Mexican certification numbers on them. Again, radios that may be legal in other countries, and operate on the license-free channels in Mexico, could still be considered illegal.
---
FRS manufacturers selling in Mexico
In my travels to northern Mexico, I have not seen too many FRS radios for sale in Mexican stores and shops. They are available, but you may have to look around for them. I know of the following manufacturers which market FRS-type radios in Mexico: There may be other manufacturers which sell FRS-type radios in Mexico, but I do not know of them right now. It is reasonable to assume that there are other manufacturers selling these radios in Mexico, especially considering these radios would be compatible with the regulations in the USA and Canada, and could carry any required certification and/or ID numbers to permit sales in any of these 3 countries.

One specific example of a Mexican-certified FRS radio I can now cite is the Motorola Talkabout T5320 FRS radio, at least those sold in Mexico. When I was in Mexico in late August 2003, I visited a Sanborn's department store in the Baja California state capital, Mexicali. Sanborn's had a large plastic package with a pair of these radios and a DVD, for 764 pesos (about US$ 70.29, at the exchange rate in effect while I was there), and I bought it. The radios came with a Motorola owner's manual, in Spanish and Portuguese. When I opened the radios, I saw 4 different certification numbers inside the radios:
Brazil (ANATEL): 0085-02-1356
Canada (CAN): 2415104715A
Mexico (CFT): RCPMOPK02-086
USA (FCC ID): K7GT5420
Although the outside of the radio has T5320 as the model number, the FCC ID has T5420 in it. The T5320 and T5420 radios are virtually identical, except for additional features found in the T5420. ANATEL is the Brazilian communications regulator, and CFT is an abbreviation for CoFeTel (the Mexican regulator). This particular radio is suitable for use in any of these 4 countries.

I borrowed a friend's T5320 radio, purchased in the USA recently, and it only had the USA and Canadian certification numbers - the same ones as I have in my T5320s from Mexico - along with a manual that was only in English. It would be nice if the Motorola FRS radios sold in the USA carried the other certification numbers, for those wishing to travel, but this might cut into sales in these other countries.
---
Disclaimer
I am no endorsing any manufacturer listed on this page. This is only meant to identify those manufacturers who sell these radios in Mexico. Or just get a Mexican amateur radio permit, if you are a licensed amateur radio operator, and have fun that way.
---
WD9EWK/VA7EWK