! Search engines look here >

<!Don't change any thing above, most of above generated by Meta tag.> <! Web page thats viewed starts here >



My adopted



William Albert Glasson, Jr.






Name: William Albert Glasson, Jr.
Rank/Branch: O4/US Navy
Unit: Heavy Attack Squadron 4, Detachment C, USS KITTY HAWK
Date of Birth: 20 February 1933
Home City of Record: Los Angeles CA
Date of Loss: 12 April 1966
Country of Loss: China/Over Water
Loss Coordinates: 210800N 1111700E (DN080420)
Status (in 1973): Missing In Action
Category: 5
Aircraft/Vehicle/Ground: KA3B
Other Personnel in Incident: Reuben B. Harris; Larry M. Jordan (missing); Kenneth W. Pugh (remains returned)




SYNOPSIS: On April 12, 1966, at 1134 hours, LtCdr. William A. Glasson, pilot; and LtJG Larry M. Jordan, ATCS Reuben B. Harris and PRCS Kenneth W. Pugh, crewmembers, were flying a KA3B aerial tanker from Naval Air Station Cubi Point, Republic of the Philippines for a return flight to their base carrier. The crew were all assigned to Heavy Attack Squadron 4, Detachment Charlie on board the USS Kitty HAWK. The aircraft had just undergone repair of minor skin damage in the nosewheel area. When the aircraft did not arrive at the ship at the planned recovery time, a search and rescue effort was initiated with the assistance of the USS ENTERPRISE (CVN-65) and units from the 3rd ARRG/13th Air Force.

A diplomatic incident occurred on April 19th when twenty-four aircraft from the KITTY HAWK hit a harbor town 35 miles from the Chinese border. No aircraft were lost over the town, Cam Pha, but a Polish merchant ship in the harbor claimed to have been nearly struck by a bomb. Messages flew between Washington D.C. and the fleet regarding details of the incident.

Hitting so close to Communist China's borders was dangerous. Soon the Chinese began claiming numerous violations of their airspace by "United States Imperialists". The Chinese claimed the destruction of the KA3B aircraft lost on April 12, saying the aircraft had flown into Chinese territory and was shot down near Hainan Island, which roughly correlated in both time and approximate location with the missing KA3B aircraft. Protests were lodged by the State Department, but the Communists maintained that the plane was attacking Chinese fishermen on the high seas of the Gulf of Tonkin.

It was later determined after search and rescue efforts were terminated that the A-3B aircraft was in fact shot down in the vicinity of the Luichow Peninsula, Kuangtung Province, China. It was the opinion of a casualty review board that the crew most likely was killed in the crash.

Normally, tankers are unarmed, but they still retained their weapons bay, and the United States never denied outright that the Skywarrior was armed. This is not the first time such a situation had occurred. From time to time, there were claims and counterclaims of shootdowns and harassment. (It is probably true also that American pilots in hot pursuit of escaping MiGs may have inadvertently - or intentionally - chased their quarry into Red Chinese territory.)

On December 16, 1975, the People's Republic of China returned ashes it said were those of Kenneth Pugh, but gave no word of the rest of the crew. The three are among less than a dozen Americans missing in China from the Vietnam war,

There is mounting evidence that China retained (and retains today) many Americans from the Korean conflict, while denying knowledge of their whereabouts. While the circumstances of the loss of the KA3B does not seem to indicate that any of the crew survived, it would seem that if China could account for Pugh, it could also account for Glasson, Jordan and Harris.






Since the war ended, nearly 10,000 reports relating to Americans missing in Southeast Asia have been received by the U.S. Government. Many authorities have reluctantly concluded that hundreds of them are still alive in captivity. Even the most skeptical believe a number of prisoners may be held in Laos today. What must these men, who willingly went to serve their country, be thinking of us?



It's time we brought them home!



We all know that 591 came home in Operation Homecoming, but, did you know that in Sept. of 1972 the General of the Army, Gen. Quang, told the North Vietnamese Politburo that they (the Vietnamese) were holding 1,205 Americans as POWs and that only 368 had been acknowledged or were to be acknowledged to the American authorities? The document was uncovered just after Clinton's first inauguration and the first thing his administration did with the document was classify it.

The document can be found at:

The Quang 1,205 Document

Other Evidence of Living POWs in S.E. Asia.

It is up to each of us to let our government officials know that we want our men and women to come home.....



TODAY.....NOW!!!!





Its been too long and time is running out.

What can you do?

Write to your elected representatives and ask for specific answers. Demand to be told what is being done to bring our POW/MIA's home again. It's the least we can do for our bothers who may still be alive in S.E. Asia and who could be trying desparately to remember how to speak English. They have given up everything for us.

I personally am missing two good friends. One Mr. Danny Evans. He won the Medal of Honor, although I would bet he had other plans for his life, dying at age 23 was not included. He would be very unhappy with the current situation. He gave his life to save the lives of his friends and other kids he didn't even know. They really were only just kids. Danny died a hero.

Another was Mr. Richard Heim. We graduated together in 1965 from Charter Oak High School in Covina, CA. I'm sure Rich had other plans too. He was a good friend. I never knew he didn't make it home until I visited the wall.
(VietNam Memorial)

My friend Richard Heim

If you ever get a chance to visit the moving wall... DO IT.

20 kids who left Covina, West Covina to serve in VietNam didn't return alive. What a loss to us, the living.

Think about the familys of the missing in action. They, to this day don't know anything for certain as to the fate of their loved ones. I know Danny and Richards family's know where their son's or brothers are buried. As sad as it is, they at least know.

I'm feeling a bit guilty.. I got back.. I by the Grace of GOD have raised a family ( 2 sons ). I miss my friends. Please help the ones that didn't get back at all, and to this day are still unaccounted for.

LETS AT LEAST GET AN ACCOUNTING FOR THOSE WHO ARE STILL MISSING,

NOW,

TODAY.

Writing a letter is the very least we all can do. Please. If enough letters are sent, they will have to give us the answers we need to know.

Here are some email addresses you can write to:

President

Vice President

Congressmen

Senators


Click here to see the letter I received back from my state senator.



A national disgrace......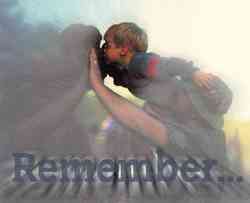 They are much more than just a name on a wall.....






<! Guestbook here >
Sign My Guestbook ----- View My Guestbook
After you have visited my guestbook, PLEASE hit your BACK BOTTON to return to this page. There is much more.

<! e-mail link to me >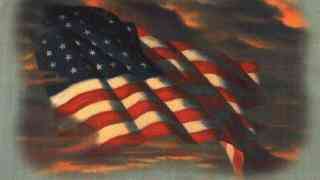 A special thanks to fellow shipmate ( DD728 ) Karl Kristiansen
whos POW/MIA Web Site got me started on this.



And a VERY special thanks to George M. "Gunny" Fallon who has been making a difference
thru his tireless effort in this cause.







OPERATION JUST CAUSE
Adopt a POW/MIA today.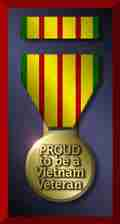 Last updated July 4, 1998



<! ring code here>



<! Start POW/MIA web ring here.

AWARDS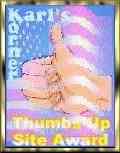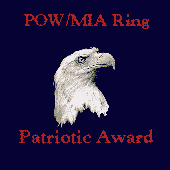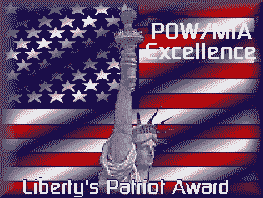 Return to HomePage

You are visitor -
- since 3-23-1998
LE FastCounter