Translate this page:

Version 5.5
This is a Great Telnet program. This Program was made especially, for the use on the internet DX Clusters and to allow multiple split screens, back- spacing, voice on DX spots etc. This program is a fully functional shareware. The only thing that is different from the registered version , is this only allows 30 min of use per session. After using it, you may get your copy registered.

To setup program:

1. Make a dir C:\DXT and download the file to this.
2. Close all programs.
3. Now go to the start button, the Run icon, type; c:\DXT\dxt32v55.exe, this
is now a self extracting, instalation file.
4. You will get a Program group with 5 icons.
a. Icon for DX Plorer to go to DX Summit
b. Icon for DX Telnet to go to ANY combination of DX Clusters via Telnet
c. Icon for DX TNC to connect to your RF cluster via radio.
d. Icon for the Rolling Demo to see what it looks like with out connecting.
e. Icon for complete Help.
5. On the first time you start the program it will ask for your call sign. Even if yours is a registered version, put in your call sign.
6. After you have run DXTelnet the 1st time, it will add a folder to your desk top to make it easier to use. You can leave it there, or even drag the icons to a seperate folder that you keep all your ham programs in. I made a folder called Ham, and copied and pasted these into it, and then added all of my Ham Radio related program links to this. This makes things much easier.


Here is a little demo of it running with voice spots on, and filters set for all bands, 160 through 10m. You can set the filters for any part of any bands, and any modes. The sound can be set for all spots, only needed ones, or none at all.
Click the arrow at the lower left to watch/listen to it. Runs for 8 mins.





The very top box is where announcemets are displayed.
The large box is where all the Filtered spots are displayed.
The lower box is non filtered data.
The very bottom small box is where you make any input to the system.


The below video shows how to size it for your monitor to suit your needs, set up the Sounds, activate the Alert Sound, and copy and paste a icon from the program files, to your Ham Radio folder.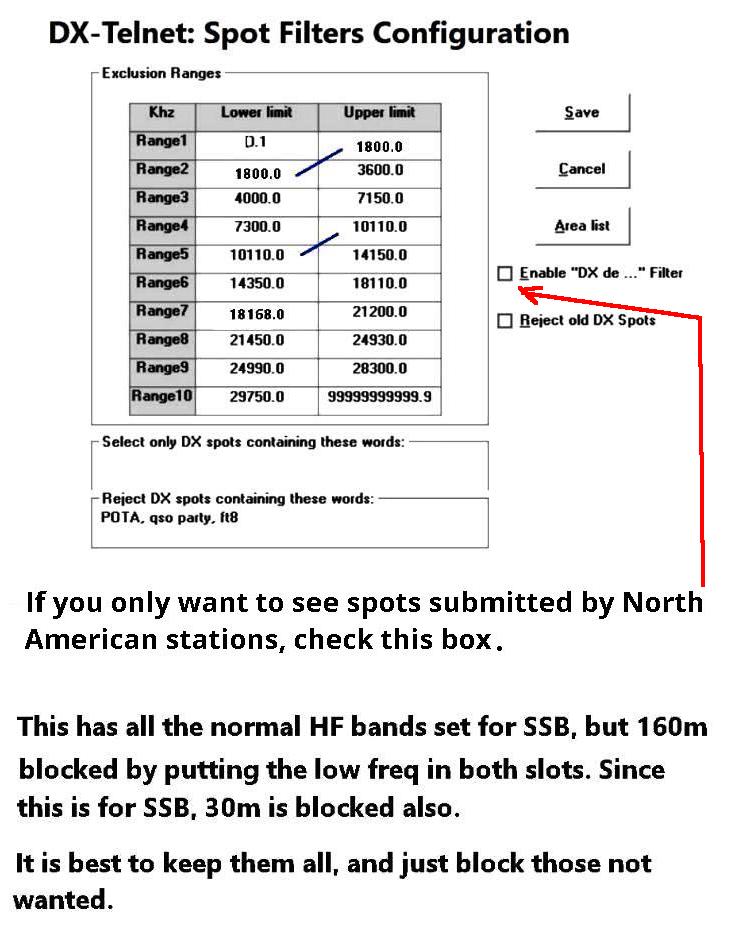 One of the very unique features of DXTelnet, is if you want information on any callsign seen anywhere in DXTelnet, simply right click your mouse on the callsign. It will instantly bring up the information in QRZ.com.
If you want to know what country a certain callsign is from, double click on the callsign, and a popup window will be displayed with the information.


That's it, Download, and join in the chase.
73/DX, Bruce/WD4NGB

"Print a copy of this page to help you follow the install instructions."
The file name is: DXT32V55.exe

Follow your Browsers prompts to "Save" the file to C:\DXT


NOTE#1: If you are a registered user of Dxtelnet 5.2 or older, you will need a registered version of this, since it is a completely new 32 bit program. If you are using a older version, and wish to upgrade to 5.5, send me a copy of your email from Fab with your older registration in it. Since Fab is not responding to any emails, I will go ahead and send you a new registration code for the 5.5 version, "Free".


Click to Download Dxtelnet 5.5

"Dxtelnet 5.5"


Note: You must have the above downloaded, and working, prior to installing the below Updates.