Translate this page:

Version 5.5Feb 8 2020

This is a Great Telnet program. This Program was made especially, for the use on the internet DX Clusters and to allow multiple split screens, back- spacing, voice on DX spots etc. This program is a fully functional shareware. The only thing that is different from the registered version , is this only allows 30 min of use per session. After using it, you may get your copy registered , after making arangments with the software developer who may be contacted by using the E-mail link at the bottom of this page.
To setup program:

1. Make a dir C:\DXT and download the file to this.
2. Close all programs.
3. Now go to the start button, the Run icon, type; c:\DXT\dxt32v55.exe, this
is now a self extracting, instalation file.
4. You will get a Program group with 5 icons.
a. Icon for DX Plorer to go to DX Summit
b. Icon for DX Telnet to go to ANY combination of DX Clusters via Telnet
c. Icon for DX TNC to connect to your RF cluster via radio.
d. Icon for the Rolling Demo to see what it looks like with out connecting.
e. Icon for complete Help.
5. On the first time you start the program it will ask for your call sign.
Even if yours is a registered version, put in your call sign.
6. After you have run DXTelnet the 1st time, it will add a folder to your
desk top to make it easier to use. You can leave it there, or even
drag the icons to a seperate folder that you keep all your ham
programs in. This will make it easier for multiple site connections,
and using DXP and DXT, or DX Tnc together.

Thats it, Download it , and join in the chase. 73/DX, Bruce/WD4NGB

"Print a copy of this page to help you follow the install instructions."
The file name is: DXT32V55.exe

Follow your Browsers prompts to "Save" the file to C:\DXT


NOTE#1: If you are a registered user of Dxtelnet 5.2 or older, you will need a registered version of this, since it is a completely new 32 bit program. If you are using a older version, and wish to upgrade to 5.5, send me a copy of your email from Fab with your older registration in it. Since Fab is not responding to any emails, I will go ahead and send you a new registration code for the 5.5 version, "Free".


Click on the Icon below to Download 5.5

==> <==



If you are using DXtelnet now, and wish a up to date Country File for it, download this file to replace the one that is onyour PC. Just like any other Windows files, it is best to save the one you have now, and rename it to be safe in case you have problems.



Click on the Icon below to Download the updated Country File

==> <==


The file will look like a text file, but is not. Save it without making any changes, as that would make it not work. Right click it in your browser, select Save, and select the location that your DXtelnet is located. Default is most likely C:\DXTelnet32 Look for cty.dat in your folder, and clickon it, so this file saves it exactly as it should.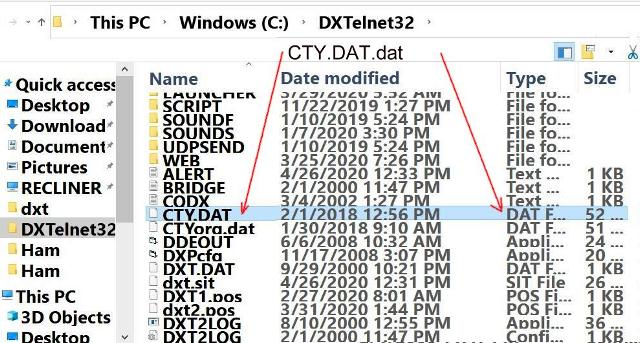 If you do not replace the one on your PC, this will install as CTY.DAT.txt, so Click the one on your PC, and tell the new file to replace it.


---
The below 2 files will give you a updated DX Cluster Site List, and the needed scripts to connect to them.

Click on the Icon below to Download the updated script File

==> <==


This will give you a list of all the Telnet DX Clusters, as of Nov 23 2019. All of the old non-fuctioning ones have been removed.
To install it, 1st rename your old Script directory to Script-org. Copy the file SCRIPT.Zip to the same location that the Script was located. Run unzip, to extract the files in the same location. This will make a new sub directory of Script, and all the dx clusters listed below it.

Next Download this Site File, and save it in the default C:\DXTelnet32 directory. This, along with the above Script file, will give you the updated Telnet List.
Click on the Icon below to Download the updated Site File

==> <==


If you are running Win 10, it will not read the Help File in DX Telnet. The below file will allow Win 10 to read this file, and give you detailed information on using DX Telnet.
Click on the Icon below to Download the file Winhelp32.msi. This is a Windows Install Application. Just Click on it, and allow it to install. Once it is installed, you will be able to read the DX Telnet Help Files.

==>
<==

These Files are 100% Safe.

---
For sending the DX Telnet Alerts to your Phone, or Email, use Emailert




---



I set up a page to help customize DX Telnet to use in Contest or single modes or bands, such as RTTY ARRL 10m, FT8 etc. Click below to go to the help page


Another method, is to set up completely separate directories for SSB and Digital use.
If you do not do a lot of Contest, you may find it easier to make 2 separate DXTelnet Directories, the default on of DXtelnet32, and maybe a 2nd one of DXtelnet dig. You could set up the default one up for SSB, and the 2nd one for all Digital modes.


---
Fab is no longer supporting this program, so if you have
major tech problems, it may be a little rough sorting it out.
If you previously had a Registered copy, and lost your code,
I may be able to help you. Email me with your Call Sign.
E mail to Fab
(not working the last few times I tried)