Triple Ratio Balun PC Board Construction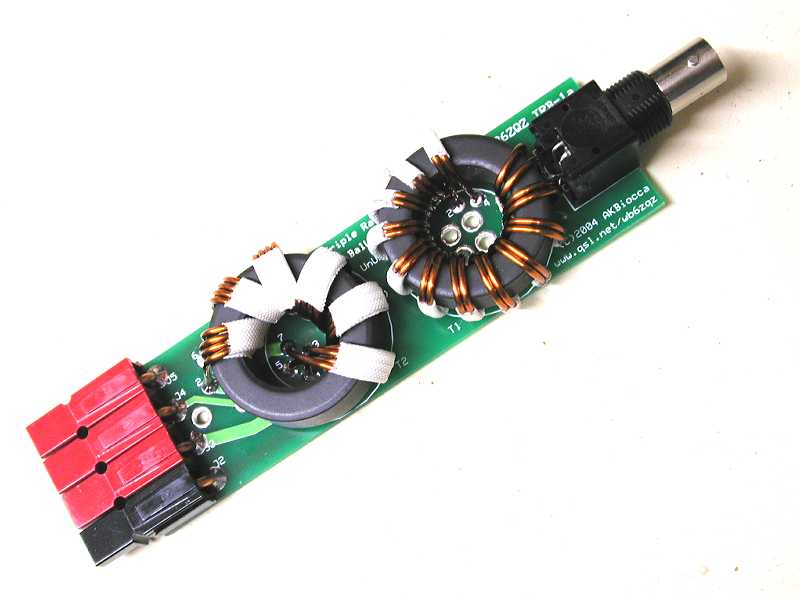 The Triple Ratio Balun PC Board Production Version
Note this photo is of the First Article which does not have color coded Powerpoles
---
Document Ver 1.02 1/20/2005
Introduction
This is the draft of the assembly instructions for the PC board version of the Triple Ratio Balun. It contains many photos of the first article board which does not have the color coded Powerpole connectors. The Powerpoles shipping with the kits are color coded (as shown in some of the photos). The BNC jack may also be slightly different depending on availability of parts.
TRB Parts List
TRB Assembly Instructions
NOTE - Refer to this Construction Pictures Page while assembling the Balun kit.
Antenna/Feedline connections
The black/red 15A Powerpole connectors are for the antenna connections. Black (generally) goes to the black common connector on the balun. The red connector goes to brown, orange or green for 12, 25 and 50 ohm loads. Pick the tap that produces the lowest SWR. Reversing the black and red occasionally makes a small difference on some antenna configurations.
Housing the TRB Balun
The TRB-1a circuit board has been sized to fit inside a length of 1.5" schedule 40 PVC pipe. Alternately, if light weight is desired, a few layers of bubble wrap around the balun will provide adequate protection. Water should not significantly affect the balun's operation unless it is submerged. It can be coated with high voltage insulating spray if desired (avoid getting spray on the various connector contact surfaces).
since July 2004
You may email author Alan Biocca via wb6zqz at arrl.net
Triple Ratio Balun and TRB are trademarks of AKBiocca Engineering