"My Version of a 3cx1500/a7 8877 144mhz W6PO amp"
(I am running a little over 4kv on the plate. Amp will do over 2kw out)
Give the page time to load. There are several Pic's on this page to load.
---
To see what it looked like before + to see the HV supply click here.
---
Look here for where to get the parts for this. Thanks Paul WD7S
Look here for where to get the Jennings RJ1A or Kilovac HC-1 relays. Thanks Allen WB4GNT.
(either the Jennings or Kilovac will work fine)
---
Some things the new W6PO has that a stock W6PO does not have. Triode Control Board
1. ADJUSTABLE WARM-UP TIMER; HOLDS OFF HV AND KEY LINES
2. ADJUSTABLE GRID OVER-CURRENT FAULT, AUTO-RESET
3. ADJUSTABLE GRID OVER-CURRENT WARNING LED
4. ADJUSTABLE PLATE OVER-CURRENT FAULT, SHUTS DOWN HV SUPPLY IN 8.3 MS OR LESS
5. TUNE/ARC FAULT, UN-KEYS AMPLIFIER WHEN SEVERELY MIS-TUNED OR DURING TANK CIRCUIT
ARC, AUTO-RESET
6. HV PRESENCE FAULT, HOLDS OFF KEY LINE IF HV NOT PRESENT OR LOW AFTER WARM-UP
7. FULL BREAK-IN QSK USING VACUUM RELAYS, LESS THAN 2.1 MS
8. T/R FAULT, HOT SWITCHING PROTECTION
9. FULLY ADJUSTABLE OPERATING BIAS USING THE TL-431 ADJUSTABLE PRECISION REFERENCE
10.ELECTRONIC BIAS SWITCHING, 2.5 AMP MAX
11.DUAL KEY-LINE BUFFERS, EITHER +5 -16 VDC OR GROUND WILL KEY THE AMPLIFIER,
(TTL AND CMOS COMPATIBLE)
12. COOL - DOWN DELAY FOR BLOWER, (OFF BOARD)
13. FRONT PANEL STATUS OF ALL FAULT AND OPERATING CONDITIONS.
14. ZERO CENTER TUNE METER, DETECTS INPUT AND OUTPUT POWER LEVELS AND DISPLAYS
VARIATION FROM OPTIMUM GAIN FIGURE
Bargraph Digital Display
1. ZERO CENTER TUNE BARGRAPH, 20 SEGMENT
2. 14 FAULT AND STATUS LEDS
3. HIGH REFLECTED POWER FAULT INTERFACED WITH TRIODE CONTROL BOARD, AUTO-RESET
4. 2.4 KW POWER BARGRAPH, ONE HALF OF MULTIMETER, 20 SEGMENT
5. 0 - 5 KV PLATE VOLTAGE BARGRAPH, ONE HALF OF MULTIMETER, 20 SEGMENT
6. 300 WATT REFLECTED POWER BARGRAPH, 10 SEGMENT
7. 0 - 1.5 AMP PLATE CURRENT BARGRAPH, 20 SEGMENT
8. 0 - 100MA GRID CURRENT BARGRAPH, 8 SEGMENT
---
Here is what the new front of amp looks like. I used a standard 10 1/2"x19" rack panel. The cabinet is an
old Heath DX-100 transmitter cabinet.
---
This will give you a better idea of what the digital panel looks like.
Note below where it says Power KW it says EP KV. This part of the
display is a front panel switched function. It can read either your
power out in KW or the amount of High Voltage present to the tube.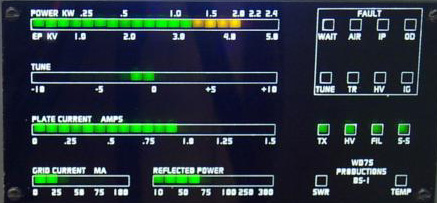 ---
New amp rear view. You can see the Millen HV conn. + the control cable that goes
to the HV supply which is in a seperate cabinet. You can also see the Drake WV-4
coupler mounted to the Jennings RJ1-A Vacuum Relay T/R box. Right angle UHF
connector is for the antenna, and the right angle N-connector is for the rig input.
I extended the Plate Load shaft on the rear so it will be easily accessible when the
amp is in it's cabinet.

---
New Triode control board New High Voltage divider board + HV/KW out switch
(Also supplies Bias and Vacuum Relay voltages) (Can handle up to 6kv and puts out about 5vdc to run display board)
---
New Display Power Supply. Provides 5vdc/1.2vdc for the display board.


---
Rear view of new bar graph digital display board.
Below the display board is a 5vdc/1.2vdc display
power supply.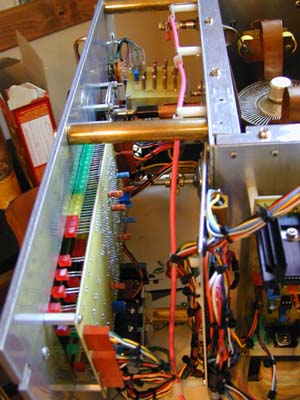 ---
Below is the new T/R relay box using Jennings RJ1-A Vacuum Relays. The
box also has a directional coupler used to run the front panel digital wattmeter.
It has (3) RF Detectors. They monitor RF at "Amp Output", "Rig Power Input",
and "Amp Power Input after T/R relays are operated". This is part of the fail safe
T/R relay circuit that goes to the Triode Control Board. The vacuum relays will
operate and release in about 2.1ms if you use +33vdc with a .33mf 500vdc cap as
described below. The external connections on the box are for Antenna, Rig Input,
Amp In, and Amp out. There are also 5 feed thru caps' that are on the box to feed
connections to main amp triode board for the 3 detectors, and the + relay voltage,
and relay ground start. The Drake WV4 Coupler mounts to the below T/R box cover
IF YOU USE VACUUM RELAYS AND COUPLER NOTE THE BELOW FOR 144mhz

*Note - the vacuum relays can not be installed in main RF deck due to radiation
from the open contact connections on the RJ1-A's. They need to be shielded
in a seperate RF encloseure.
*Note - most RF couplers like Bird 43 type will not work. They do not put out
enough voltage to drive the display ckt. You could try adding an op amp to
try to get the Bird coupler voltage up to about >2.5 vdc.
*Note - You may need to add a small trimmer cap around 10pf to ground in bypass
mode to tune out possible inductive reactance to get VSWR down to < 1.5:1
*Note - It is very important to keep all connection lead lengths as short as possible
*Note - If you want the relays to operate/release really fast apply +33vdc to them
and use a .33mf @500vdc capacitor across the relay coil instead of a normal
reversed bias diode setup.



THE BELOW BOX HAS AN INSERTION VSWR OF 1.2:1
You can see the configuration of the 3 RF detectors which are on the tie
point terminal strips below. Also the Drake WV4 mounts to the T/R
box cover as seen below.
---