---
Abaco Island DXpedition - Nov. 1999!!!


Hello and welcome to my Abaco page. I will continually update this page before I leave for Abaco Island. Please read this page for all updates. Abaco Island is in the Bahamas and is IOTA NA-080.
It's a beautiful little island where life is slow and the water is clear. A place where I eat fish and play
radio! If you work me while I'm on the island, please qsl direct with sase or, if you're willing to wait,
via the buro. I take some time to qsl via buro. I am still qsling from a 1997 trip to Antigua as V26ED! If you would like to see a few pictures of the island, click here: DX Pics.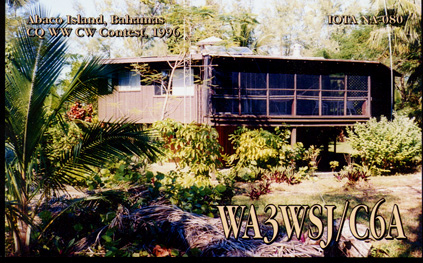 Date- July 15, 1999: Purchased airline tickets for trip- most of family will be going too.
Date- August 8, 1999: Today I purchased a Cushcraft A3 Beam for DXpedition; will cut it up.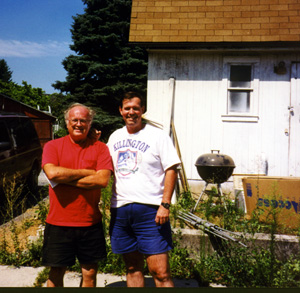 Rare shot of N3IK on left and myself. Note A3
beam on ground to right of me.
Date- August 20, 1999: Received Flex-Ware to make inverted-vees.
Date- August 22, 1999: I just finished building my Elecraft K2 Rig a couple of days ago and
I'm ready to align it.
Date- August 30, 1999: Finished with alignment of K2 and it works just great. I also bought a
Radio Shack #22-503 switching supply to run it- great little 3A supply.
Date- Sept. 8, 1999: Just received my 12v solar panel and charge controller to run the K2
without AC. Will try combo later.
Date- Oct. 20, 1999: Interface between my laptop and K2 works great. Made up an 80M
inverted vee antenna. Now on to the beam. Must get it down to size.
Date- Nov. 07, 1999: Tuned inverted Vee 80m antenna- woks good. I'm going to look into
an EZD antenna for other bands.
Date-Nov. 08, 1999: Purchased a Butterfly Beam today that is good for 5 bands! Will still
have to cut it down to size to fly!
Date-Nov. 13, 1999: Received ssb, noise blanker and 160M options today for my K2 Will
install later. I might install noise blanker before I leave for Abaco.
Date-Nov. 21, 1999: Butternut Butterfly beam cut up and ready to fly!


---
Hello all!
Well, I am back from Abaco Island. I worked about 500 Qs in the CQWWCW Contest
and about 140 Qs outside the contest. I had a ball with my K2!
*************If you qsl, please qsl direct to WA3WSJ with a SASE.*************
Edward R. Breneiser, WA3WSJ
775 Moonflower Ave.
Reading, PA 19606-3447
---
WA3WSJ/C6A CQWWCW99 Dupe Sheets
CQWWCW99 80M Dupe Sheet
CQWWCW99 40M Dupe Sheet
CQWWCW99 20M Dupe Sheet
CQWWCW99 15M Dupe Sheet
CQWWCW99 10M Dupe Sheet
---
WA3WSJ/C6A 80M DX Dupe Sheet
WA3WSJ/C6A 40m,20m,17m & 15m DX Dupe Sheets
WA3WSJ/C6A 12m & 10m DX Dupe Sheets
---
WA3WSJ/C6A Logs on EPA QRP Club Web Page at:
Click here to go to EPA QRP WEb Page