A look into my past (from a ham's prospective)....
Copyright 2000 Jim Leighty
---
W6UJX - The engineer....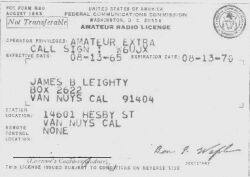 In 1965 a few of my friends decided to get their Amateur Extra Class licenses. There were no additional privledges at that time, but they wanted to get it anyway. So, I had to get my Extra too. Lee Norris, K6CJE, and I went down to the federal building in Los Angeles and took the test.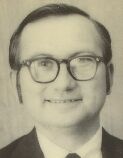 In 1966 Jim married and settled down in Canoga Park in the San Fernando Valley. A 70 foot guyed tower was in the back yard with a 20 meter monobander on top. The two meter FM radio was a modified Motorola 80D putting out about 100 watts to a 7 element colinear mounted on the side of the tower. Although the 20 meter antenna was really great, Jim had little time to get on the low bands - a missed opportunity. However, more time was spent on VHF mobile. He changed jobs and began work at Packard Bell Electronics, Space and Systems Division in Newbury Park. The marriage did not last, and Jim moved to a cooperative apartment (no antennas). In 1975 he moved to Newbury Park in a tract with antenna restrictions (all new tracts in the 70's had antenna restrictions). He re-married in 1978 and got back on the air after moving again. In this period, Jim renewed his interest in DX and started collecting countries. But, because of the neighborhood, any antennas used were VERY modest.

Wanna hear more...