A look into my past (from a ham's prospective)....
Copyright 2000 Jim Leighty
---
College....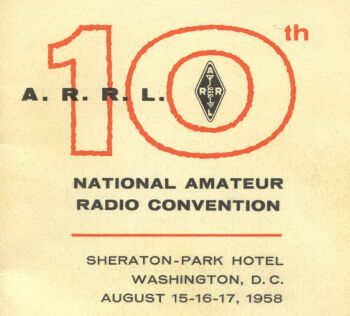 I graduated from High School in June 1958. During summers and weekends from the time I was 16, I worked refurbishing surplus avionics equipment at Lane Electronics in North Hollywood. The summer after I graduated I took a couple month's leave of absence for travel. I was lucky to have a good friend, Paul Signorelli (then K6CHR) and his mother Helen (K6KUP) who invited me on a cross-country trip. We went to Lake Tahoe, Reno, Salt Lake City, Yellowstone and the Grand Titons, through Montana to the Black Hills of South Dakota, and Mount Rushmore. From there we went to Minneapolis-Saint Paul, Milwaukee and Michigan (crossing the Lake on a Ferry with KUP's Volkswagen). At Detroit we crossed into VE land and went to Niagara Falls. Then we traveled across New York and went to 38 La Salle Road, West Hartford, Connecticut (youngsters don't know that address, but it was the headquarters of the ARRL back then). We were given a personal tour by a staffer and then we were lead to the W1AW transmitter site in Newington, Connecticut. From there we went to New York City and stayed a couple of days. Then we went on to Philadelphia and Washington DC. In DC we stayed a couple of weeks. One of the weeks was at the ARRL National Convention where Vice President Richard Nixon (Ike was President) was the guest speaker at the dinner. We saw everything in DC! Then we traveled on to Chicago, to Reynolds Illinois (to see my aunt Majel) and to Kansas City. From Kansas City we went on to the Grand Canyon and home. All the way we met hams on ten and two meters - and were invited to their homes. Helen and Paul are very special to me.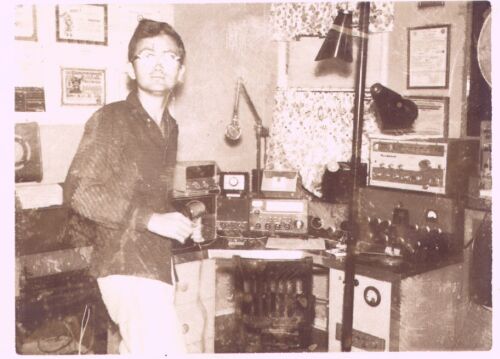 Upon graduation from high school in 1958, I discovered I had not taken chemistry and needed to go to a junior college. In the long run, that was a good thing to happen. I found some very dedicated teachers there: Mr. D...ian (calculus), Mr. Rasnik (physics), Mr. Greene (Chemistry), Mr. Deonik (Engineering) and Mrs. Freed (English). I made it to the "Honor Roll" and got a letter from my Congressman. I liked engineering and the sciences. I found something that I was good at - and learned a lot about the outside world and how it worked. At Pierce College I received an AA degree, even though I never really wanted it (I thought I had been mis-advised since I never thought I would do anything but go on to UCLA). At Pierce, during lunchtime and between classes I spent the time in my Volkswagen (mobile) on top of a mound hill at Winnetka and Victory (the mound hill no longer exists). It was a good radio spot. Jim Forgette was there too. However, he decided to quit school after the AA and go to work (where he was able to buy a Ford Thunderbird the first year out of school!).
In 1961 I graduated with an Associate of Arts degree in Engineering from Pierce College in Woodland Hills, California. I went on to UCLA as a Junior. UCLA was the home of W6YRA (Young Radio Amateurs).
UCLA Engineering was tough. They had the crazy idea that everyone needed to take a semister load of 20 units. The time spent on ham radio had to be decreased if grades were to survive. Fortunately, I had some friends at UCLA. They included Steve Jensen, W6RHM, Dean Cohen, WA6KYC, John Morris (from Pierce and now W6E??) and Bud Beutler K6MON.
During my college years, I was more often mobile.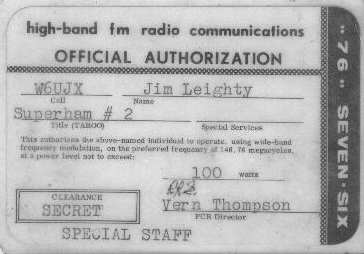 Two meters was undergoing a BIG change. In the fifties 2 meters had rapid increases in activity due to the introduction of the Gonset Communicator - I had one. In the 60's the preferred mode was FM. I got my first FM mobile (an RCA CMV-1D) in 1958 ( I won it at the Lockheed ham club's meeting). There were two frequencies in use at the start - 146.76 and 146.94. At first "76" was SECRET.
During the years at UCLA I spent lots of time in the mobile. I lived at home and left early in the morning to get a good parking spot. In the hour or two before class, I studied in my VW. I couldn't wait to graduate. In January 1963 I received my BS in Engineering.
Two weeks after graduation I was working at Space General in El Monte. It did not take long to get a bigger car that was filled with radios (HF, 2 meters FM and 6 meters FM).
Wanna hear more...