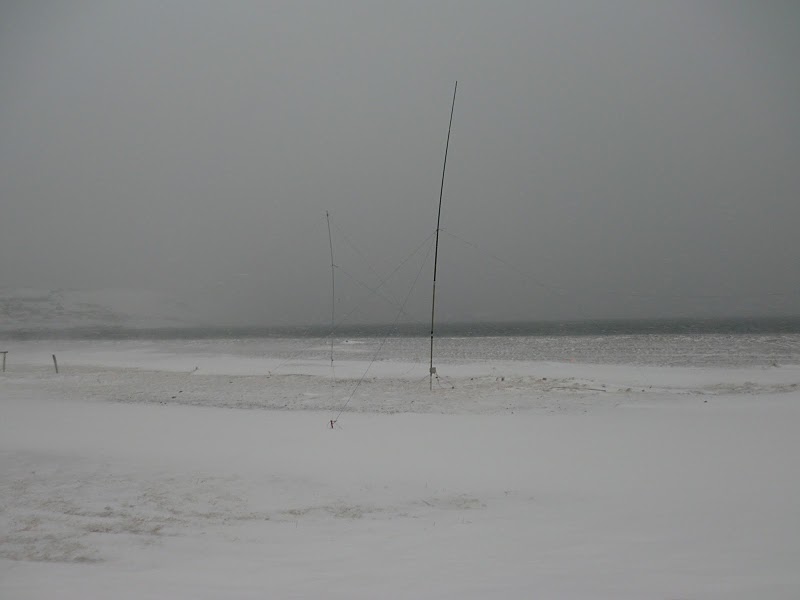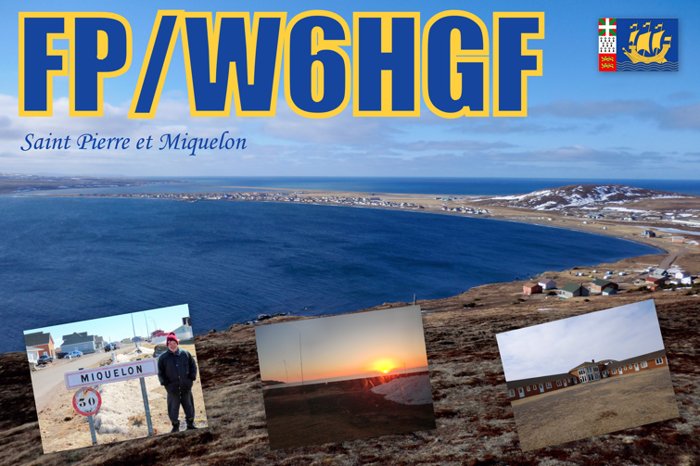 The Steppir Vert in the foreground, and My dipole in the background
The dark part of the horizon is the Atlantic Ocean.
The antennas are bent from the strong winds and snow normal to
this location in the winter months. Very Cold and Challenging.

FP/W6HGF

Grid GN17
tc
CQ Zone 5
ITU Zone 9
IOTA NA-032

DIFO FP-002
WLOTA 1417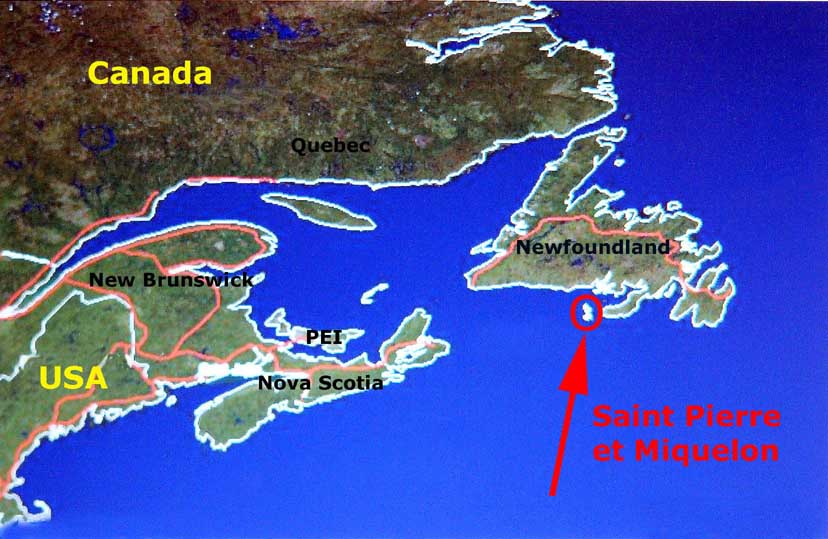 This is a short video of my antenna on one of the nicer days. The wind is always there, usually blowing
harder and faster than when I took this pix. The feed line really got a workout, after two weeks of this,
and probably not reliable enough for more than one deployment in these conditions.
Now QRT
February 8 - 18, 2014 Winter DXpedition

to Miquelon Island in the North Atlantic.

I operated from FP, St Pierre and Miquelon Islands from about 8 February to 18 February 2014. My operation focused on digital, mostly RTTY, including entry into the CQ WW WPX RTTY contest over February 8 - 9 weekend, as well as a presence in the ARRL International DX Contest CW, over the February 15-16 weekend . I am happy to QSL with all that had a qso with me. I have grown to like the ClubLog OQRS facility, and encourage you to give it a try. It will be the fastest and safest way to get a card from me. They have a new mailing/qso label facility, that takes all the work out of hand writing qsl's now. The Log will also be uploaded to LOTW once I get it cleaned up. Practicing with CW makes lots of errors in the log that will get fixed as folks alert me. Also after cleaning up the log I will upload to EQSL, but this is my last priority in qsl duties. I will respond to OQRS Direct and paper Direct QSL card requests, as they come in. My operating location is located up near Nova Scotia, Canada for beam pointing. This area is well known for being pretty cold, and very windy in the winter. See my antenna picture above from March 2011 in the snow storm.



** I support the DX Code of Conduct **

Please learn and respect the DX code so that all of us can enjoy the experience. When a pile-up is in progress please follow my lead and if I am only sending signal reports, that is all I need from you. If it is very slow and I send name and qth, then it is ok to send the same back to me. This will allow a pleasurable experience for all of us following the conditions. Please be curtious to other operators, and please stop calling when I am trying to exchange a report.

This operation is a 1 person effort, so expect lots of breaks, I do not have the contest staying power I once had, but I expect with high winds, and cold temperatures outside, to have few distractions outside of plain exhaustion to keep me off the bands. This is my third trip to Miquelon, and my goal is to make as many QSO's as I can while there.

On RTTY, I use FLDIGI which has "skimmer" type browser so I can decode everyone in my audio passband which is 3Khz wide. I also plan to test out the RCK skimmer on this trip, for comparrison on RTTY. It is important or useful to know that I use this extensively to increase the QSO rate, but it is also important to recognize that I am not decoding you in real time or on a single frequency, so when you send your call, please stay in one place and wait for me to find you. If you call me and then move, and I find your call in the buffer a little later, when I call you, I will not be able to find you if you have moved. So please just stay in one place and call, at least until I have completed some QSO's and did not call you. To increase QSO rate, I will also try to add other calls heard on after exchanging a report with the first station, I will say, -NOW- and then the next call sign, without going back to the pileup. After sending a QRZ and listening to the pileup, I will may collect 2 or more callsigns (if I can) to respond to without going back to the pileup, but it is important that you stay put on the frequency I heard you, so I can find you when I call you.

When I say QRZ UP, I mean, I am listening up at least 1 Khz, and I can hear you on any clear space from 1Khz up to about 4 Khz up from my signal. You do not need to call exactly where the last qso was, as I am decoding everyone in the passband at the same time. Just find a clear spot and stay there to call me.

Many Thanks to Eric, KV1J, Jean Pierre FP5CJ, and Paul K9OT, who have been very helpful with information on this location, and their past operations there. It makes it so much easier to have a little advance knowledge when going to a new place.
,

Updates


22 Feb 2014 All OQRS Direct QSL requests have been mailed. All Direct mail requests received to date have been sent out. So QSL is up to date, and will take the new ones day to day. I arrived safely home, with a few unexpected weather related delays, and so ends a very successful trip to Miquelon Island. Thanks to all for all the QSO's and support to the very cold and windy St. Pierre et Miquelon dxpedition 2014. See you on the next expedition.

18 Feb 2014 NOW QRT. We made almost 6000 QSO's, most on RTTY, but many on CW. Now to make the way home through the ice and snow storms, with all the gear. Thanks to all who called me, it was my pleasure to put you in the log. Clublog now has the final upload, so you can use the OQRS facility to request your direct cards. I still prefer receiving bureau cards so I can see them, but please use what ever is best for you. I have traveled as far as St Pierre today, and will head for Halifax, Canada tomorrow in my journey to get home.

17 Feb 2014 The CW Contest is finished. Heavy wind still blowing. We lost internet and cable tv service last night here in Miquelon for several hours, apparently because of the high wind. Even without the internet, my radio was still working well. The weather page said the wind was expected to be in excess of 80 knots last night, and I could feel the whole house shaking under the wind, and what sounded like rocks hitting the walls which I am sure was some form of hail/ice. It is supposed to settle down today, so I am hoping I can continue operating once the bands open up. It looks like my antenna had survived but it is just before dawn as I write this, so I can not really see yet, but it seems to be working as I am currently working Europe on 30M psk31. This is planned to be the last day of operation, and I will pack up tonight, and hopefully catch the ferry back to St Pierre tomorrow morning. This has been a great trip, great food, and even the weather was what I was hoping for. Many new QSO's have been made, and are all in ClubLog for your review, with a link down below if you would like to check. I hope you are in the log, and if you think there is a problem with the log, please write a note to me with the time/callsign, so I can research and fis. The statistics page is one of my favorite, as it shows me which bands have worked the best. Direct QSL's will start going out next week, once I am back and unpacked.

15 Feb 2014 ARRL CW contest is underway. My minimal operating setup will be no threat to the big guns. I have had fun in the contest, and passed out a multiplier to many happy campers. I stayed up late last night working the contest, and I feel it today. The whole week has been getting up at dawn, and going to sleep after midnight, and I am exhausted, and ready to go back to work to rest up. We had violent winds all last night, and I was afraid the antenna would blow down, but it stayed up. Only the antenna feed line came loose, and was blowing in the wind. I was able to catch it this morning and hook it back up to the balun. Two days left before this trip is over.

12 Feb 2014 Everything is working smoothly, and the conditions are doing well. I have uploaded all the logs so far to ClubLog so everyone can see if they are in the log. If not, just work me again if you have the chance, or if your sure you already had a contact, write me a note so I can check the log and transcript for that time to see what happened. I make lots of mistakes in the heat of a pile-up, so I am happy to fix them when pointed out. I am told there is a big snow storm hitting my home tonight, and the same storm will reach FP land this weekend. We have lots of snow up here now, but they deal with it much better than the big city at home. Not much to report. I have been improving my CW skills by fire. I am now not so sure all the unruly folk are on SSB, I seem to have some real interesting folk in the CW pile-ups as well. It has been fun. The RTTY ops seem to be much more diciplined for pile-up conditions. I probably need to learn to ID more often than I do in CW, to keep from getting prodded with all the question marks. I am progressing with CW skills, and am sure they will improve with practice.

9 Feb 2014 Dipole antenna is up and working well. I brought a CrankIR antenna up with me, but the wind is blowing hard all the time, with snow mixed in, so just getting the Dipole up in the air was a chore. I will give the CrankIR a try before I am finished, on a nicer day, but not sure I want to go out in the cold, wind and snow to change bands. The dipole tunes all bands, so I do not have to go out side at all for it. I am beginning to think the CrankIR is better for the beach than the snowy north in winter.

A Solar storm hit hard yesterday, and the lower bands were very distorted last night, like all the signals had an artic flutter on them. This was hard on any digital mode to deal with, so I was disappointed with last nights conditions. Today has been much better so far, and I have made most of my contacts up on 10 meters. CQ WPX contest was a lot of fun, and now for some good pile-ups.

8 Feb 2014 Arrived in Miquelon island late last night, and could not put any antennas in the dark and snow. I will have an antenna up soon, and will join in the fun on the CQ WW WPX contest. All the equipment arrived and is being set up, so I should have a good week or so of operating in the very windy, snowy, and cold Miquelon Island.

6 Feb 2014 Finally arrived in Halifax one day late, so next flight to St Pierre is tomorrow at noon. (They only fly three times a week, but were kind enough to re-book me on Fridays flight after missing my scheduled flight yesterday. So I am now waiting in the Halifax hotel for tomorrow to come. Tomorrow, I fly to St Pierre, then take the ferry to Miquelon, and then see if there is enough light to put up some antennas before the WPX RTTY contest starts. I will probably not be ready at the start, but hopefully be set up with something operational before the evening is finished. Next update will probably be Sat sometime.

5 Feb 2014, Big Ice Storm on the East Coast This Morning, and most flights here were delayed or cancelled. I tried to go to Halifax to catch the Wednesday flight to St. Pierre, but did not make it. Currently stuck in Toronto tonight, and will continue onward to Halifax tomorrow, and catch the Friday flight to St. Pierre. Still hope to be active for the WPX Rtty, but may have a reduced antenna because of the lack of daylight by the time I get on site. Conditions should improve on Sat when I can work in sunlight on the antenna farm. All is well, and this is the fun/challenge of operating in the winter conditions. It helps make the adventure a little more unpredictable.

8 - 18 February 2014 are the Planned operations dates

I will try to have a daily summary here of the conditions and activities as the week goes by.
Schedule
Local Time Zone is GMT minus 3 hours
Current weather
Feb 8 - Arrival and antenna setup
Feb 8-18 - On the air
Feb 8-9 CQ WW WPX RTTY Contest
Feb 10-14 Work all bands mostly RTTY, but some other digital modes, SSB, and CW as time permits.
Feb 15-16 ARRL DX CW Contest
Feb 18 Antennas come down and pack up equipment
Feb 19 - Departure

Equipment
Elecraft K3

Icom IC-7000 (50 W) (Backup radio)
Tokyo Hy-Power 1.1K Amp (~300W)

LDG AT-1K Antenna Tuner

Fldigi Software (Thanks Dave W1HKJ)
Will try CW skimmer this trip to see if it helps in the pileups.
and will try the RCK Rtty Skimmer to compare.

Antennas
CrankIR Vertical (new) to try out - 80 - 10.
Granite State Antennas Ultralite Senior 160-10
Balun Designs has provided a great balun that I will use to improve my 160 Reception.
They were extremely responsive to a last minute request, and will be first on my list for Balun supplies.

SteppIR Vertical (Thanks Roger G3SXW and Nigel G3TXF ) – 40M through 10M

QSL Information
OQRS via ClubLog seems to be the easiest and safest way to request direct qsl.

Logs will be uploaded to Logbook of the World after the trip.
If you have not signed up for LOTW yet go here, it is easy LOTW Signup

Other alternatives are;

Direct to home call. DX, Please include self addressed envelope with $2 for return postage. Please, NO IRC, NO STAMPS.

OQRS through Club Log
Buro to W6HGF.
eQSL.cc - Please make sure your logged time is very accurate, so I can verify QSL. eQSL is my last priority because my log will have many, many mistakes that need to be corrected before sent to EQsl.


-- As in other modes, RTTY is sometimes prone to call sign errors, so if you think you worked me, but can not find it in the log, please drop me an email, so I can research and fix. I know I make lots of mistakes, but I do want to fix the ones you let me know about if I can. I have a running transcript of all digital rx and tx from the station and can go back in time and see what happened.
My Log will also be uploaded to Clublog every evening before I turn in for the night.

.

Check if you are in the log before you send a qsl card, I hate to send them back with " not found in log" .

QSL Direct Address with US$2:
NO IRC, NO STAMPS,

W6GHF
Al Danis
P.O. Box 220164
Chantilly, VA 20153-0164
USA
Links
Saint Pierre & Miquelon tourism web site

Saint Pierre & Miquelon information web

Motel de Miquelon (Maxotel) New name is Motel de l'Archipel


Cheznoo.net – includes webcams of Miquelon, so you can see how deep the snow/wind is.

Past Visits to St Pierre et Miquelon
2011
2012


Last page update - 17 Feb 2014