High Desert DX Association
Welcome !
Welcome to the High Desert DX Association
The High Desert DX Association is a small group of local DX'ers dedicated to the pursuit of Worldwide DX. We are proud to promote International Goodwill by making new friends around the world with Ham Radio. We live for that 'New One' and welcome all local Ham Radio Operators with the same interests. If you would like to join us in our pursuit of that 'Really Tough One' then take a look at the Membership Information and let us know.
---
Founding Club members at the 1999 International DX Convention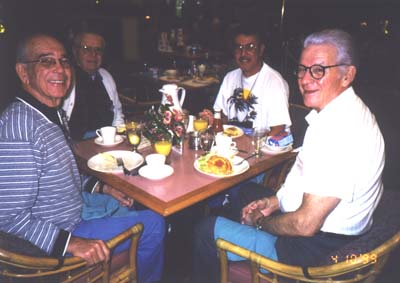 Bob-W6UPI, Hugh-K6YYJ(SK), John-K7HG and Jim-W6EFB(SK)
---
Questions About Membership? - E-mail Us!
|HOME PAGE| |WELCOME| |FIELD DAY PICS| |DX CLUB LINKS|
|THE MOST WANTED DX COUNTRIES| |MEMBER DX STANDINGS|
|MEMBER ROSTER| |MEMBER INFO| |MEMBER BADGE| |MEMBER APP|
---