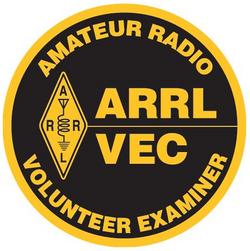 The ARRL VEC manual states the following:
"When no photo ID is available, the candidate must present any two of the following items:
Non-photo ID/driver's license (some states still have them);
Social Security Card (as FCC now requires each applicant to supply a taxpayer ID number)
Birth certificate (must have the appropriate seal);
Minor's work permit or school report card;
Utility bill, bank statement or other business correspondence that specifically names the person; or
Postmarked envelope addressed to the person at his or her current mailing address as it appears on the Form 605."
A video game magazine or Boy Scout Boy's Life magazine addressed the child will serve as one of the two required IDs. Also, a school year book can provide photo proof of the child being tested. Even school report cards can be used. Anything else of a similar nature that demonstrates a child's identity and residence. By being accompanied by his or her parent does not satisfy the rule.
If an individual will be testing for a license upgrade, they must bring a copy of their current FCC Amateur License or the CSCE form if it is not more than 365 days from the issue date.
Below you will find the scheduled VEC dates of the Jackson County Amateur Radio Association, Inc. for 2013.

Exams Offered: All Elements
Primary Area Served: Mississippi Gulf Coast
Location:
St. Martin Community Center
15008 LeMoyne Blvd.
Biloxi, MS 39532
Exam Fee: $15.00 for 2014
Contact: Charlie Hardt, N2PKW at

[email protected]

or call him 228-233-4140
Directions:
Click HERE for Google MAP


All VEC sessions are held at the St. Martin Community Center, Lemoyne Blvd., in Biloxi on Tuesday nights.

Copyright © 2012-2014 Jackson County Amateur Radio Association, Inc. All Rights Reserved
Questions or Suggestions? - E-mail the Webmaster