HAM RADIO /DSSTV- de W5FJS
See below how simple it is to rag chew & contest hands free
and free to walk around the house using an inexpensive cordless telephone!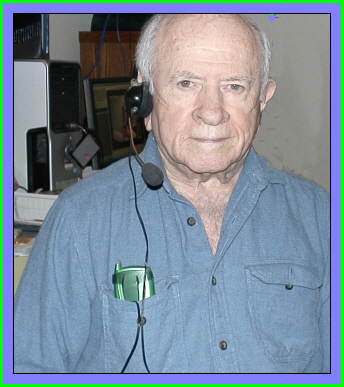 Hello, welcome to my web site.
Hear my voice.
My name is Wayne Jamison. I am 90 yrs. old.
My hobby is Ham Radio / SSTV. I am retired and live in Amarillo, Texas.
I have held the licensed Amateur Radio call, W5FJS, for 63 years.
I am now working all bands with a Flex 3000, Alpha 99 and a 20, 40 & 75 Meter
dipole tied together and feed with 450 ohm ladder line using a
Palstar balanced antenna tuner. Model BT 1500A. I use Easy Pal software
for my digital picture sending and receiving. Go to KB4YZ web site to download Easy Pal .
<
I use a cordless telephone to operate my Flex 3000. See the information below.
It will be a great addition to your Ham Radio Station.
Solar-Terrestrial Data. (Click on the box below for more Solar Data.)
Click on and go to:
ABOUT ME * MY HOBBY * SSTV PICTURES * MORE SSTV PICTURES * 3D PICTURES
MY PHILOSOPHY OF LIFE (FOOD FOR THOUGHT)

Interesting Links:
Modes and Circuits
MODIFICATIONS FOR THE ROBOT 1200C
USE A CORDLESS PHONE TO REMOTE CONTROL YOUR TRANSCEIVER
BUILD A HYBRID TRANSFORMER INTERFACE FOR THE ABOVE
MIC / SPEAKER MUTE CKT. FOR MMSSTV & CHROMA PIX
My E-mail address: w5fjs@myway.com
Last update: Feb. 17, 2016

Search The Web