VE Test Dates
October 21, 2023 10:00 AM
Indiana County 911 Center
85 Haven Drive
Indiana, PA 15701
Contact:
N3QM, Bill McMillen 724-397-2702
[email protected]
**24 hour Pre-Registration Requested**
**FCC Federal Registration Number (FRN) or Copy of License or Certificate of Successful Completion of Exam (CSCE) Required for Exam**
No License or CSCE? Register for an FRN Here:
Get FCC FRN
Upcoming Events
PA QSO Party - October 14-15
Next ICARC Meeting
October 3, 2023
Board Meeting
6:00PM
Monthly Meeting
7:00PM
Meetings are held first Tuesday of every month at Indiana Eat-N-Park 2675 Oakland Ave Indiana PA 15701
Click Here For Map
Club Breakfast
Eat-N-Park, 2675 Oakland Ave Indiana
Saturday Mornings 8:30 AM - ?
Club News
ICARC is now accepting electronic dues payments, members can go to the link below to renew. Please include your name and callsign in the notes. A permanent link has been established under the club information tab.

ICARC is always looking for new members, you do not need to be a licensed amateur radio operator or even a resident of Indiana County to join!
---
Repeater System Information
146.910 - PL ( 131.8 ) - W3BMD 2m Repeater
146.745 - PL ( 131.8 ) - WB3CGY 2m Repeater
444.975 + PL ( 131.8 ) Analog
444.975 + CC1 ( TS2 TG 313037 (Local), TG 3142, 31422) ) DMR
147.570 - Emergency County Simplex
---
Weekly Public Service Net
Monday Night 8:00 PM / 20:00 Local Time on the WB3CGY Repeater
Frequency/PL: 146.745 - 131.8
ICARC has an immediate need for additional Net Control Station (NCS) operators, if you can take one or two Monday nights please see Chris N3VFK or Gary KC3NHE at a meeting or email [email protected]. .
---
Indiana County EMCOMM Info
Auxillary Communication Service (ACS) Officer: Terry Carnahan KB3JOD
ARES Emergency Coordinator (EC): Gary Miller KC3NHE
ARES Net Preamble
Skywarn Net Preamble
ARES Call List
Indiana County ARES is always looking for new members. You do not need to be a member of ICARC to be an ARES member. Interested applicants must complete and return an application, which can be found under the ARES tab in the Public Service section above. Please note, ARES and ACS are two seperate programs and membership in each is required to participate in the respective program.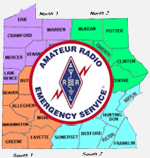 ---
---
---
---