Greetings! My name is Steve, W1SDR, and I always wanted to be a ham. In the Fall of 1997 I made the committment to study up and in January '98 became a no-code Tech. In the following months I upgraded to Tech Plus and General. I hope to hold an Extra Class ticket soon.
Originally from the Great State of Maine, I now reside in Solana Beach, CA just north of San Diego.
Amateur radio is a ton of fun. It is a great way to exercise your mind and a great way to make new friends the world over. I would encourage anyone who has an interest in radio to get a license. It is easy, fun and you'll learn a lot along the way.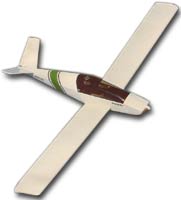 The Monnett Moni Motorglider
As you might have guessed from the photo above, I also enjoy aviation and have been a licensed pilot since 1980 and am now an Instrument Rated Commercial Pilot. A good deal of my flying was done in the beauty of Northern New England where the views of the Atlantic Ocean and White Mountains were always welcomed. Today, I spend a great deal of time in the California desert flying sailplanes (gliders). The freedom that soaring provides is like no other! I am also in the process of building a plane, a Monnett Moni which I acquried in the Summer of 2002. Hopefully it will complete some time in 2003. In addition to flying, I also SCUBA dive, ski, sail and, on occassion, jump out of airplanes. Thanks for dropping by!