Camp Humphreys Korea

Camp Humphreys was one of Korea's largest Army installations in the 1970s. Units were also located at Camp Howard and Camp Ames. Camp Humphreys covers an area about one mile wide and two miles long.
Camp Humphreys in 1976-77 had several 3 story concrete block barracks as well as quasent huts. The camp had an NCO/EM club and an Officers club, Bowling Ally, Craft and Hobby Shop, Katusa Bar, PX, Class 6 store and several other stores. Camp Humphreys is located 55 miles south of Seoul on Highway #1 and eight miles east-southeast of Highway #1 on highway #45. It is eight miles west of the Bay of Asan on the West coast of Korean peninsula.
Camp Humphreys is also known as K-6. The airfield was initially constructed by the Japanese in 1939 during their occupation of Korea. After the Korean War broke out, the U.S. Air Force repaired and built a new runway to accommodate the Marine Air Group and the 6147th Tactical Control Group.
In 1962, the airfield was renamed Camp Humphreys, in honor of CWO Benjamin K. Humphreys, of the 4th Transportation Company, who died in a helicopter accident near here.




This is how Camp Humphreys is layed out prior to expansion





Camp Humphreys will soon be the new home to the U.S. 8th Army. The installation is located near Pyongtaek with the small town of Anjung-ri being just outside the Camp Humphreys gates. The U.S. military is planning on moving the 2nd Infantry Division and most of the forces from Yongsan Garrison to Camp Humphreys. The Camp will become the main U.S. Army installation in South Korea increasing its size threefold over the next few years.

Camp Humphreys is the headquarters location for support of Eight United States Army and United States Forces Korea units south of Seoul and north of Taejon that includes units at Wonju (Camp Long & Camp Eagle), North East of Camp Humphreys.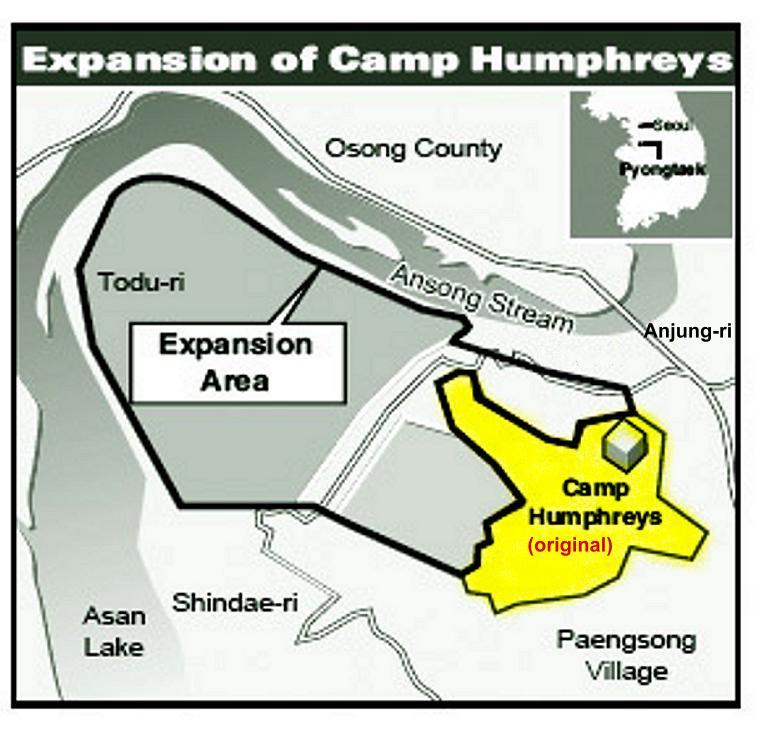 This show how Camp Humphrys will look after expansion.



















---



I was at Camp Humphreys in 1978-79, in Hq Company Garrison. I was assigned as the NCOIC of the TMP Motor Pool, where all the Army Staff Cars, Busses, Army Taxis etc, are maintained. I only have a few photos from there.

The TMP Motor Pool in 1978-79




This is part of the Mechanic Crew at the Motor Pool




Me with my van.




Getting ready for my daily run around Perimiter Road




Some off time down near Pusan, now called Busan






---
I was the Maintenance Sgt and NCOIC of the Transportation Motor Pool (TMP). I also worked part time at the MARS Station.

Being a Ham, and having a secondary MOS in commo, I was very familiar with the Army's PRC74 series radios.I had purchased some of them at a PDO sale at Ft Campbell Ky prior to PCs to Korea. I had used these radios before, and studied the Rhombic Antennas, thought it would be a neat radio to use while I was in Korea. Since these radios only put out 20 watts, I wanted to put up the most efficient HF antenna I could.
I got a aerial photo of the camp, and oriented it North with a compass to figure where I needed my antenna. I Acquired (4) 1/4 mile rolls of wd1 commo wire, and set off making the antenna. I located some telephone poles and trees that lined up pretty good. I ended up terminating it on the top of HQ Company Garrison barracks, which was a 2 story building. The antenna was aprox 2400 ft tip to tip. Great antenna. :)






I removed a detent ball from each of the frequency knobs to make changing frequencies easier. I routed the antenna out the bottom, and put a 12 volt conector there also to power it from my 20 amp 12 volt power supply. I was able to talk guys all over the States on a daily bases.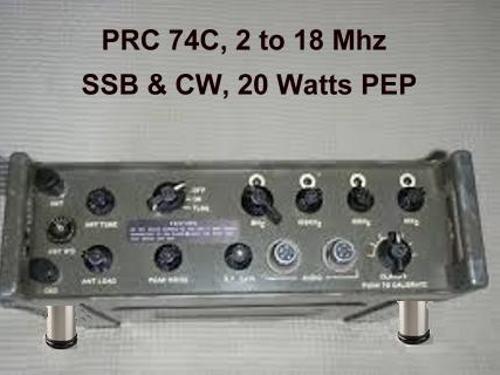 The PRC74 configured for typical backpack use


These radios were replaced by the PRC104, which covered 2-30 Mhz, LSB,USB, CW. They are still in use.