BACK TO HOME PAGE INDEX
---
The MONTREAL WEATHER RECORDER
---
A weather monitor for home builders. As good as my original Taylor drum recorder.
This is the only electronic linear graph pressure and outside temperature recorder.
---

This project is only for experienced home builder.

Front view Rear view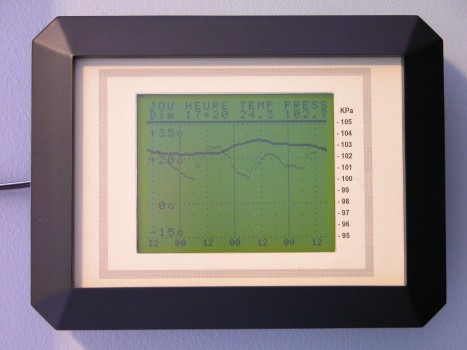 The narrow trace is the outside temperature graph.
The wide trace is the pressure graph.
3 days of recording every 30 minutes.
Measurement Range: Barometer; 95.0 to 105.0 kPa, resolution 1mb. Thermometer; -35 to +35 C.
Mesurement and graph scales of 1 mb and 0.5 C resolution.
Automatic switching between the 2 temperature scales; -35 < +15C for winter and -15 < +35C for summer.
Day of the week, time, present temperature and pressure display on the first line.
ENGLISH MARKING for day of the week and time header availlable.
Display Optrex 160 X 128 pixels, LED backlighted. DK part # 73-1181-ND.
PIC16F876-20/P.
USING THE WEATHER RECORDER
A DECREASE IN BAROMETRIC PRESSURE ANNONCES BAD WEATHER, RAIN, WIND,STORM, HEAT.
A RISE OF BAROMETRIC PRESSURE ANNOUNCES NICER, DRY, COLDER WEATHER.


1- A slow, regular and moderate fall in pressure indicates that a low pressure area is passing
at a good distance. There should not be any marked change in weather.

2- A sudden decrease, even if it is small, announces a nearby disturbance; normally meaning
wind, short showers. If large in 5 to 6 hours, signals a comming storm.

3- A large, slow and maintained decrease announces a long period of bad weather.
This bad weather will be more pronounced if the barometer started higher to go lower.

4- A sudden rise of the pressure, when the pressure is about average or above
average and the weather is nice, always announces the aproach of a low and the barometer
will soon start to come down.

5- A rapid rise when the pressure is low, annonces a short period of nice weather;
but, if the rise is large and prolonged, we can count on a many days of good
weather.

6- A sharp change in temperature indicates a change in air mass and wind direction.

Read a more elaborate text on barometric pressure

Recorder's Parts list.
Schematic.
The PCB in tango format is availlable by writing to me
Construction and operation text. Read it carefully if you intend to construct the recorder.


PCB and a pre-programmed PIC availlable by writing to me at [email protected].
---
Fine print:
All material on this page is distributed on a WYSIWYG basis and as such I can't take any responsibility for the use of this design and its results. However in saying this it must also be mentioned that every effort has been taken to ensure that it as error free as possible.

---
BACK TO HOME PAGE INDEX
Many thanks to Al Waller K3TKJ for graciously hosting my web pages on QSL.NET.