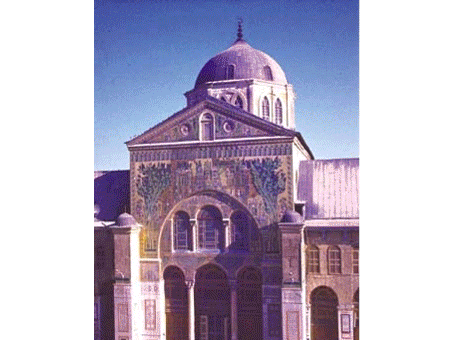 The exploration of Syria is one of the most satisfying pleasures that remains in the field of travel. Syria is the world's richest resource, not only in terms of the numbers, variety and scientific interests of its archeological remains, but also in the vivid image of art, culture and human relations.

LOCATION
The Syrian Arab Republic is located in Asia along the eastern edge of the Mediterranean Sea. It has a 175 kilometer long cost line and is bordered by Turkey, Iraq, Jordan, Lebanon and Palestine.

POPULATION
17.5 Million

AREA
185,000 quarter km

CAPITAL
Damascus

GEOGRAPHY
A variety of landscapes; seacoast, mountains, forests, rolling hills, fertile valleys, desert, plains and steppes.

CLIMATE
A pleasant and varied Mediterranean climate with four distinct seasons. The average temperature is 32 degrees centigrade in Summer, 10 degrees centigrade in winter and 22 degrees centigrade in Spring and Autumn.

TIME ZONE
October through February: GMT+2 hours (Winter)
March through September: GMT+3 hours (Summer)

TRAVEL INFORMATION
ENTRY REQUIREMENTS
A valid passport with an entry visa. An "8 Persons and up Group Visa" can be provided upon arrival. An unlimited amount of foreign currency could be brought into Syria. However, the sum of currency allowed out should not exceed the amount brought in.

HOW TO GET THERE
Damascus, Aleppo and Lattakia are connected with all continents by the national carrier 'Syrian Air' and by major international airlines. All Syrian cities are served by buses, tourist pullmans, cars and trains.

CURRENCY
The monetary unit in Syria is the Syrian Pound which is divided into 100 piasters. There are 1, 2, 5, 10, 25 metallic coins and 50, 100, 500 and 1000 bank notes.

ELECTRICAL CURRENT
220 volts AC, 50 Hz

MEDIA
Daily Arabic newspapers as well as foreign periodicals. Local radio and television programs are broadcast daily in Arabic, French and English.

COMMUNICATIONS
Telephone, telegraph, telex, email and facsimile systems are available.

WEIGHTS & MEASURES
Metric system

LANGUAGE
Arabic is the official language. Most Syrians also speak another language which, most often, is English .

BUSINESS HOURS
Government: 8:00 - 15:00
Stores: 8:00 - 13:30 and 16: 00 - 20:00 (Winter ) and 16:00 - 21:00 (Summer )
Friday is the official weekend.

CUISINE
There is a great diversity in the Syrian cuisine which is reputed through out the Arab world.
The best known dishes are Kibbeh (pound lamb meat and crushed wheat) which itself comes in countless variations. Kabab (rotating lamb), Hummos (pureed chick peas) Tabbouleh (cracked wheat salad), Kunafa Pastry (shredded baked wheat dough filled with cheese, cream or pistachios, covered with syrup). Western cuisine is also available in all international hotels and major restaurants.

SHOPPING
Shopping in Syria is an endless delight due to the variety, beauty and fame of Syrian products and handicrafts such as brocades, hand blown glass, embroideries, engraved copper-work, silverware etc.

CULTURE & ART
Culture and artistic life is active all year-round. Art exhibitions are held almost weekly. Annual international festivals for dance and music are held in BOSRA (October) PALMYRA (May) and LATTAKIA (August). In addition, there are the DAMASCUS international fair (September), the DAMASCUS international flower show (May), the Cinema festival and theater festival.

EMBASSIES
Embassies of all major countries are located in Damascus. There are also some foreign consulates in Aleppo.