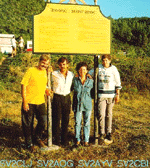 JUST 50 METERS FROM THE BORDERS OF MOUNT ATHOS
From the Field Day Contest of 1996 (7-8 of September)
The call was SV2CLJ /P /QRP
The operators were:
SV2CLJ , SV2AOG (GEORGE) , SV2AYV (FOTINI) , SV2CBI (KOSTAS).
Power 5 Watts Powered by Solar panels & Batteries,
Antennas were home-made dipoles and home-made Vertical (Fishing-Rod)
We took the first place in Greece!
The location was only 50m from the borders & 15m from the sea at Ierisos Golf
WE WISH TO WORK NEXT TIME FROM THE MOUNT ATHOS...SOON..!



ALL INFO ABT
J 4 8 I S L at IOTA 1997
J 4 8 I S L at IOTA 1998
QSL INFO VIA SV2AEL (SAVAS)
Also Some Links
---
Last Update 10 Sep. 1998