J 4 8 I S L at IOTA 1997
the om's at left went to Amoliani isl, (EU-049) at MOUNT ATHOS Golf.
(I like very much this place...u know it's a Holly place!)
The calls were YZ7AA (Steven), SV2CWY (Christos), SV2CLJ (me) & SV2AEL (Savas),
who is also the QSL Manager.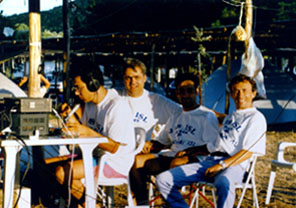 The working conditions were YAESU FT-757-GX antennas R7 from Cushcraft & a dipole for 80m,also we used the logbook from EI5DI SUPER-DUPER specially for iota contest (very good job!)
We took the 35 position with 987 Qso's,134 Multis & score 965,202 points...
The weather was not good (raining) & the static noise was terrible (QRN)...Wish next year we will take better position.
Click HERE to see the QSL Card!
---
Please visit also the I.O.T.A. 98

---
Last Update 10 Sep. 1998