ENGLISH begins after portuguese...please look down
MC3361
Outro RX simples de 40m, este é superheterodino.
Olhando o circuito do colega MUTO JH5ESM, deparamos com o uso do demodulador de FM como misturador, e olhando o datasheet do MC3361 e do MC3357 notamos que a diferença principal é o capacitor interno de 10pF do MC3361 que no MC3357 deve ser montado externamente. Alem disso o MUTO diz que devido a este capacitor a recepção de CW não seria possivel, mas não foi o que constatamos.
Neste circuito montamos um BFO baseado no descrito anteriormente aqui na minha pagina. Este BFO é interessante pois utiliza poucos componentes.
Os filtros de 455kHz empregados são os comuns amarelos sendo um com 2 terminais e outro com 3 termonais (filtro).
Esquema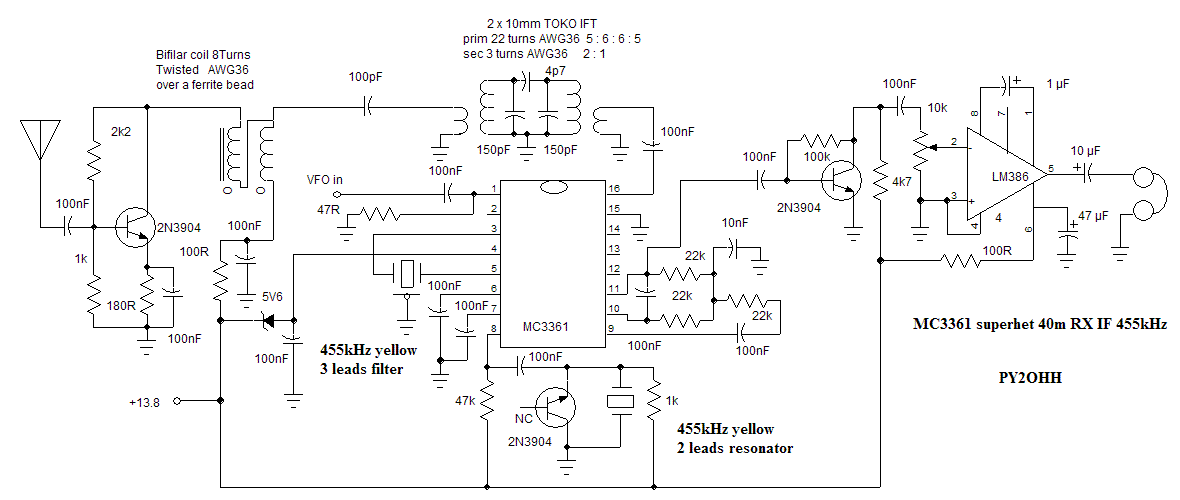 O transistor do BFO esta ligado com polaridade invertida propositalmente.
Para modificações veja o rx com mc 3361 anterior
Other simple 40m RX, this is superheterodyne.
Looking the circuit from the OM MUTO JH5ESM, we see that FM demodulator is used as mixer, and looking MC3361 andMC3357 datasheet we note that main difference is the internal 10pF cap in MC3361, wich in MC3357 it needs to be built externally. OM MUTO says because this cap it is unable to listenning CW, but that was not found.
In this circuit we build a BFO based in a circuit descript before in this HP. This BFO is very interesting because it use few components and has a unusual project.
Schematic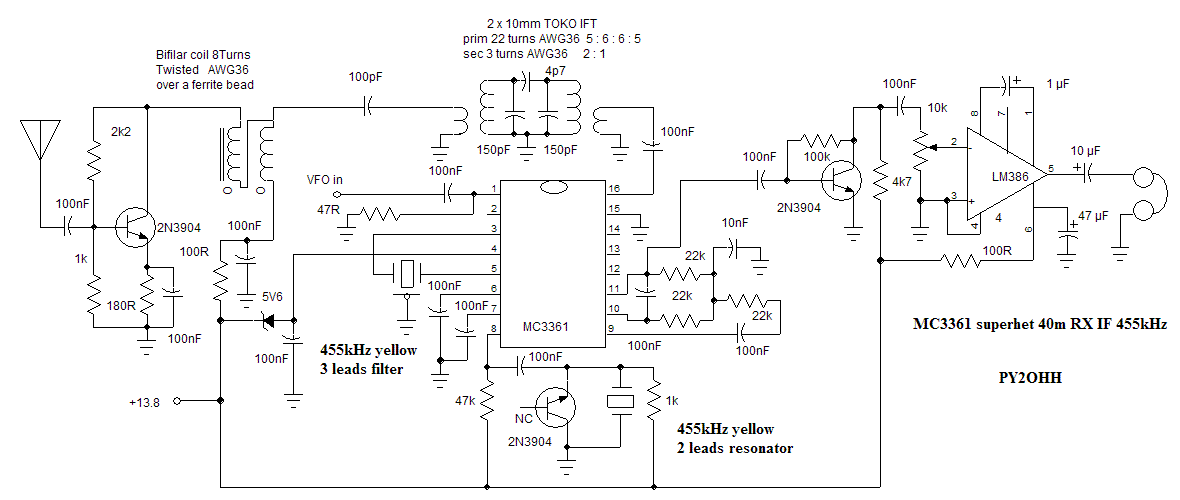 The BFO transistor has the power suplly inverted.
For mods look at RX with MC3361 #1