PCB CW KEYBOARD \ KEYER

K3NG cw keyboard \ ou Keyer

Este keyer esta descrito aqui

Este é o arquivo HEX do keyer

This keyer is described here

This is the keyer HEX file

Arquivos GERBER === GERBER files

PCB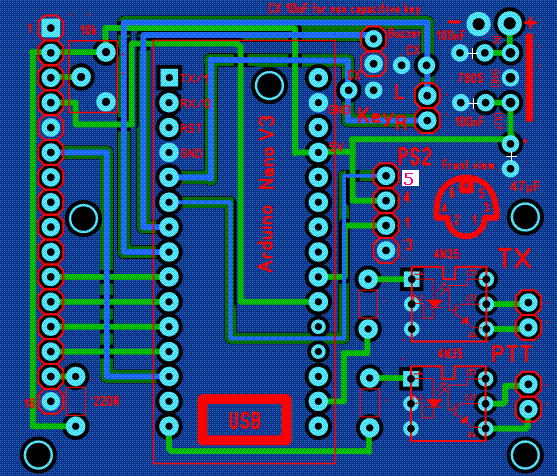 Para usar um teclado USB aqui vai o esquema de conexão :


To use a USB keyboard here is the connection scheme:




Note que o soquete femea é visto de FRENTE !

Os capacitores CX devem ser omitidos em caso de usar manipulador iambico capacitivo, no caso de manipulador iambico normal os capacitores CX de 10nF deve ser colocados.



Note that the female socket is seen from FRONT!





CX capacitors should be omitted in case of using capacitive iambic manipulator, in case of normal iambic manipulator 10nF CX capacitors should be placed.





PCB montada


PCB assembled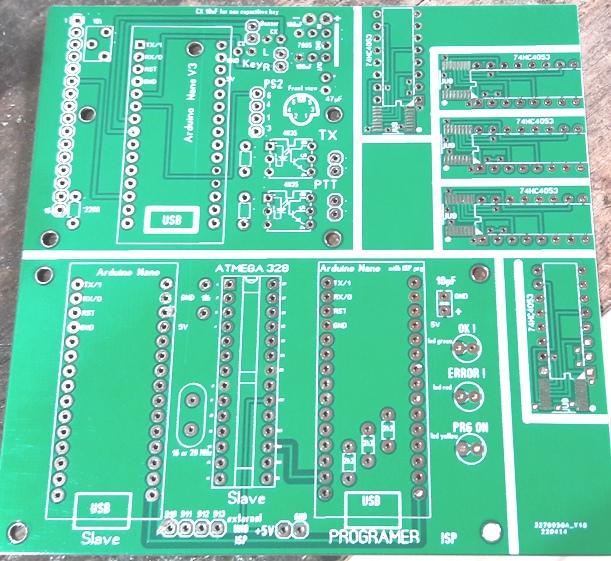 PCB do keyer é acompanhada por outras PCBs (para aproveitar o preço).
Outra PCB é para arduino-ISP usando o Nano ou UNO como programador \ leitor de nano ou atmega328.
Temos 4 plaquinhas adaptadoras para 74HC4053 (no USDX) usando o FST3253 TSSOP.



The keyer's PCB is accompanied by other PCBs (to take advantage of the price).




Another PCB is for Arduino-ISP using Nano or UNO as programmer\nano or atmega328 reader.




We have 4 adapter cards for 74HC4053 (on USDX) using the FST3253 TSSOP.



73 de py2ohh miguel