Welcome to President Karami Radio Society ( PKRS ). Our Headquarter is located in the Heart of the city of Tripoli-Lebanon. Amateur radio allows millions worldwide to communicate with each other. Radio amateurs even have their own satellites and can transmit TV pictures from their own homes.
The PKRS is the Northen Lebanon internationally recognized.
Amateur Radio is high-tech hobby that's got something fun for everyone! You can become an Amateur Radio operator--no matter what age, gender or physical ability. People from all walks of life pass their entry-level exam and earn their Amateur Radio license. They all share the diverse world of activities you can explore with ham radio.
You never know who you'll run into when communicating with Amateur Radio: Young people, retirees, teachers and students, engineers and scientists, doctors, mechanics and technicians, homemakers...

History
Who is President Rachid Karami ?
Born 30th of Dec 1920 in Tripoli, Lebanon to Abdul-Hamid Karami leader of national resistance against French occupation from 1918 till Lebanon's Independence.
Graduated as a lawyer from Cairo University in 1942. Entered Lebanese Parliament for the first time in 1951. Stayed on as M.P of Tripoli uninterruptedly till his assassination June 1987.
Became Minister of Justice 1951 and held other ministerial posts till 1955. Became Prime Minister 1955 and was thus the youngest Prime Minister of Lebanon ever. Served again as Prime Minister 1959, 1965, 1966, 1968, 1969, 1975 and 1984 was thus the longest serving Lebanese Prime Minister ever.
Was assassinated June 1st 1987 while still serving as Prime Minister of Lebanon, he was considered by all Lebanese as symbol for martyrdom towards Lebanese National Unity and Reconciliation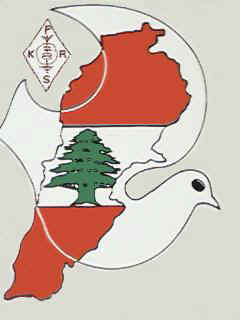 OD5RAK QSL card
Guest Book
What Can Amateur Radio
Operators Do?
Ham radio operators use two-way radio stations from their homes, cars, boats and outdoors to make hundreds of friends around town and around the world. They communicate with each other using voice, computers, and Morse code. Some hams bounce their signals off the upper regions of the atmosphere, so they can talk with hams on the other side of the world. Other hams use satellites. Many use hand-held radios that fit in their pockets.
Hams exchange pictures of each other using television. Some also like to work on electronic circuits, building their own radios and antennas. A few pioneers in Amateur Radio have even contributed to advances in technology that we all enjoy today. There are even ham-astronauts who take radios with them on the International Space Station and thrill thousands of hams on earth with a call from space!