Hier vind je een paar links:
Nederlandse WiFi web sites::
pioniers: www.wirelessleiden.nl
forum: forum.wirelessnederland.nl
portal: www.wirelessnederland.nl
WiFi Nieuws: http://www.hotspot.nl/
All you need to do war driving/ Alles wat je nodig heb om te strijdrijden: strijdrijden.da.ru
Andere goedkope zelfbouwantennes
Building a 2.4GHz Vertical Collinear Omnidirectional Antenna
Omnidirectional; Bouw je eigen rondstraler http://www.fam-gijzen.tmfweb.nl/wca/
Helix antenne van Remco
Ons aangepaste helixontwerp.
Directional yagi
Tin Can Waveguide Antenna1
Tin Can Waveguide Antenna2
Omni bidirectionele antenne
Build your own antenna
Wlan antenna cables
Jason Hecke`s Wireless antennes
A Two Dollar Helical HF Portable Antenna
" Cantenna " - yagi design for 802.11b wireless application
Pringles Yagi Antenna by Oreilly
http://www.oreillynet.com/cs/weblog/view/wlg/448
Low power coliniar (omni) http://guerrilla.net/reference/antennas/2ghz_collinear_omni_lowpwr/
Slotted wave guide, http://www.trevormarshall.com/waveguides.htm
long range experiments with omni's (7km) http://www.overclockers.com.au/article.php?id=118207&P=1
an original idea to increase the range of existing equipment:
http://osiris.urbanna.net/antenna_designs/projects/template/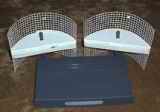 pigtails; examples

Diversen
Overzicht antennebouwprojecten
WLAN Transverter (ideal idea for backbone connections)
Vergelijken specificaties WLAN apparatuur
Survey receiver Sensitivity (Overzicht ontvangstgevoeligheid) http://freenetworks.org/moin/index.cgi/ReceiveSensitivity
Links voor radio amateurs:
http://www.radioamateuronline.com
Please report broken links to the e-mail address below
Eventuele reacties aan: pa0hoo(deletethis)@qsl.net Laat (delitethis) weg i.v.m. automatische spamgeneratoren.
73, pa0hoo