RX FM 137 - 141 MHz
highly sensitive and selective superhetrodyne receiver
( SATELIT METEOSAT 7, NOAA, METEOR, RESURS... )
[ Česká verze ] [ English version ] [ Index ] [ Down Converter ] [
]
---
Ing. Miroslav GOLA OK2UGS , QTH FRÝDEK - MÍSTEK LOC: JN99EQ
[email protected] Aktualizace 21. 04. 2003
The following text is meant for advanced hams and it describes assembly of FM receiver for interesting waveband of 137 - 141 MHz, which is used for transmission of images from space (views of the Earth from meteorological satellites located at the distance of 850 km or 36000 km).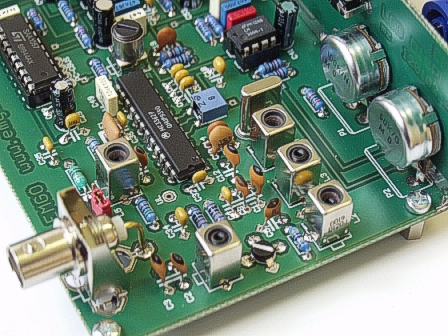 ---
Receiver technical data
Frequency Range

:
137 - 141 MHz

Frequency Synthesizer Step

:
10,0 kHz or alternately 12,5 kHz

Input Sensitivity

:
0,6uV (rms-type) for 12dB SINAD

Intermediate Frequency

:
10,7 MHz and 455 kHz

Tone decoder/PLL

SE567

:
2400 Hz
Pass band of the 2-st.IF filter:
30 kHz/ - 3 dB or alternately 15 kHz
Power:
DC 9 V (max.12 V)
Current output:
70 - 90 mA,

according to the loudness level setting

Power Connector:
3 mm (+

pole is inside of the jack pin, - pole is on its surface!!!)

Automatic Scanning

:
Yes - 2400 Hz stop point - Squelch function controlled by the uP

Noise Gate ( SQUELCH ):

Yes

Antenna Connector:

"1x BNC" type
Display:
LCD 1 x 16 alpha - numerical

symbols
Connection for

Loud speaker

:
(

or Headphones) external 8-25 Ohms, CINCH connectors

Connection

for PC:
PIN connectorsor cable from the computer sound card

Receiver Size:

225x200x70 mm
PHOTOGALLERY
---
Complete schematic you will find here
Components layout, top side (bot PCB) here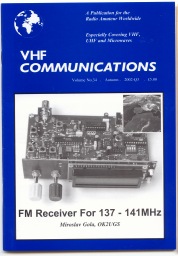 Text here [will issue in periodical VHF Communications 3Q/2002 ]
You can order the kit with very detailed assembly instructions and with rich photo documentation of details and complete unit on CD-ROM at our address:

Ing. Miroslav Gola - EMGO, Areal VUHZ, a.s., Dobra 240, CZ-73951 Dobrá, Czech Republic

[email protected]

or [email protected]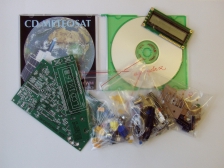 You can view current topical information on internet site of the company EMGO...
---
Copyright 2000, 2001, 2002, 2003 [email protected]
---