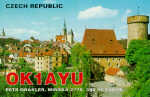 Welcome to my hamshack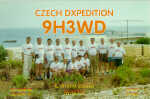 Comino 1996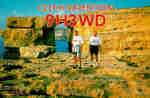 Gozo 1998
Website of OK1AYU
Welcome to my Web Page. My name is Petr Draxler and I was first licensed in 1972 as OL2AQM. The novice license allowed me to work only on 160m with 10W input. This license expired in 1975 at my age of 18, but I still like the 160m band and QRP.
---
Since 1975 my callsign is OK1AYU and I am QRV on all bands from 160 to 2m with 100W and simple antennas. To enjoy the pile ups I took part in two DX expeditions to Malta in 1996 and 1998. Click on the thumbnails on the left to see some pictures of these beautiful islands.
---
Although I use commercial equipment on the bands at present, home made constructions have been always my favourite hobby. Have a look at some of my past and present projects. Only the pictures, brief comments and some circuit diagrams are available - I still like the soldering iron more than sitting at the keyboard and writing the documentation.
�esk� verze str�nek