Welcome to the Oregon Emergency Net
This web site is no longer being updated. For more current information see http://k6ugs.com/oen.htm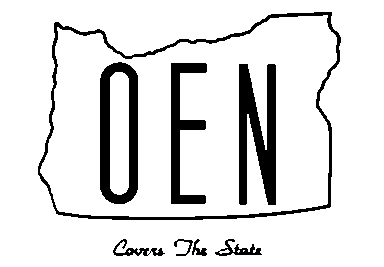 The Oregon Emergency Net meets twice daily on or near 3980 kHz at 1800 local and at 1900 local.
All Amateur Radio operators holding a General or above license are welcome to check in.

To become a voting member of the Oregon Emergency Net, you must live in the state of Oregon. You must check in ten times a month for three months in a row. Keep track of the net controls were when you checked in. Mail that record to our Net Manager, and you will get a certificate showing you as a member of the Oregon Emergency Net. Out of State membership certificates can be issued, but with no voting rights. To get an out of state membership certificate, check in as stated above, send those results to our Net Manager, along with a check made out to O.E.N. for two dollars. Our Net Manager will mail you your certificate.

Officers and Directors
Chairman of the Board and Director Portland Area: K7MKN, 21818 SW Columbia Circle, Tualatin, OR 97062

Treasurer: ND7V, , 1846 Johnson Ave. Klamath Falls, OR 97601
To renew or subscribe to the Netter, Send a six dollar check made out to O.E.N. to our Treasurer

Director Southern Area: K7RFO,

Director Western Area: K7SEG, Wally Blackburn, Box 8, Gold Beach OR. 97444

Director Eastern and Central Area: K7JUC,

Director Willamette Valley Area: KB7JAL,

Director at Large: W7BXD, 13350 Highway 66, Klamath Falls 97601

Director at Large, WA7FIV, , Seaside, OR

Secretary: N7RBO,

Net Manager: N7RBO,
Let Karen know if you would like to be a net control or an alternate net control.

Editor of Oregon Netter: ND7V,
Send your articles, items of interest, or items for sale to Fred.
Webmaster: KK7VO,

Annual Picnic - August 22-23, 2009
The date has been changed for this year's picnic. It will be the 4th weekend in August instead of the 3rd weekend.
Once again the picnic will be at Carol Dorning's home. 304 NE Dorning on the east side of Highway 101 between Waldport and Yachats. Dry camping available, pets allowed on leash.
Click here for pictures of the 2007 and 2008 picnics by Vern, K6UGS.
Click here for a report and pictures from the 2006 Picnic
Click Here for a report and pictures from the 2005 Picnic
Click Here for a report and pictures from the 2004 Picnic