Welcome to my Amateur Radio web site.
Return to ThorLind.com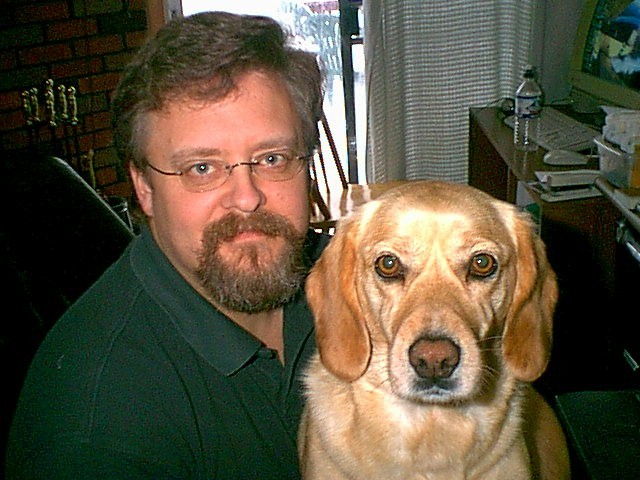 That's me (the one on the left!)
My dog Chelsea had to get in the action, so she climbed up onto my lap. Chelsea's a "Yellow Lab stuck in a Beagle body".
This site was thrown together very quickly, and is still very much in the design phase and under construction. Please "Pardon the dust"!
The links at the top of the page will take you to pages highlighting some of the various aspects of my hobby and passion, Amateur Radio.
"My Shack" is where I do my on-air operating from. This page will show you a picture or two of the space I call my "Shack", the radio equipment I have and use, and possibly a description of the equipment that I have there.
The projects page will show pictures and descriptions of some of the projects I've recently completed, am working on, or will begin soon. This is where I am having the most fun.
The Keys page shows pictures and descriptions of the beginnings of my fledgling collection of Morse Code Keys. (I shouldn't even call what I have a collection yet)
The Links page is a collection of links to other web sites that I frequent, some of which are organizations that I have joined.
The images page is for pictures that don't quite belong on any of the other pages.
What's new
03/14/2002 -- Updated the Projects page with pics & description of the AZ ScQRPions Stinger Singer that I built.
03/12/2002 -- Created a "Images" page to put pictures of my new DK9SQ vertical loop antenna on.
01/04/2002 -- Updated some of the "Projects" on the projects page. Corrected some mis-directions left from before I changed some photograph locations.
02/26/2002 -- Changed the Theme while doing some clean up using MS Front Page. There is still a lot to do, but little by little I'll get these pages to where I'm satisfied. Maybe. Also, re-published the pages to WWW.QSL.NET/N9IK. That site is much, much slower in serving up the pages, but I want to have a mirror site. I will not mirror the WWW.THORLIND.COM site there, just the N9IK pages.
02/20/2002 -- Modified and moved my N9IK web site to be served as a sub-web of my family & business web site at www.thorlind.com. thorlind.com is my own domain, hosted by pairNetworks. (I left the web in place on qsl.net until I am sure that I can remove it.)
02/09/2002 -- Pages were taking far too long to load, replaced all the pictures with low resolution pictures and the option of loading the high resolution pictures.
02/08/2002 -- Put this new web site up on QSL.NET, replacing the single "Keys" page.